Pinterest is the first major platform to ban weight loss advertising and to combat the online growing toxicity. But Pinterest Bans Weight Loss Ads is really a good initiative?
Why did Pinterest update its policy regarding advertisements?
During the pandemic, Pinterest noticed an alarming rise in eating disorders. Due to this, the app has now decided to ban ads with weight loss language and imagery, including ads that promote certain body types.
This is an excellent initiative taken by Pinterest. Because it sends out a message that, unlike other social media platforms, they care about consumers. And that their priority will always be users' mental health and well-being.
However, ads promoting healthy lifestyles or fitness services and products are still valid on the platform but on the condition that they won't focus on weight loss. The company adopted the policy with guidance from The National Eating Disorders Association.
How Will Pinterest Bans Weight Loss Ads Policy Help The Pinners?
The majority of Pinterest's users are teenagers, and when they see such ads for weight loss or appetite suppressant pills, it directly affects their mental health. With the new policy, all unrealistic weight-loss ads are now banned from the site, leading to a safe and healthy place for pinners to use. The main thought behind this policy was that everyone deserves to be happy in their skin regardless of their body's weight or color.
The new policy promotes self-love and body acceptance, and such a step was very much needed in today's world. While the lockdowns are being lifted, people are now becoming insecure about their body sizes; they no longer feel comfortable stepping out into the outside world. Due to these reasons, many people have subjected themselves to unhealthy weight loss programs that are not good.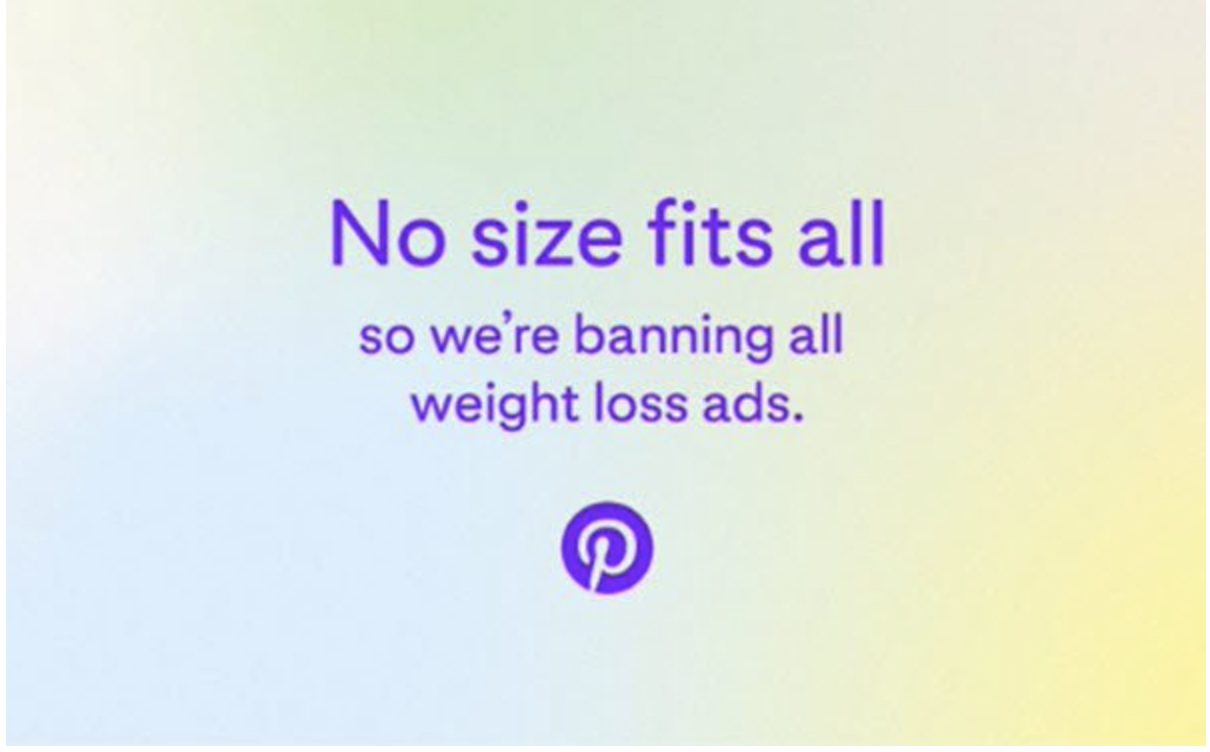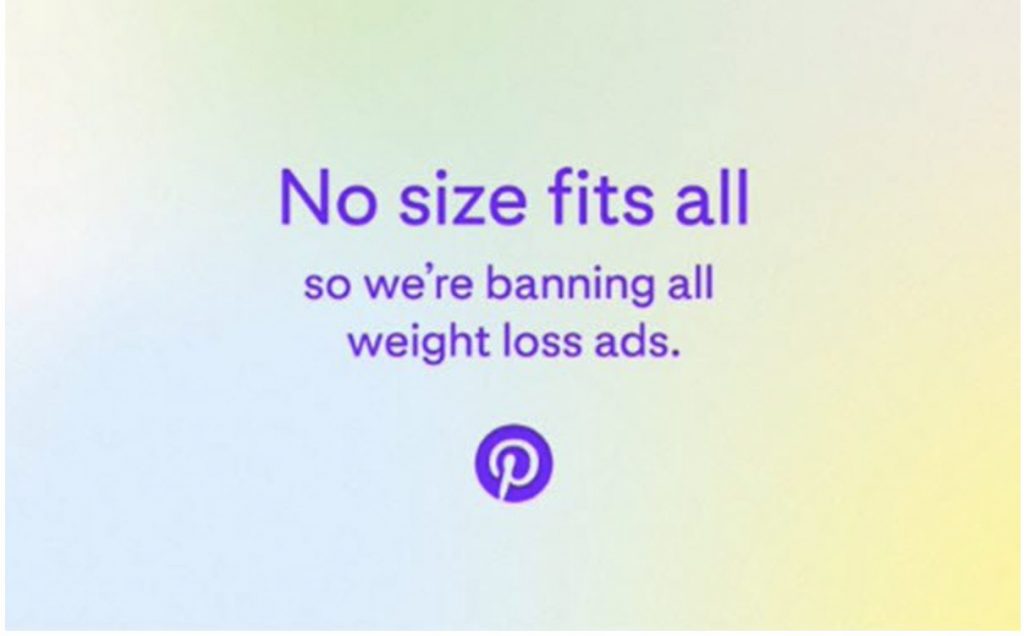 This will also help prevent businesses that bank on other people's insecurities and make money out of them. Moreover, if other mainstream social media platforms follow in Pinterest's footsteps, it will have a major positive impact on everyone in the long run.
What Harm Were These Ads Causing?
 According to the company, Pinterest has a total of 478 million active users. This big number includes people of all types and backgrounds. But a study found that, unfortunately, young girls and women are more at risk of developing eating disorders. 
This app is trying to become a happy place for users, where they make their mood boards and spend some quality time exploring their interests. But these ads were a big hurdle in this cause; users were instead being targeted to their insecurities. So naturally, Pinterest had to take action.
Pinterest Has a History of Banning Advertisements
Many people are surprised that such a big company is taking the risk of banning ads but surprisingly, this isn't the first time they are doing so.
For instance, in 2019, Pinterest was the first social media platform to ban anti-vaccination propaganda from spreading on its site. Back in 2018, they removed all content that included political stances, not just this, but they always try their best to minimize hate speech on their platform.
Unlike other tech giants, Pinterest has been selective since day 1 about the advertisement on their site. No wonder why people love using this app so much.
The Reaction from People all Across the Globe Regarding Pinterest Bans Weight Loss Ads
This statement of Pinterest spread like wildfire, and in just a few hours, it was trending on Twitter worldwide. Most people applauded this decision as fat-phobia is on its rise these days, and such strict actions were deliberately needed.
But some people were not happy with the media coverage that Pinterest was getting. They claimed that banning ads is the bare minimum a company like Pinterest could do, and they shouldn't be praised for it.
Many others believe that this was a publicity stunt by the team to be back in the limelight and cover up their last controversy regarding racism and unfair salaries. Whatever their intentions were, it is safe to say that they succeeded in it.
At the end of the day, any publicity is good publicity.
I hope our article helped you in learning all about Pinterest's latest updates. So what do you think about this new update? Let us know in the comments down below.