As the first season of Sweet Magnolias ended on a major cliffhanger, the second season was inevitable. But all fans needed was the affirming news of renewal from Netflix, which came a bit late. But as the show has been greenlit officially for a second season, it brings us to our next series of questions, when will the showrunners announce the official lineup for the cast of Sweet Magnolias Season 2? And most importantly, how will the story continue?
The show's finale was never a part of the original books from which the show is adapted. The author Sherryl Woods was very impressed by how the screenplay writers played with the show's ending! And she also encouraged a second season, but does that mean Netflix will take inspiration from her other books in the series? Or will they take the story in a different direction? All such questions are answered down below!
Sweet Magnolias revolves around a group of three women who have been close since their childhood. They are namely; Maddie (Joanna Garcia Swisher), Helen (Heather Headley), and Dana Sue (Brook Elliott). They all live in the same town of Serenity, where they decide to open a spa business. And the rest of the 10 episodes revolve around them trying to juggle their business and personal lives. A car crash is shown in the finale, but it isn't revealed who was in the car. So, the 2nd season will probably revolve around this story. But there have to be other subplots too. What are they? Let's find out!
Sweet Magnolias Season 2 Release Date
The show was renewed for a second season back in July of 2020, but Netflix never announced the release date for Sweet Magnolias Season 2. The filming for the sequel was supposed to begin in 2021, but the outbreak of the virus got in the way.
"We are still trying to figure out any precautions that need to be taken and how that will impact the pace of production," Anderson said. "There are a lot of unknowns. I don't want to get people's hopes up, but we are doing our best to implement it as quickly as possible. The launch date is up to Netflix. We know the passion of our fans, so we are doing it as quickly as possible. But, right now, we have neither a release date nor a trailer."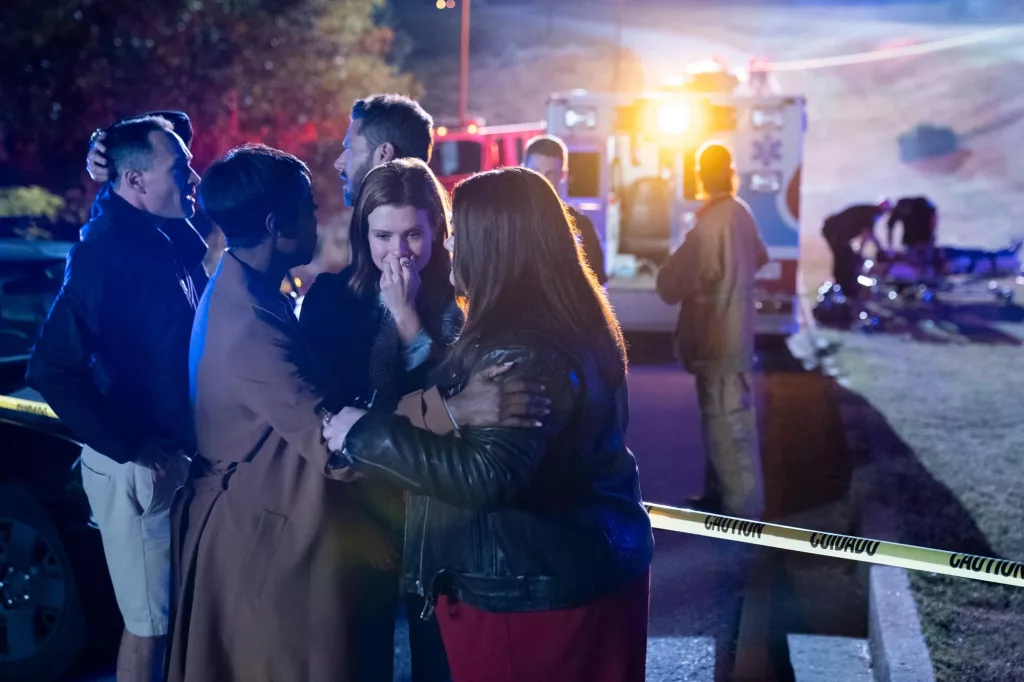 Due to the uncertainty of the situation, we can't say anything about Sweet Magnolia's Season 2 premiere.
Cast
We don't have the official lineup for the cast of Sweet Magnolias Season 2, but it is safe to assume that the main protagonists will return in the sequel. So, prepare yourself to see Maddie (JoAnna Garcia Swisher), Helen (Heather Headley), and Dana (Brook Elliott). But who else other than them will feature in the second installment?
Other potential cast members include:
Logan Allen is Maddie's son, Kyle.

Carson Rowland is Kyle's older brother, Tyler.

Anneliese Judge as Annie Sullivan

Chris Klein as Maddie's ex-husband Bill

Justin Bruening as Cal

Jamie Lynn Spears as Noreen
Other supporting characters who are also expected to return for the sequel are; Nellie (Simone Lockhart), Ronnie (Brandon Quinn), Isaac (Chris Medlin), Erik (Dion Johnstone), and Ryan (Michael Shenefelt).
And just like every Netflix show, there will be new cast members too! Who are they? The showrunners have not disclosed that yet! 
Sweet Magnolias Season 2 Plot
The second season will also be set in Serenity, and hopefully, the story will continue from where it ended in the 10th episode of the first season! We'll find out about whoever was driving the car in that car crash and, most importantly, who was inside it?
The sophomore season will also focus on Maddie after Cal took off from her life. The mystery around Ty and Annie's relationship will finally get solved. Will they decide to stay together, or will they part ways? With this being said, there is plenty of content that the showrunners can follow because Woods' series of Sweet Magnolias has 13 novels!
"There are so many storylines that Sheryl [J Anderson], our showrunner, and our writing staff laid out and so many things that you might not even be thinking about right now that we will address that become interesting plot points. But I think who's in the car and the stories that are launched because of this are so interesting too."
Sweet Magnolias Season 2 Trailer 
Netflix has not revealed the primary details about the show; naturally, there is no trailer for Sweet Magnolias Season 2 either. But we are expecting it to drop somewhere in 2022, preferably 3 to 4 months before the official premiere of the sequel!