The company's goal for the sequel is to "get it right the first time." In 2023, the developer will finally bring back its college football franchise, capping off a long-awaited comeback to college athletics. The company hopes to make an impact by emphasizing the spectacle of collegiate traditions and including actual athletes.
Sources close to the project told 247Sports this summer that development has ramped up entering the final calendar year of what is expected to be nearly a three-year development process, despite the fact that information has been scarce since the announcement of EA Sports College Football in February 2021.
Read More-
NCAA Football 24 Real Coaches
No coaches have been contacted yet about having their likenesses included in the game. A change of this nature is not likely to happen until after EA Sports hires a third party to assist with player signings. EA Sports is ready to leave some scholarship players off of teams' final rosters of 85 players.
In fact, it may be difficult to acquire the NIL rights of every scholarship athlete before the game's street date, and this would be in addition to the enormous challenge of creating a roster that accurately reflects reality. Its meaning of it is unclear. The firm hopes to license enough players to support a two-deep team stocked with digital stand-ins.
NCAA Football 24 Gameplay
Like previous installments in the NCAA Football series from the 2000s and 2010s, EA Sports College Football is based on the Madden engine but has a number of gameplay changes. EA Sports plans to heavily incorporate the school's history, culture, and traditions into the game's design and gameplay.
As a result, you shouldn't expect a reskinned version of Madden. There will be a lot more information and team-specific plays in the playbook. You should know that the 2013 installment of the NCAA Football series (and not Madden) was the first to include RPO plays.
NCAA Football 24: Release Date, Featured Consoles, Price, & More https://t.co/mtBeSmoet5 via @YouTube pic.twitter.com/0Xm3atpjtz

— 🐿Norwegian🇳🇴Gopher🐿 (@NorwegianGopher) July 18, 2022
The EA Sports team has put a lot of time and effort into developing stadiums and installing assets to create distinct college-themed environments for each school's home games. College Football will maintain the NCAA Football series' almost romanticized emphasis on the grandeur of college football traditions, which set it apart from the Madden series.
Even while Madden is entertaining, Jones insists that college football is a whole other animal. "There are a wide variety of settings and players to choose from. Indeed, it's unparalleled."
NCAA Football 24 Features
Although EA Sports has been tight-lipped on the majority of its game modes, "Dynasty" and "Road to Glory" will return, according to industry insiders. In the fall, winter, and spring, more gameplay modes may be made available as downloadable content updates.
Consequently, college football's former greats may be playable in the game in the form of DLC for the "Ultimate Team" mode, which is still in the works at EA.
Fans are hoping that the game will bring back the Dynasty Mode feature where they can create their own virtual magazine covers. The final eleven years of the NCAA Football franchise were devoted to simulating editions of Sports Illustrated and ESPN The Magazine.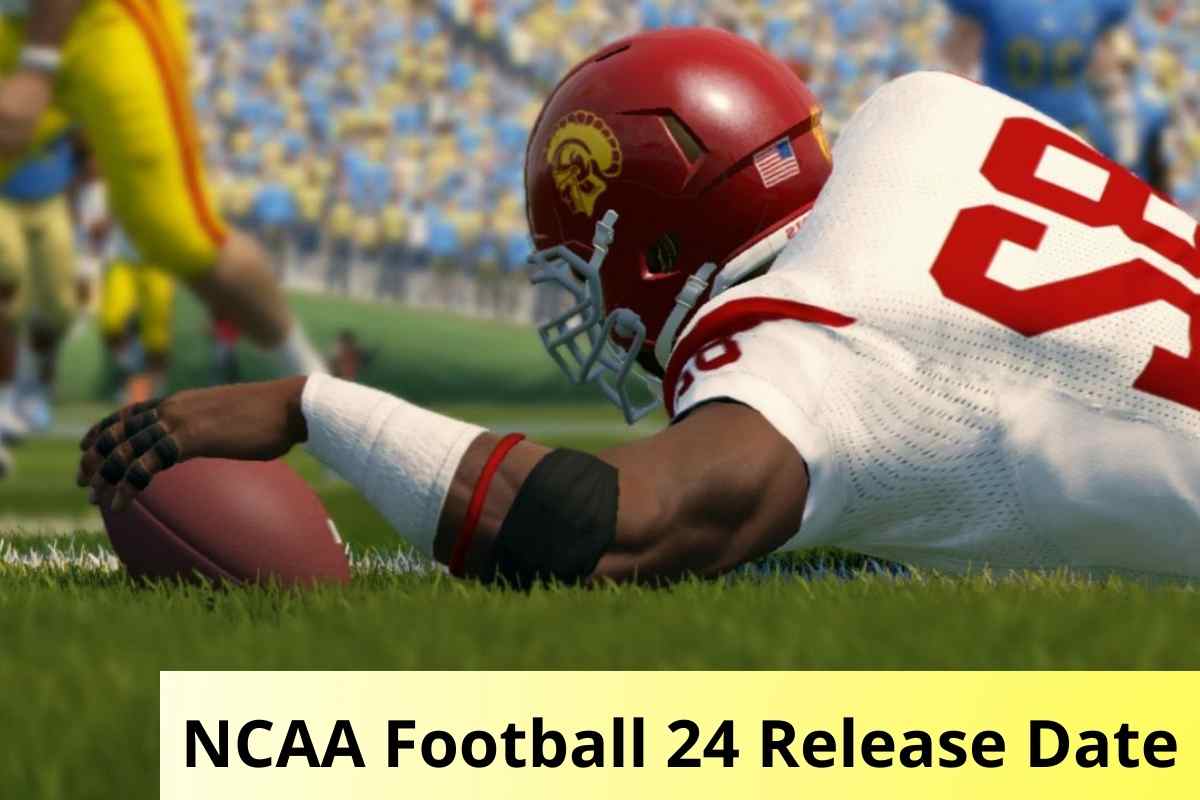 NCAA Football 24 Release Date
The NCAA football video game is expected to launch next summer, but there is at least one serious flaw. According to 247Sports, "EA Sports College Football 24" will be released in stores in July 2023, making a lot of people pleased.
But players without a PS5 or the newest Xbox will be left out in the cold. According to Brandon Marcello, the game won't be out for PS4 or Xbox One owners. That forces those who don't have the newest consoles to go out and get one so they can join the fun. Definitely a negative aspect.
According to emails obtained at several universities through open records requests filed by 247Sports, the launch date of July 2023 has been circled on the calendar, and the time-consuming process of acquiring photo, video, and audio assets from 130+ FBS schools to guide game designers is winding down. However, two sources close to EA Sports verified to 247Sports that on-air talent from ESPN is currently recording commentary for the game.