The Fortnite season 4 is going to end, and we are sure that every gamer enjoyed it. As during the Marvel Knockout Super Series, we have seen players has been rewarded with free skins of DareDevil, Ghost Rider, and Black Widow. With these freebies, we can sense that Epic Games did everything to make it interesting as much as they could. During the Fortnite Last Laugh Bundle, you may have seen players running around in Joker's skin. Or maybe you've seen them in the skin of Poison Ivy or a heavily-armoured Midas.
The most interesting fact about Fortnite Last Laugh Bundle and it's items is that it never been available in the in-game shop. Then what's the deal? How most of them are getting the joker pack? If you have also been wondering about the same, then continue reading to solve the mystery.
If you are a true fan of Fortnite, then you must have noticed that the bundle was introduced to the game on 17th November. And until now, it actually didn't come to the in-game Item Shop. Because as for the time being, the Epic Games kept it as a part of an actual in-store promotion that you can only purchase through offline stores.
Thus, if you are dying to get your hands on on the new skins right now. Or you can't hold your horses until the developers make it available in Fortnite with a digital edition. Then you can visit the gaming section of the stores to get one.
Where to Buy Last Laugh Bundle Digitally?
However, during this pandemic or quarantine, if you don't get out of your home, then you'll have to wait until December. Since Epic Games given the below mentioned official statement on their announcement page in August.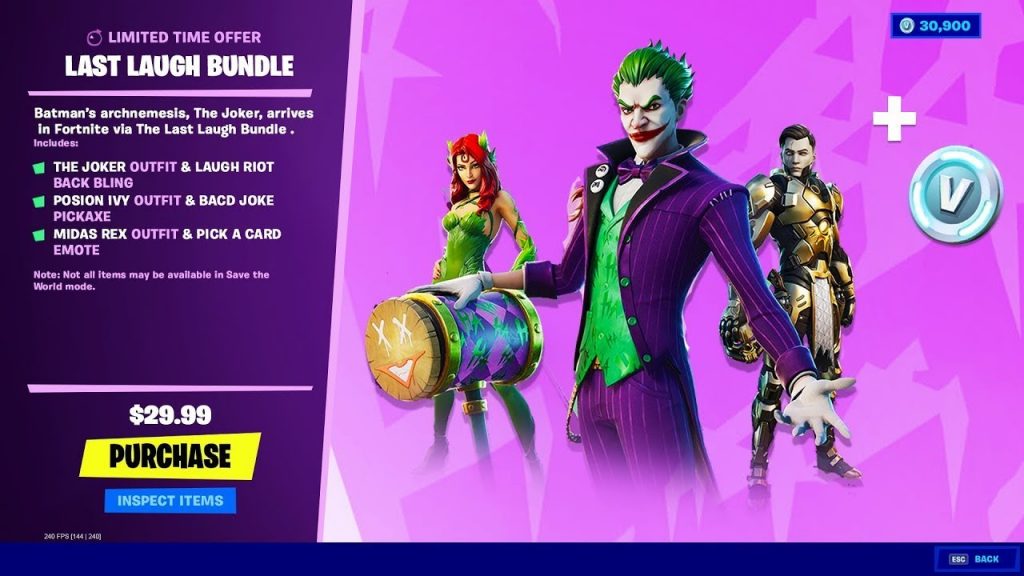 "The Last Laugh Bundle is not yet available for digital purchase. We will update everyone when it becomes available in December. In the meantime, if you purchase the physical version of the bundle, redeeming the bundle will allow you to access The Last Laugh Bundle's content across all platforms running the most current version of the game."
We can't say anything on why they choose to provide the bundle physically instead digitally. Nevertheless, it is confirmed that Fortnite Last Laugh Bundle is coming in digital form, but still, just a few weeks later.
How to Get Fortnite Last Laugh Bundle?
As mentioned above, the bundle is only available at retailers like Best Buy, Amazon, Smyths, Argos and GameStop. Because the Epic Games has collaborated with Warner Bros. Games to make it available only in the physical edition. After purchasing, enter that code in your game to get digital goods.
What Does Bundle Include?
The pack includes Poison Ivy, Midas Red and the Laugh Riot Back Bling, Bad Joke Pickaxe, The Joker's Revenge Pickaxe, and the Pick a Card Contrail.
Fortnite Last Laugh Bundle price?
At any gaming store, you can get it at $30. The physical version of the Fortnite Last Laugh Bundle provides you 3 skins and 1000 V Bucks, and with a "Last Laugh bundle code." These codes are only available and useful for platforms such as PlayStation, Xbox, and Nintendo Switch. Unfortunately, currently, no physical or digital codes are available for PC and mobile Fortnite players. Hence, they still need to wait until the Fortnite Last Laugh Bundle officially becomes available for them.
Quick Note:- These PlayStation codes work PS4 and PS5, and the Xbox codes also work on Xbox One and Xbox Series X|S.
List of the Fortnite goodies at a Glance:
The Joker Outfit.
Laugh Riot Back Bling.
Bad Joke Harvesting Tool.
The Joker's Revenge Harvesting Tool.
Pick a Card Emote.
Poison Ivy Outfit.
Back Bloom Back Bling.
Ivy Axe Harvesting Tool.
Midas Rex Outfit.
Midas Crest Back Bling.
Kingmaker Harvesting Tool.
1,000 V-Bucks for in-game shop purchase.