The show based on Kristin Hannah's novel of the same name did quite well with just 10 episodes! The first season of Firefly Lane had everything one can ask for; sizzling drama, questionable life decisions, and some very interesting wigs! The show ended in February and its finale hinted at a second season, but as we know, Netflix is famous for cancelling shows. The fans were quite scared of its fate. It has been more than 6 months since the show last aired, so what will be the Firefly Lane Season 2 release date?
Firefly Lane is a story about two best friends (who have been together for a very long time); Tully (Katherine Heigl) and Kate (Sarah Chalke). They have seen all the epic highs and lows together; divorces, heartbreaks, teenage crushes, and a lot more. However, one incident changes the trajectory of their friendship. What happens that ruins their 30 years-old friendship? Watch the first season of Firefly Lane Season 2 to find out!
Netflix took quite a long time to renew and announce the Firefly Lane Season 2 release date, but the show's creator, Maggie Friedman, had already confirmed it in an interview. According to her, the second season has a lot of potentials. Moreover, there is a lot of content from the book which was not covered in the first season! And we might even get a third season, but let's not get ahead of ourselves and discuss the upcoming second season for now.
Firefly Lane Season 2 Release Date
Netflix renewed the show back in May of 2021, and the renewal was inevitable. Why? Because the show featured in a lot of Top-10-shows lists, in several countries! However, we did not get the specific release date for Firefly Lane Season 2, but the showrunners confirmed that the second season wouldn't come out before 2022.
So, it will be a long wait for sure. And we can't predict its premiere date either because the filming for the second instalment has not started yet.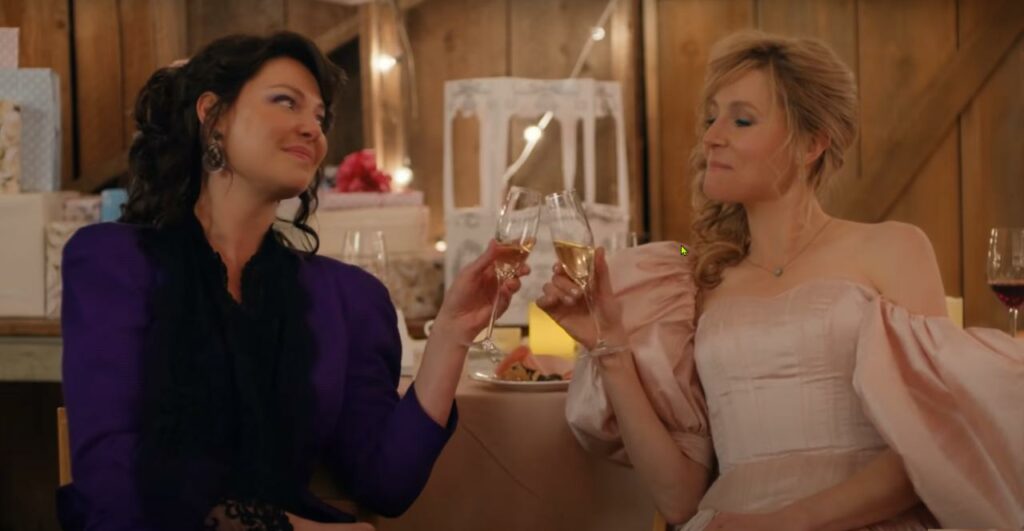 Cast 
The news of renewal was revealed by the lead actresses, Katherine Heigl and Sarah Chalke. And obviously, they will return for the sequel too! The majority of the main cast will join the duo. Who knows, we might even get to see new faces in the upcoming season!
Other confirmed cast members for Firefly Lane Season 3 include:
Ali Skovbye as Tully (young)

Roan Curtis as Kate (young)

Ben Lawson as Johnny Ryan

Beau Garrett as Cloud

Yael Yurman as Marah
I don't expect to see much of Johny because of what happened in the first season. In fact, this was planned to be the major plot twist:
"In the writer's room, we had all these big whiteboards, and that particular moment – we called it Johnny Goes Boom – we knew that was happening then the whole season. I knew that Tully and Kate would be estranged at the end of the season, but I didn't know how I was going to dramatise that. I knew we were working towards that signpost because I felt like a good cliffhanger for season one is: 'Oh my God, wait, these Firefly Lane girls forever are suddenly not? What happened?' I wanted to leave the audience with some big questions."
So, Johnny won't get a lot of screen time in the upcoming season, but he might get a few flashback scenes. We'll surely miss him!
Plot 
Netflix has just released this statement regarding Firefly Lane Season 2: "Katherine Heigl and Sarah Chalke will reprise their roles as lifelong best friends facing the ultimate test of their friendship and the path to sustain the other relationships in their lives." And it seems like the official plot synopsis for the second instalment is yet to come.
The upcoming season will definitely revolve around the reasons behind their breakup, and as a bonus point, we might even get some more flashback scenes from their past! But what about the relationship between Travis and Kate? Will Kate get ever get over her ex? All of these answers will be solved in the second instalment.
We can't tell more about the second season's plot because then it will spoil the season. So, it is better to wait for the showrunners to reveal details themselves.
Firefly Lane Season 2 Release Date of the Trailer
As the filming for Firefly Lane Season 2 has not begun yet, we don't have any trailer for it. But we are expecting the Firefly Lane Season 2 release date of the trailer somewhere in 2022. So, keep an eye out for it.
In case you haven't watched the first season, you can stream it on Netflix any time!