It's August 28, and we are in the final week of Destiny 2: Solstice of Heroes event. Is there something special which Destiny 2 players are missing? Of course yes, with the passage f time, the Destiny 2 players are losing their chance to collect all the special Solstice armour and to knock out critical Moments of Triumph. As per the game experts, it is the right time to find and visit the weekend dealer Xur. But where is Xur!
Last week, his location was marked on the Map. But now, he is unmarked so, it's harder to find this weekend. Here you'll find the information about xur. Such as where is xur? And everything which you should know about what he's offering this week.
Xur location: Where is Xur This Week in Destiny 2?
In the Destiny 2 game, Xur can appear anywhere on the map as well as inside the Tower. This week, you can find him at the Titan. To find load your game into the Rig landing zone and begin running to your left untill you reach the last corner of the map.
Now turn right and start to run forward, hugging the railing on the edge of the map. After reaching there, you will see a small building on your left. There's a small stairway right next to it, so try to find it if you're lost. Go through the building's door, and you'll find Xur standing in the back of the room in the Rig, trying to take shelter from the rain.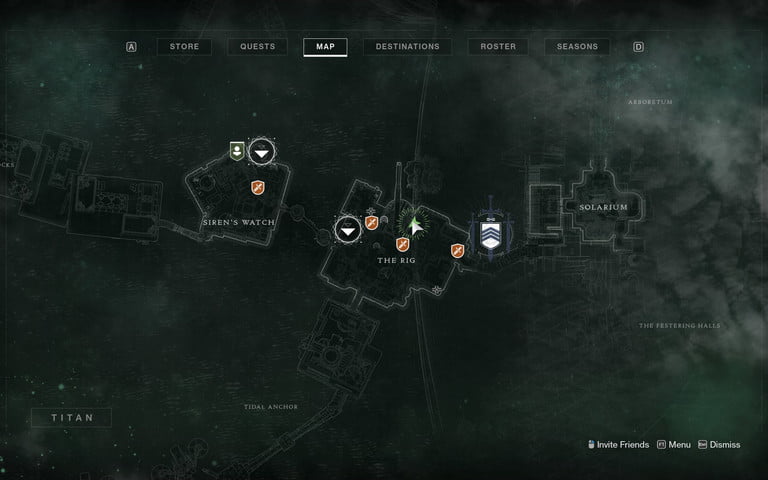 This week Xur is offering whole new weapon, i.e., Sunshot. If you are playing the game as a hunter, then you choose to pick up the Gwisin Vest chest armor. But if you are one of the titans, then you can pick the Actium War Rig chest armour, and for Warlocks, he has something special for you, i.e. Contraverse Hold gauntlets.
Who is Xur in Destiny 2?
As far as I know, the game Destiny 2 was launched in 2017. But since then, the game hasn't shown a single sign of slowing down. But still, if you are among those people who are new to this game and don't know about this famous vender. Then I must tell you that he is a unique character in the game that sell exotic armours and weapons over the weekend.
In Destiny 2 you can find him at 6 pm BST at random locations and trade in for rare gears in exchange of legendary shards which you may collect after dissembling the legendary gear or completing activities.
He appears at random locations, but most of the time you can find him at the places you've always found him in, such as "Winding Cove" in the EDZ, "Giant's Scar" on IO, "The Rig" on Titan, on the Emperor's Barge on Nessus, or in the Hangar of the Tower.
Before chasing him, remember the fact that his location will reset at 10 am on every Tuesday. Under these circumstances, you'll need to wait until he returns to the game.
What's Xur Selling This Week August 28-September 1?
No body knows what he has up for sale for players until he appears in the game. But everybody knows he will be offering a huge variety of items that can help you to win combats.
In his inventory, you can always find an exotic weapon, three exotic armour pieces of each class, and an isochronal engram. The isochronal engram promises that the players will get a random exotic item from Year One or Year Two. Inside the engram, players always find something which they don't have or a thing that makes it ideal for finishing collections.
This week, he is selling the Sunshot hand cannon for Guardians, Isochronal Engram, Five of Swords, and in the armour section, there are Contraverse Hold, Gwisin Vest and Actium War Rig.
Sunshot: The Hand Cannon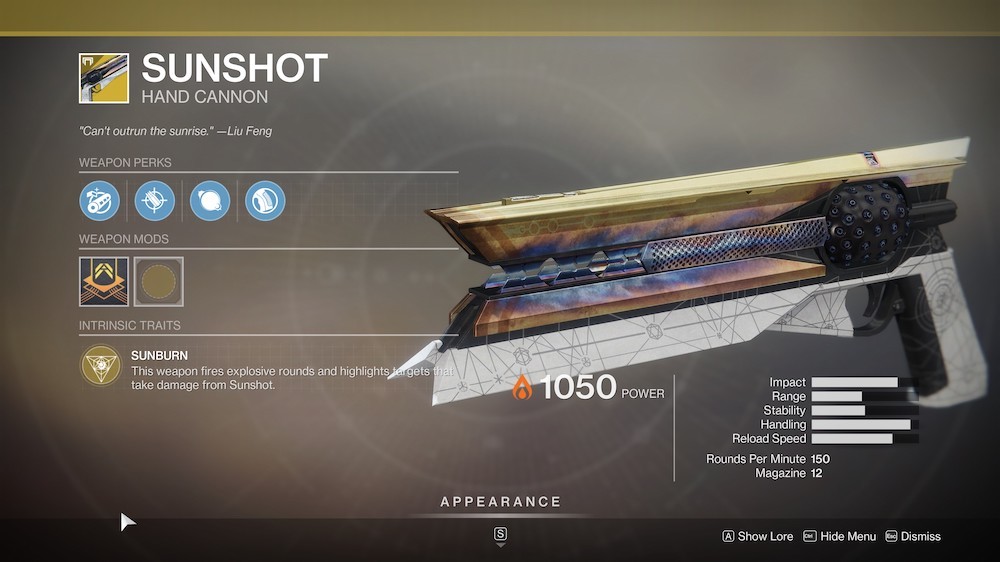 This week it is the most reliable gun which every hunter wants to have in his/her inventory. With this gun, you can shoot solar rounds, which means you can shot explosive rounds that deal with massive damage, and if you try to kill an enemy with this gun, then they will just explode.
Whenever an enemy takes damage from the explosions created by this gun gets highlighted. After this, you can easily find your next target.
In the Destiny 2, right now the handguns aren't at a great spot. However, if they come back, then sunshots will be the best weapon to use for Strike- or Public Event-focused load-outs.
Gwisin Vest: The Suit For Hunter
It is an all-new chest piece for hunters from the Forsaken expansion. This armour provides stealth, and it's the best feature that it always refunds Super energy after getting a kill and reentering stealth.
For instance, if an enemy killed you, then you'll gain the super energy. Which means, the more you hide under the shadows, the quicker you'll deliver a powerful attack.
Stats of Gwisin Vest are:
Mobility: 10
Resilience: 15
Recovery: 8
Discipline: 9
Intellect: 9
Strength: 12
Total: 63
The Actium War Rig for Titan
It is another powerful armour which Xur has in his inventory. The best thing about this vest is "Auto-loading Link", it will always automatically reload your auto rifles and machine guns as you fire them.
It is the must-have item of the week, because when you pair it with the Sweet Business exotic auto rifle, then the clip will be refilled with ten rounds every few seconds. During the combat, if you prefer to use auto rifles, then Actium War Rig is an absolute must-have item.
Actium War Rig Stats:
Stats:
Mobility: 19
Resilience: 3
Recovery: 12
Discipline: 9
Intellect: 13
Strength: 9
Total: 65
Contraverse Hold
It is another new warlock exotic item added in Forsaken. The best thing about Contraverse Hold is it "Chaotic Exchanger", which give you some bonus damage while you charge a Void grenade. In simple words, Whenever you use a grenade, you will get a random amount of grenade energy back. By doing this, you will become able to them endless times for massive destruction.
Contraverse Hold Stats are:
Mobility: 10
Resilience: 9
Recovery: 12
Discipline: 9
Intellect: 6
Strength: 15
Total: 61