Succession recently received several Emmy nominations for its superb third season, which came as no surprise to any real slime puppies out there. However, it also serves as a reminder that the agonizing break is still ongoing. The fourth season of the HBO drama is currently in full production, and we can't wait to see new episodes.
Season 3 concluded with Kendall (Jeremy Strong), Shiv (Sarah Snook), and Roman (Kieran Culkin) coming together as a result of Kendall's admission of vehicular manslaughter, as well as Tom's (Matthew Macfadyen) Godfather-like betrayal as he assisted Logan (Brian Cox) in giving the last push necessary to cut the Roy children off, seemingly for good. What does it all signify for the future, though?
Shiv is aware of what Tom did, but does Tom also know that Shiv is aware? Will detached tech bro Lukas Mattson (Alexander Skarsgrd) truly inherit Waystar Royco's legacy? Will Connor (Alan Ruck) succeed in winning the presidency? The only thing that seems reasonably definite is that the family's resident snake—I'm talking about Nicholas Braun's Cousin Greg—has wriggled himself into a respectable position after siding with Tom in the conclusion.
Read More
Here is what we currently know about Succession Season 4 as we sit around speculating wildly and playing "Honesty (feat. Kendall Roy)" repeatedly.
Succession Season 4 Plot
The succinct synopsis for Succession's upcoming season has been announced by HBO: "The sale of media conglomerate Waystar Royco to digital genius Lukas Matsson comes increasingly closer. As the Roys envision what their life would be like after the sale is completed, the possibility of this seismic sale causes existential turmoil and familial discord.
As the family considers a future in which their influence in culture and politics will be drastically reduced, a power struggle emerges. As we saw in the finale, the main plot right now is that the siblings were ejected from the decision-making process as a result of Logan and their mother Caroline Collingwood working behind their backs.
Additionally, it appears that Tom, who is always cunning, was the informant who let the parents know about the intentions. Yes, Gerri is presently serving as Waystar Royco's interim CEO, but we are unsure how long that will continue.
The plot of Succession season 4 will probably resemble that of season 3, with the exception that Shiv, Roman, and Ken are now battling to stop Logan rather than just Kendall, who is now on the outs. Naturally, the merger/acquisition of GoJo is also imminent, so it will be interesting to see how much influence Lukas Mattson has.
It's Kendall, Shiv, and Roman vs the World in the new #Succession season 4 trailer https://t.co/k2RBO6yt91

— Total Film (@totalfilm) October 24, 2022
Will Succession Season 4 Be The Final One?
There is no information on a fifth season of Succession, which HBO probably wants to keep. In response to a question from The Times of London(opens in new tab) regarding a potential fifth season, Brian Cox was quick to respond that he wants to keep the program off the air for as little time as possible.
While doing so, he even made fun of another program, saying "I'm not sure. Nobody's contracts have been extended. Who can predict how long it will last? Billions are past its sell-by date, and we don't want it to overstay its welcome. Our performance will prevent it from happening."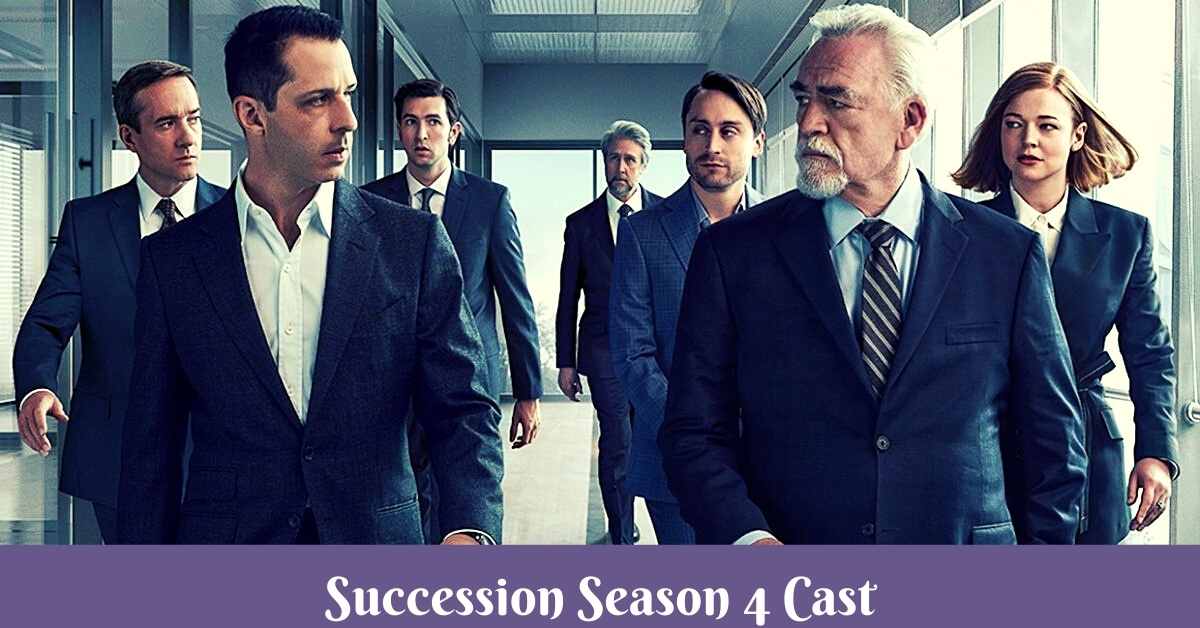 Succession Season 4 Cast
Without the horrible rich family at its center, Succession wouldn't be what it is now. Brian Cox, Jeremy Strong, Kieran Culkin, Sarah Snook, Alan Ruck, Matthew Macfadyen, and Nicholas Braun are all set to return in Season 4 as members of the complete Roy (and Roy-adjacent, if you add Tom and Greg) family.
Regarding those whose lives revolve around the Roys, HBO just revealed that Justin Kirk, Stephen Root, Arian Moayed, Juliana Canfield, Hope Davis, Cherry Jones, Alexander Skarsgrd, and Juliana Dexter-Jones will all return for Season 4. They join returning performers J. Smith-Cameron, Peter Friedman, David Rasche, Fisher Stevens, Hiam Abbass, Justine Lupe, Scott Nicholson, Zo Winters, and Jeannie Berlin who had already been confirmed.
Succession Season 4 Premiere Date Status
For Season 4, no precise date has been specified. We anticipate that the new season won't begin airing until 2023 because production has just begun.
Succession Season 4 Trailer
When the show was renewed, HBO published a brief teaser, but has yet to release a trailer for Succession's fourth season. However, keep checking back because we'll be updating this page as soon as any fresh footage and first glimpses are received.