Oppo today announced a new series of smartphones, i.e., Oppo F19 Pro and Oppo F19 Pro Plus 5G. Both of these handsets will be available for users with quad settings in the rear camera. Furthermore, the company also launched the bracelet band-style for global markets.
Oppo F19 Pro and F19 Pro Plus Features and Specifications
F19 Pro comes with a 6.43-inch AMOLED screen, FHD, plus display quality. Both of these also support a 60Hz refresh rate, with a hole in the screen to feature a 16-megapixel sensor for the front camera. The screen of both handsets is protected with a Gorilla Glass 5 protection layer. And an inbuilt Fingerprint sensor mounted on display.
On the back of F19 Pro and Oppo F19 Pro Plus 5G, developers have provided a quad-camera setup. Setup includes a 48-megapixel main sensor, an 8 mega-pixel wide-angle sensor, two 2 megapixel sensors for depth imaging, and macro photography support.
Oppo also offers features and improvements in the rear camera settings, which includes a new upgrade in artificial intelligence technology in Portrait video recording, with a night mode for Ultra Night video recording. The latest Series also supports Dual View video recording that allows recording footage with the front and back camera at the same time.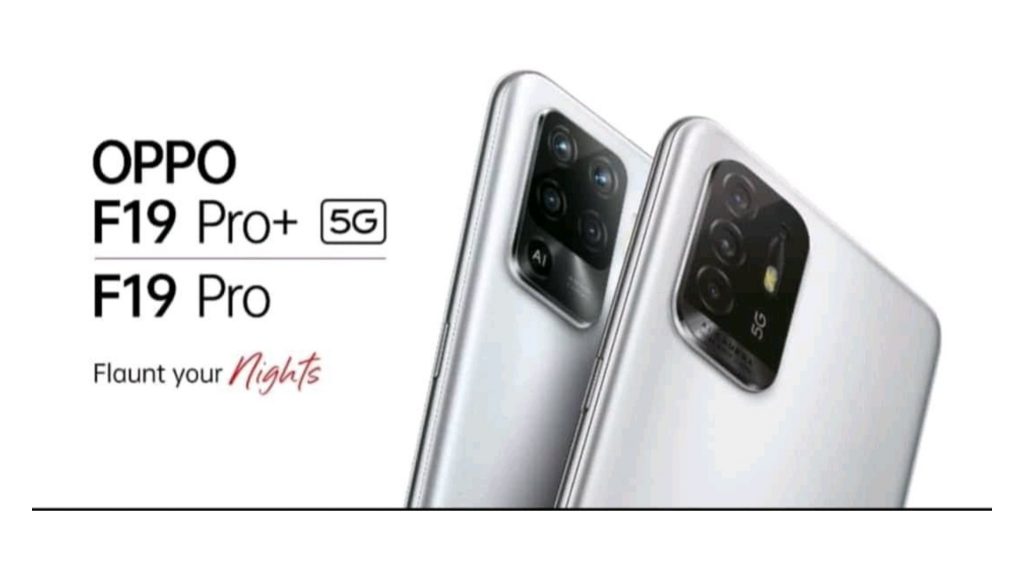 The Oppo F19 Pro Plus 5G supports the density 800U processor chip and 8 GB onboard memory. Furthermore, it can be extended up to 128 GB with a suitable memory card. Simultaneously, the F19 Pro includes an Helio P95 processor chip. 8 GB of random memory RAM with a maximum storage capacity of 256 GB.
Oppo F19 Pro and F19 Pro Plus possess the same battery of 4310 mAh. Meanwhile, Oppo F19 Pro Plus 5G comes with a 50W fast charger, and the F19 Pro is available with a 30W charging adaptor. Both smartphones perform all the tasks on ColorOS 11.1 interface, coupled with the Android 11 operating system.
Oppo Band Style Smart Bracelet
Oppo has introduced a Band Style smart bracelet during the last period in the Chinese market. The list of specifications Band Style Smart Bracelet includes a 1.1-inch AMOLED screen and 40 faces of the smartwatch, and a ring or a metal frame surrounds the smart bracelet. The company also accompanies the smart bracelet with a bracelet Sport TPU wrist.
The smart bracelet can track the user's activity in 12 sports patterns. It also supports water resistance to a depth of 50 meters. It can also monitor the heart rate and measures the blood's oxygen level within one second.
Just like all other smart bands, it also provides an alert for notifications and weather information on the screen. The smart bracelet can also support the user in controlling music playback, but the global market version does not support NFC technology.