"The Masked Singer" started its 9th season on Wednesday night with one of its biggest and oldest stars. The first reveal of the night was 97-year-old entertainment legend Dick Van Dyke, who was dressed as a gnome. Later, Sara Evans, a country music singer, was found to be the Mustang.
With Van Dyke's reveal, the first clue came from a legend for the second season in a row. On night 1 of Season 8, Eric Idle from "Monty Python" and William Shatner from "Star Trek" was revealed. At 91, Shatner was the oldest celebrity on the show before Idle. "I think it was the strangest thing I've ever done," Van Dyke said.
Van Dyke said that when Idle first thought about being on "The Masked Singer," he reached out to him. Van Dyke said, "He said he was sweating like a pig and almost passed out." "Oh, so that's why they gave me this big thing."
He's talking about his costume, which was more like a shell he climbed into and was pushed around in. "It looked like a big pumpkin head on wheels," he said. "I could just look through a small window. I had to just walk into it. rather than having to wear something that would be too much."
When he was offered the job, Van Dyke said he had never seen "The Masked Singer." He chose to watch it because he thought it would be fun, which it was. I did it because I knew no one would have guessed that a 97-year-old man would be on the list."
No one did get the Gnome right, though. Jenny McCarthy Wahlberg thought that it was Tony Bennett. Dustin Hoffman was chosen by both Nicole Scherzinger and Robin Thicke. Ken Jeong thought Robert DeNiro was there.
If you want to know when the following series is coming out, you might be interested in this:
"They have a great team, and everyone was so nice to me," Van Dyke said. "But when you get out of the car, your head is already covered. So, you never see anybody. I never saw anybody. They lead you around while you're wearing a hood. I never got to see the people with whom I worked. I have to go back and see them."
Van Dyke chose "When You're Smiling" by Billie Holiday to be his song. He said, "They wanted me to do something a little more modern." "But I said I don't know anything about modern music. You've got to let me sing an old favorite. Someone mistook me for Tony Bennett! They also guessed Dustin Hoffman, of course."
After Van Dyke was shown, the show's host, Nick Cannon, said, "This is the most experienced and well-known performer we've ever had on our show." "He is a true legend." Mustang was Sara Evans, and the panel didn't know what it was either. Thicke thought that it was Suzanne Somers. McCarthy Wahlberg chose Joan Jett as his partner. Scherzinger thought that it was Wynonna Judd. Jeong named Pink.
"The Masked Singer" is using the same "Champion of Masked Singer" format as last season. In each episode, three celebrities will perform in costume, but only one will win and move on to the next week's competition. After each round, the top three contestants will move on to the semi-finals. That means that halfway through the episode, one of the contestants will be revealed, and the top two singers will compete in a "battle royale." In week one, Evans went up against Medusa as Mustang. Rihanna's "Diamonds" was sung by the pair, and Medusa moved on to the next week.
"Ding Dong Keep It On" is a new song for this season. Nicole Scherzinger had one of the best comebacks in the history of "Masked Singer" when she said, "Someone needed to tell you that, Nick, OK?" In a new twist on the competition, the judges will be able to save a singer from being eliminated, but they can only ring the bell three times in the first three rounds.
Then, on a special episode, these three singers will compete to get back into the competition. "The Masked Singer" starts Season 9 with 21 contestants, including "Mustang," "Axolotl," "California Roll," "Dandelion," "Moose," "Gargoyle," "Jackalope," "Doll," "Polar Bear," "Night Owl," "Rock Lobster," "Gnome," and more to be announced. Tim Chappel is in charge of the costumes for this season.
The Season 9 contestants "boast a total of 28 Emmy nominations, six Grammy wins, ten gold albums, four Golden Globe nominations, five medals, 26 books, two Tony Award nominations, five Lifetime Achievement Awards, four stars on the Hollywood Walk of Fame, and 95,231,000 records sold." In season nine, there will be new episodes with different themes, such as "ABBA," "New York," "DC Superheroes," "Sesame Street," "80s Night," "Movie Night," and more. Here are the contestants and how they did on the first night:
Also, Check Out:
MUSTANG (SAR A EVANS)
Song: "Here I Go Again," by Whitesnake
Swag Bag Clue: "Beauty comes from the inside, but this time it's on the outside."
"My life may look like a shiny carnival from the outside: Cover of "Most Beautiful People." "I really think that. I've filled up stadiums. I've won awards. And worked together with Elvis. But there has been a lot of pain on this ride. I've been so close to death more times than I can remember. But I'm a survivor. I'm hell on heels.
Every time I'm counted out, I come back stronger than ever with my herd right by my side. So tonight, I'm taming all my power as the hot and powerful mustang. And if you've already died, how scary can it be to sing here?" Pink, Suzanne Somers, Ann or Nancy Wilson, or Chrissie Hynde are who the panel thinks will win.
GNOME (DICK VAN DYKE)
Song: "When You're Smiling," by Billie Holiday
Swag Bag Clue: An award from the Kennedy Center. "When I met President Biden, I told him I used to be as tall as he was, and he told me that he used to have hair like mine.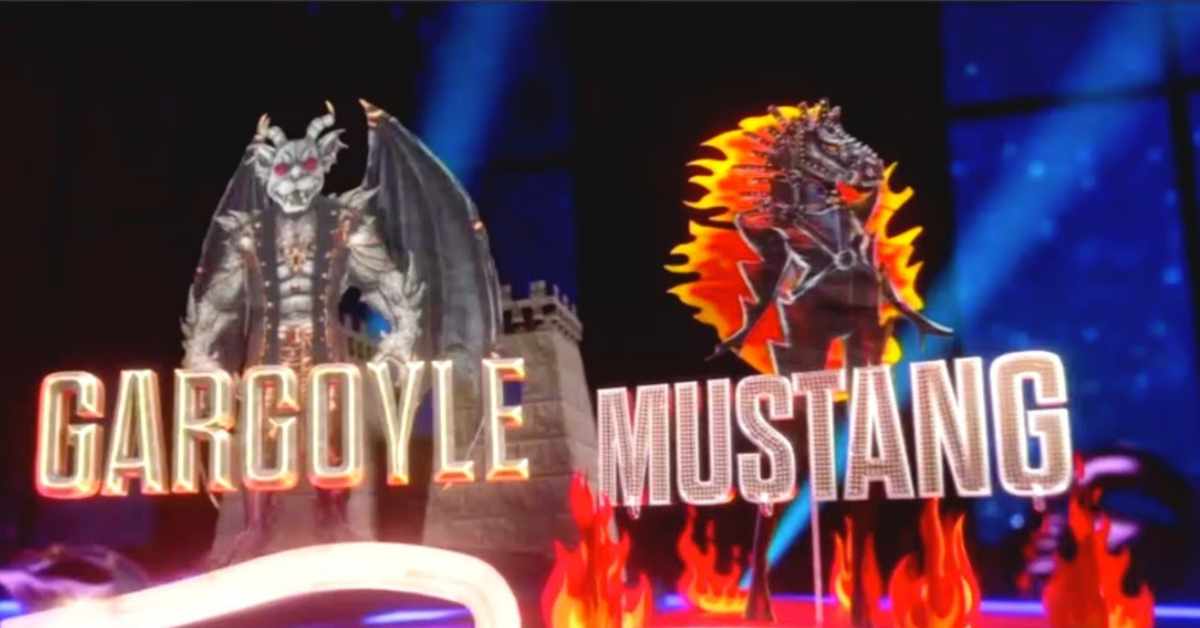 "Over the course of my long career, I've become a mainstay in your lives, just like a wise magical gnome watching the forest around him. Just ask the people in charge. I've really done everything. I've joked around with some of the funniest people in the world, like Robin Williams and Ben Stiller. I've played with Lin-Manuel Miranda, Madonna, and other big names in music.
And all of the president's men, from Barack to Biden, are in my address book. But there's always more to do, especially when you work for fun. Because being a true entertainer isn't about money or awards; it's about going to bed every night knowing you made someone happy. And being happy with what you've accomplished." The panel thinks Dustin Hoffman, Mel Brooks, and Robert De Niro will win.
MEDUSA (WEEK 1 WINNER)
Song: "Happier Than Ever," by Billie Eilish
Swag Bag Clue: A DVD of "Medusa: Snakes on the Astral Plane" and a note that says "$340 Million Sold!" "Sometimes, you can find success in the most boring places."
"I grew up far from the limelight as a dancer in the shadows. I never really fit in. I mean, look at me. But I never really worried about whether or not I fit in. I knew from a young age that I was made to stand out. So, I did my own thing and didn't listen to anyone who wanted me to be like everyone else.
I've come a long way by accepting everything about me, even the snakes. All the way from the Super Bowl to this stage. Yes, you could say I've been here before. But I'm here to win this time. And 'Masked Singer' seems like the perfect stage for me. Because if you look around, you can't find anything stranger than this."
Panel guesses: Elle Goulding, Megan Markle, Jessie J, Charli XCX, Dua Lipa, Lorde