When it comes to pranking your friends with fake audio effects, then Clownfish Voice Changer for discord is the available option on the internet. Clownfish Voice Changer can be used with Discord, which is communication software specially built for the gamers by the gamers.
We all know that the gaming industry is at its boom, and more individuals now seeking potential in gaming as a full-time career. As the industry is developing, the individuals are also adapting the new and trending ways to chat with other players. Earlier gamers used to use voice-over-internet-protocol (VOIP) apps that gamers use to talk to each other in real-time. But in 2015, Discord replaced the old fashioned VOIP. But why people started to love Discord if they both offer real-time voice chat?
The answer to this question is straightforward; most gamers love discord because it offers many exciting features along with voice chat. Play music while on call, Screen sharing with friends, Discord Quote, Discord Emojis, and Discord Voice Changer are some best examples of why people love Discord.
I think its enough for the discord and its features. Now let's move to our topic "Clownfish Voice Changer" and find out more information about it and also read further about the steps to use Clownfish Voice Changer.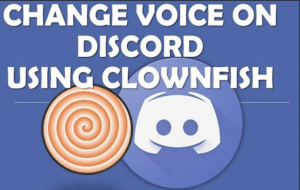 What is Clownfish Voice Changer?
Clownfish Voice Changer is the name of a voice changing software, which can fake your voice through the microphone in real-time voice or video chat. This software is free to use, and anyone can download and install it within a few clicks. This voice changer is compatible with all the application that uses a microphone.
We can see people use social media to upload their videos and an increase in the trend of using social media to upload videos with a changed voice. It has become an essential interface software with everything in the reach of the user's single click. But still, ClownFish isn't compatible with macOS yet.
What Voice Effects Does ClownFish Offer?
Below is a list of voice effects which clownfish offer to its users.
Alien
Atari
Female pitch
Helium pitch
Clone
Mutation
Baby pitch
Radio
Fast Mutation
Slow Mutation
Robot
Custom pitch
Male pitch
Silence
What are the requirements to use Clownfish Voice Changer?
Despite being easy to use voice changing software, but still, you need a computer that is capable enough to run ClownFish smoothly. I should also mention that this software doesn't use up a lot of your device's space and processing power. It is also true that most of the gamers use ClownFish to fake their voice which streaming gameplay using Discord.
The reason why you need a capable computer to use clownfish is the game itself. Because the game you are playing will also be consuming your device's processing power too.
So, it is just not the clownfish for which you need to worry, as it's system requirements are deficient, but you need to keep in mind about the other two processes' as well.
Main Requirements to Run ClownFish
A computer with a 32-bit or 64-bit operating system windows installed. You can either use Windows 7 or Windows 10 because the earlier versions of OS can lead to freezing and not compatibility problems.
A 3.5mm microphone should be attached to your computer or laptop because clownfish won't work until it detects a microphone attached to your computer.
The updated version of Clownfish. The earlier versions of the software will still work but may have compatibility issues with the latest versions of Discord or recently released games.
As far as the hardware is concerned, don't forget the fact that you spent $$$$ to built a machine which should be capable of running all the latest and high-end games such as GTA 5, HALO, Red Dead Redemption II and Marvel's Avengers 2020. Didn't built a potato PC to run games like PAC MAN, Tetris or Mario and Contra.
Is Clownfish Voice Changer Safe?
It's safe to use. However, it doesn't seem to work with a Creative Soundblaster card. To gaping the holes in your connection that can be exploited easily. You can use a VPN that supports AES 256-bit encryption.
Does Clownfish Voice Changer Contain Virus?
Whenever you download any file from the internet, always scan it through a good antivirus. Because the internet isn't a small territory, and every free software isn't right to use.
How to install Clownfish Voice Changer?
To download and install the software, you just need to possess the basic knowledge of installing software on a computer. You can download the ClownFish Software anywhere from the internet. (Don't forget to scan for possible viruses)
You can download Clownfish by visiting the official website: Clownfish.
Before clicking on the Download button, choose the version you want to download. For instance, if you have installed windows 32bit in your pc then select 32 bit, and the downloading will begin. Check the image below.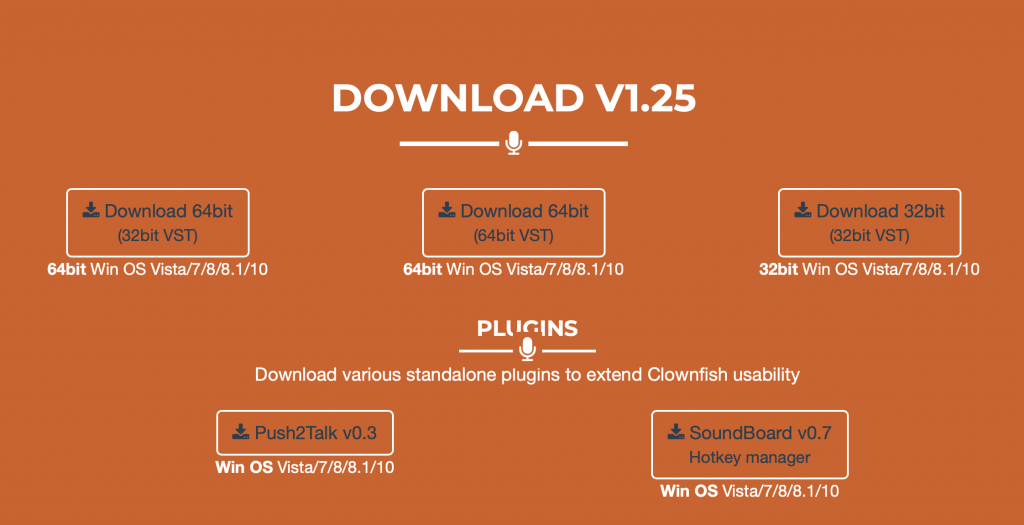 Now open the download file to begin the installation process by following the on-screen installation instructions.
The process will close some services, but all of them will start them back during installation.
How to Use Clownfish Voice Changer on Discord?
Now that you have installed the Clownfish Voice Changer application on your system. It is also compatible with Skype, Steam, TeamSpeak, and all other voice chat applications.
The installation process is straightforward, but setting it up for use with Discord is slightly different, and, yes, you can say a different process altogether.
First, open the Discord.
Now open the Clownfish Voice Changer.
To set up the app with other applications. Locate the app in the system tray then Right-click on the icon shown in the image below and then click on "Setup" to start setting up Clownfish for use across different apps.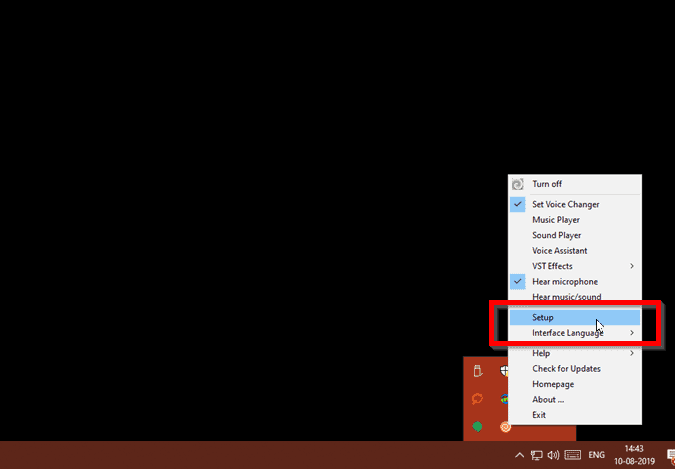 Now, you can notice, even Clownfish is installed on your computer/ laptop, but it isn't working as the actual voice changer feature has to be individually installed.
It is the reason that you can't use the voice changer feature without attaching a microphone to your device. Click on the Install button next to the Microphone.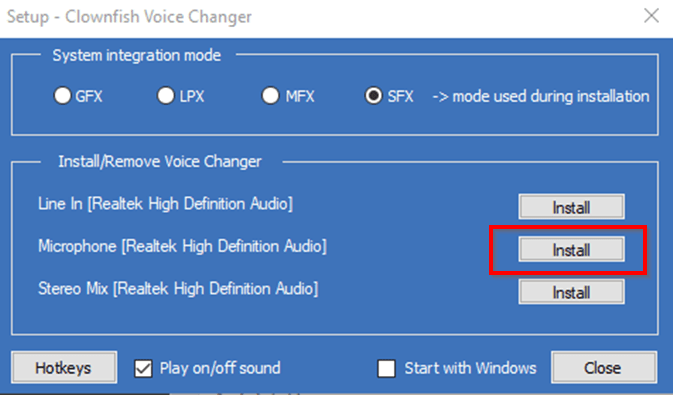 In this step, you may need to do some sidesteps because most of the users don't have their microphones set up as their default device. And they think they have downloaded a wrong or incompatible version of the software. But it is not like that as you can make it work but just setting up the microphone as your default device.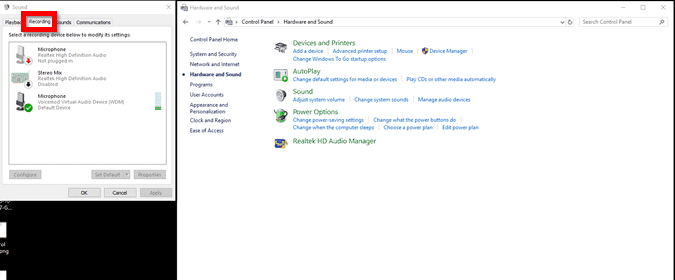 If your microphone is already the default device, then skip to #8 step. Otherwise, keep on reading.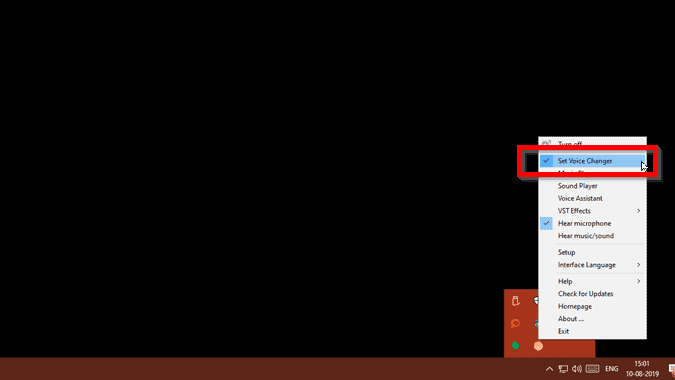 Steps to Setup Microphone as Default Device
Go to the sound manager option from the system tray and click on the "Recording" tab. Now you should see a list of all available devices which are compatible to use as your default audio device.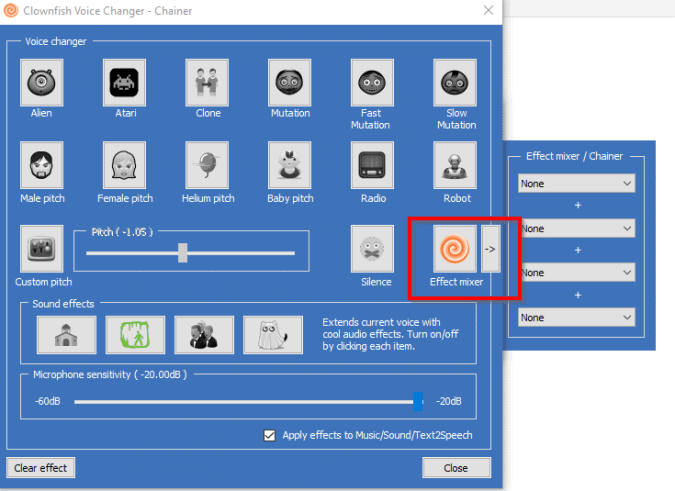 If you don't want to keep changing the default voice device input in Discord, then, I recommend you to follow this last step. Open Discord app and go to "Voice & Video" under the app setting. In the Voice settings, set the input device to "Default."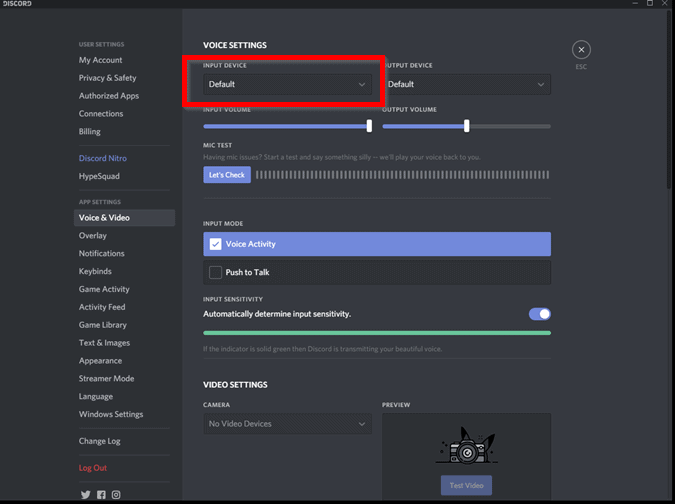 You can also turn the voice changer off in a few simple steps as well. Click on the system tray icon and click "Turn off." This step will disable the Clownfish voice changer across your system.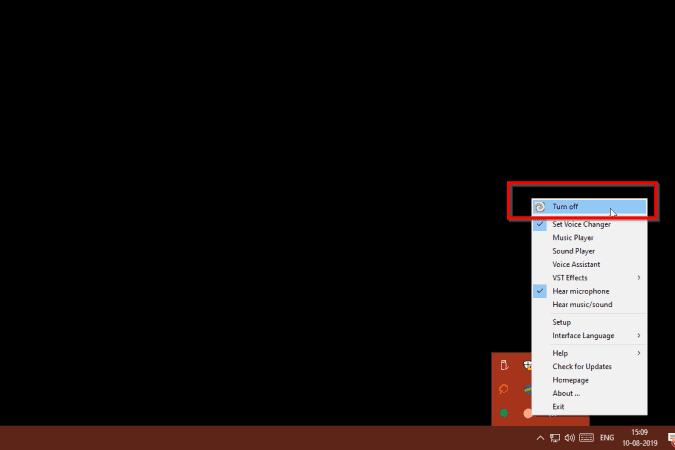 Clownfish Not Working, How To Fix Clownfish Voice Changer?
If the voice changer isn't changing voice in Windows 7, Windows 10 on Discord, then you may try these best available solutions. However, you don't need to try all of these options, just go through the list until you find the one that suits you best.
Solution 1: Upgrade the clownfish to the latest version.
Solution 2: Check the platform version.
Solution 3: Install your clownfish microphone.
Solution 4: Install the app in the default folder.
Solution 1: Upgrade the clownfish to the latest version
You may have downloaded the outdated version of the software, and it may be the reason that you are facing the problem that your voice is the same even after following the steps exactly as mentioned. To rectify the problem, try updating the clownfish app.
Now start from the beginning, and uninstall the clownfish from the control panel. Then Go to the official Clownfish Voice Changer website. Download and install the latest version of the application.
And restart your PC and verify the application again.
Solution 2: Check the Platform App Version
As we all know that clownfish works with all the devices that allow you to make real-time voice calls. So, when you are using the latest Clownfish, but it doesn't work, it could be possible that the problem is with the platform app. Try updating the platform app to its latest version and restart the program and computer again.
Solution 3: Install Your Clownfish Microphone
If you want to solve the voice changing issues, then you should not ignore the microphone because the clownfish app needs to use your default microphone to detect your voice in the system and translate it.
Clownfish also won't work if you have installed a microphone incorrectly. Or it may be possible that you are using incorrect and outdated microphone drivers.
If you are sure that you aren't using the latest drivers then you can search the official website of the microphone. Or additionally, you can also use some driver updating software because it is the bitter truth that windows don't release the latest drivers in time.
Solution 4: Install the App in the Default Folder
If you haven't installed the clownfish app into the default folder then it also may be an issue. To fix the problem, just delete all the files and folders of clownfish and try installing again.