Discord is built for gamers by gamers. It enables users to perform many customizations from the very first step after signing up. It allows users to set-up their servers, server customizations, custom emojis, voice changers, and much more. Discord also supports several bots that help users to collect essential data, delivering notifications, scheduling events, and many other things. Dyno Discord Bot is one of the best examples of a special kind of discord bots. That support full server customization and moderation on Discord. In short, we can say Server customization and management just got a whole lot more comfortable with the help of bots.
What is Dyno Discord Bot and What it Does?
Dyno Discord Bot is a bot specially available for discord users to help them in server customisation and moderation. The Discord bots make the app easy to use. Because with the help of bots, it becomes effortless to manage notification, collects essential data, moderate server, Controls the level of Spam, Plays Music right from within Discord. So, it depends on the developer only what he has built by using the bot because possibilities are endless.
Features of Dyno Discord Bot
The Dyno Bot developers update the bot frequently with new features and enhancements. If you want to see a new feature in Dyno bot, then you can directly request to add a new feature in next update as most of the new features are built off what users ask for.
Uptime:- This bot comes with 99.99% uptime. Which means you can enjoy this bot 24/7/365.
Web Dashboard:- An easy to use dashboard which also allows easy and simple customisations.
Announcements:- After proper customisation, you will get all the notifications when anyone joins/leave or banned on a server, and an optional personal message.
Music:- With Dyno Bot, you can play music High performance and quality music directly from discord. Which is backed up by serious streaming hardware.
Moderation:- Moderation with Mod log, warnings, timed mutes/bans.
Auto-Moderation:- This feature of the bot allows the developers to fully configure the server with automod to prevent spam/raid.
Server Log:- An in-depth server event log. Which can be accessed within the server anytime.
Extra Protection:- This bot provides additional protection against Mass Mention spam or raid detection and ban.
Auto Roles:- With this bot, a developer can assign a specific role for each newly joined member, and timed tasks can also be assigned to the group members.
Joinable Ranks:- Let members self-assign roles as per the group needs.
Custom Commands:- Easy to use custom commands which can be set to manage and collect data or notifications.
AFK:- Post an AFK status when mentioned in chat.
Cleverbot:- Clever Bots is loved by everyone all over the globe. We all know Cleverbot is a chatterbot web application that uses AI to start the conversation with humans.

Overwatch stats, Tags, Reminders, Google search, and more features which provides a perfect look to the server is configured correctly.
How To Set Up or Add Dyno Discord Bot On Pc?
The Dyno Discord bot can be installed and set up on a PC just after following a few simple steps.
First of all visit the official website of Dyno Bot to start the process. And sign in with your Discord login credentials.


Now in the next step, from the list of all available severs. Select your favorite server on which you want this bot to deploy.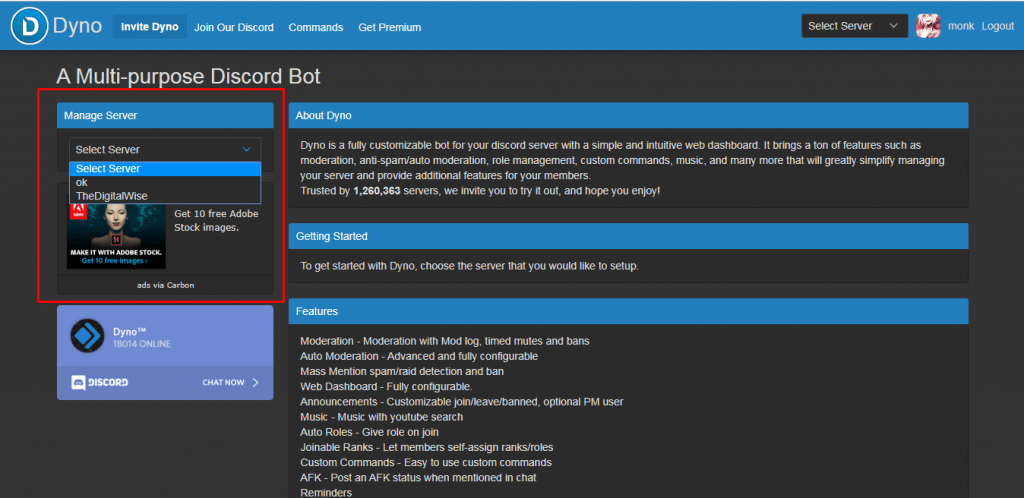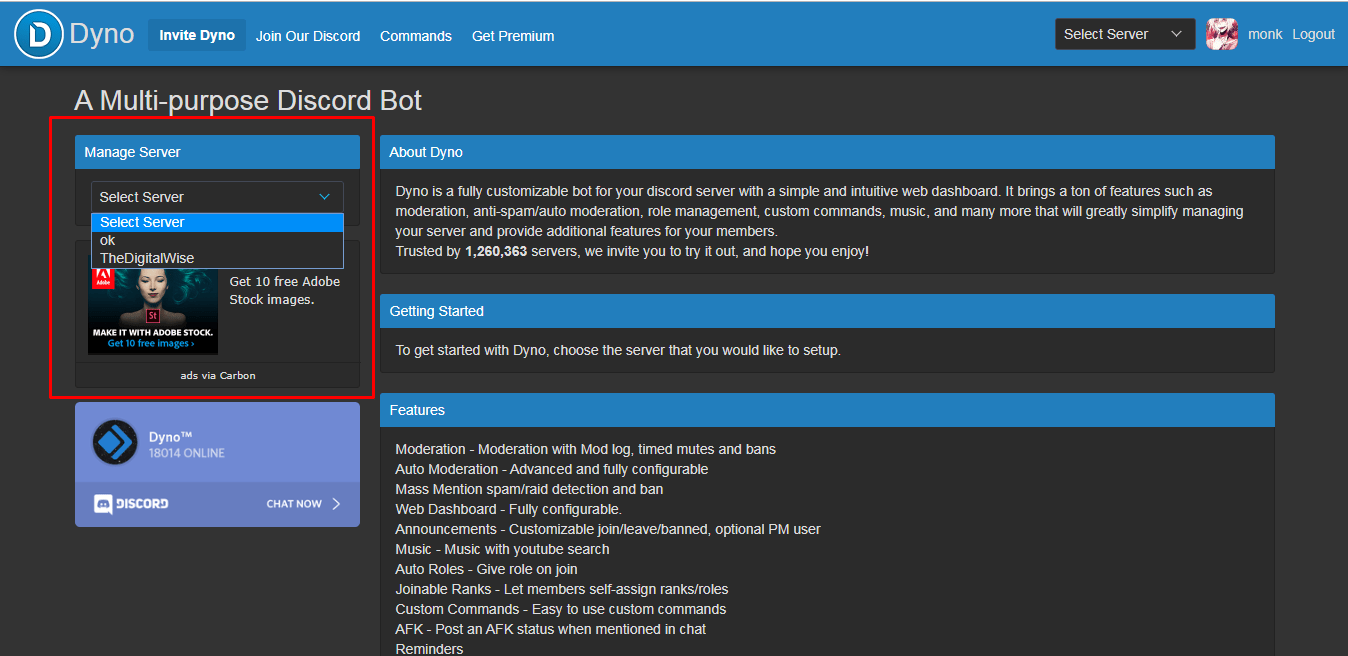 Now you just need to authorise the Dyno bot to control and apply customisation on the server. To save the changes click on the option of "I 'm not a robot" and solve the captcha, then click authorize.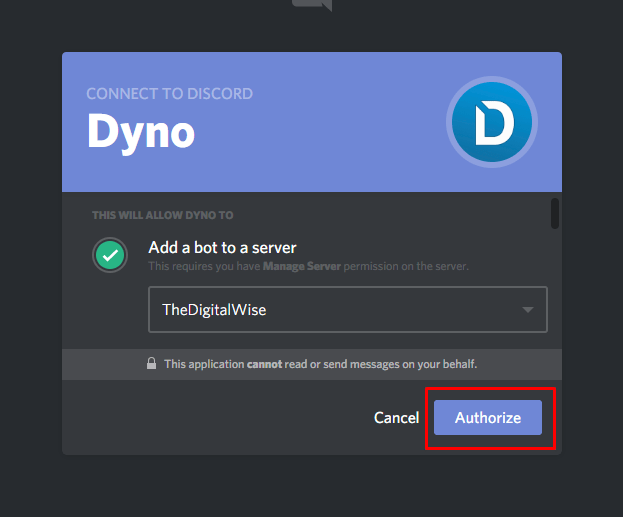 Now head towards the commands tab to apply the bot commands to your server. In the next step, all you just need to go to the Settings and provide a Nickname and Command prompt.
Now you can manage your server by just adding few commands from the list available at the bottom of the dyno bot website.
Final Words
Do doubt that dyno is a very good tool to manage or customise your server by just adding various commands. After authorising the bot with your server you can start adding everything in a few clicks with this tool. After adding commands, which are available at the bottom of the page. it will perform every task for you as assigned.