Everyone wants to dip their toes into the online dating pool. So, you try your luck on online dating apps like Tinder, Hinge and Bumble. You signed up on Bumble, and after setting up your profile; you start searching for a perfect partner. Perhaps, you have found your ideal match or your dates were all duds, and now you want to move on because the fun was over. So, you decide to delete your bumble account permanently.
When you want to move on, you try to delete the app by thinking that you won't install it again. But believe me, just deleting Bumble app does not mean singletons in the surrounding area will stop seeing your profile.
However, if you wish to delete bumble account permanently, then it wouldn't be an easy task to do because these companies don't lose their customers. So, they often require you to take several steps to disable your account permanently.
So, let's read further and find out all the possibles ways to delete your bumble account.
Special note:- Deleting your Bumble account permanently will also wipe your profile, matches, conversations, and other personal data. So, if you decide to come back, then you will need to start from scratch.
Hot Topic:- Dyno Discord Bot – Guide to Add and Use Dyno Bot in Discord
Can I Temporary Disable My Bumble Account?
Yes, you can.
How to Snooze Bumble Account?
In September 2018, Bumble added a snooze feature for all the users who wish to take a break from all the social networking platforms. With this snooze feature, you can take a break from swiping and interacting with matches even without losing any of your profile information or connections.
Till the snooze period your profile will be hidden for everyone. And your profile won't appear in any swipe matches and your current matches. Moreover, the users will also get notification that you're taking a break from bumble. So, they know you're not just ignoring them.
If you decide to snooze your bumble account, then follow these steps mentioned below.
Open the bumble app, and to reach your profile, click on the profile icon which is available in the top left corner.
Now tap on the gear icon in the top left corner of your profile tab to access your settings.
In the settings, tap on Snooze Mode.
Before snoozing, you can choose to snooze your account for:

24 hours;
72 hours;
a week; or
Indefinitely.
If you are deciding to snooze for a short period, then you can also choose a reason to help your matches to understand why you are taking a break. You can choose:
I'm travelling.
I'm focused on work.
I'm on a digital detox.
I'm prioritizing myself; or
No thanks, if none of the above reasons fits with your situation or you don't want to provide any reason.
Whenever, you want to use the app again then just tap Deactivate snooze mode and you can start using your account without any problem.
Use Bumble's Date Mode
if you love to meet or find new friends on bumble but not in mood to date them. Then you can simply turn off the date mode so you can continue to use Bizz and BFF feature of the app.
To turn off the Bumble Date Mode, follow the steps mentioned below.
From the Bizz or BFF tab, click on the logo available at the top, then swipe through the modes until you see Bumble Date. Tap tap on the "X" in the top left corner to remove it.
Trending Topic:- Ethernet Doesn't Have a Valid IP Configuration: Fix Error in windows 10
Quick Note:- When you turn off the Bumble date option,  all the connections you made in Date mode will also be deleted and can't be recovered again so think twice before turning it off. But whenever, you decide to start dating; then you can always turn this feature on from settings.
Leave No Trace: Delete Your Bumble Account Permanently
There may be a lot of reasons behind deleting your bumble account. Such as you have found someone you're ready to commit to, had a bad experience with Bumble or have any other purpose for wanting to leave the platform because the people here are annoying and desperate.
If you have made your mind to delete your Bumble account and never install this app again in future, then you can delete your account permanently. But don't forget the fact that you will be required to take several steps to disable your account permanently.
The account deleting process is divided in three stages.
Unlink From Facebook
Delete Your Profile
Stop App Payments
Step #1: Unlink Your Bumble Account from Facebook
If your bumble account isn't connected to your Facebook profile, then you can skip this step. But if you signed up using Facebook, then keep reading and follow the steps.
Must Read:- Discord Nitro – Is it Worth or Just a Waste of Money?
Log into your Facebook profile in App.
Navigate to Settings then go to Account Settings.
Now select Apps and click on the apps logged in with Facebook.
From the list of app select, Bumble then clicks on the Remove App button.
Now just confirm the changes which you made and you are done.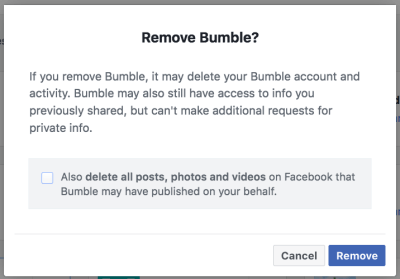 Steps to Unlink Your Bumble Account From Facebook via Desktop
Log into your Facebook account in your desktop's browser.
To go to the settings, click on the arrow available in the top right corner, then click Settings.
In the third step, click on Apps and Websites in the column, which is available on the left side.
If you have a lot of apps there, then scroll down till you find Bumble, and check the box next to it.
Now click Remove.
Now just click on Confirm to apply and save the changes made recently.
Step #2 Delete Your Bumble Account
Unlinking Bumble account Facebook is most important because if you delete your account from bumble, then Facebook will be having your data stored in your account. Once you have finished the steps mentioned in Step #1, then you can move on to deleting your Bumble account.
To delete your account, follow these four steps:
Open your Bumble app.
Now select Profile Settings and then scroll to the bottom of the settings page.
To complete the account deletion process, select Delete account.
Type the word "delete" and tap Confirm to apply and save the changes.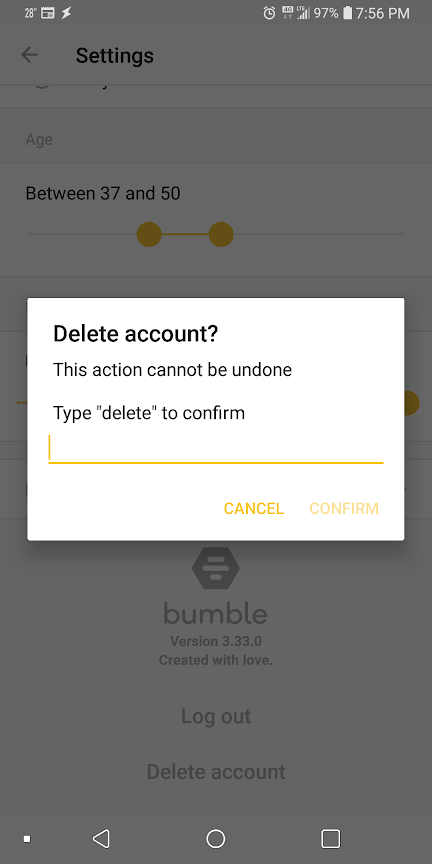 After following these steps, your bumble account will be permanently removed, and after that, no one will be able to access your account. So, before deleting, always make sure that you're fine with losing your chats and matches before going through with these account deletion steps.
Step #3 Unsubscribe From Bumble Boost
If you have purchased the premium subscription of bumble, then you will need to cancel your subscription before the due date. Otherwise, will still be charged even after you have deleted your account.
Steps to Unsubscribe from Bumble Boost for Android Smartphone Users
Open Google Play Store App. And go to Account and Subscriptions tab.
Select the Bumble subscription or any other subscription which you also want to cancel.
Select Cancel and confirm the cancellation to avoid unnecessary future charges.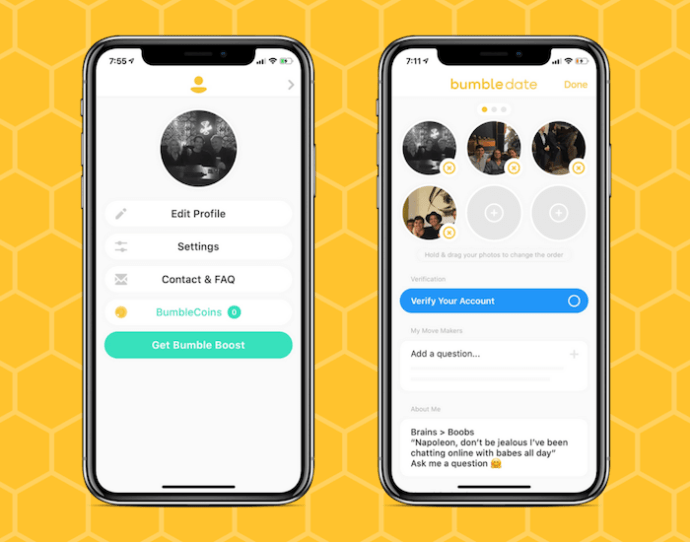 Steps to Unsubscribe from Bumble Boost for IOS/iPhone Users
Open the Settings.
Now tab on your Apple ID which is available at the top.
Select View Apple ID and then go to the Subscriptions tab.
From the available list of subscriptions select Bumble.
Select Cancel Subscription and you are done.
Final Words
Dating sites and apps can be fun, but unfortunately not for everyone. If you had bitter experience and decided to move on from online dating stuff by deleting your Bumble account and cancelling your Bumble Boost subscription, then it is really a very good idea. And also don't forget to rely on other option outside the apps. Don't quit until you achieve success.