A week ago, the most awaited game Call of Duty: Black Ops Cold War was released. But just after a week from the release date, the game started to encounter some bugs in terms of connection. Owing to this issue, whenever a player clicks on the "Join Party" button. They get an error message that says, "Black Ops Cold War Unable to Join Party 3 error.
As this Black Ops Cold War Unable to Join Party Error usually pops up on the screen and it is simply ruining experiences. To confirm this unable to join party error, the players have taken this issue to the social media. After taking it to the social platforms, the players get to know that they are getting the Error as soon as players using different consoles or platforms try to band together in a lobby.
Is this Black Ops Cold War Unable to Join Party Error Universal?
Hence we can say that the PS4 and Xbox One owners can still join the game to have some fun. Because the developers usually release a client for the older generation of consoles as well. And this error message is commonly found in PC users.
There are two ways to this error. In the first, you won't be able to see any of your friends online, even if they are. In the second, you can't join each other's lobby even if you send requests to each other. Both of these issues occur due to an Activision account bug.
Although, still statement came from the side of Activision, neither they gave any feedback to the players who tried to sort out the issue on their official platform. Let's have a look at solutions which you can follow to fix this problem
How can you fix the "Unable/Failed to Join Party" Crossplay Bug in Call of Duty: Black Ops Cold War
Restart your PC or console to solve Black Ops Cold War Unable to Join Party Error
First of all, you must try to solve the error by restarting the game. If the problem persists, then ask your friend to perform the restart. In several cases, a restart can work for you, but this method has helped many players and is one method to absolutely try.
Deleting From The Friend List
As this is Activision account bug, thus, to solve this, you need to try deleting and add them again via their respective Activision account IDs. To dot his, follow the below-mentioned steps.
Navigate to the Social menu of your account.
Select the friends you're trying to play with.
Choose their profiles and click on delete.
Re-add them afterwards with their Activision account IDs.
Restart either your game or the Activision client, and they should appear as online on your friend's list once again.
Check the NAT Settings
Head to the settings tab in your game menu to rectify the error. Nevertheless, before making any change, make it sure that the 'Crossplay' feature is already on. And also remember to check 'NAT Type' is selected as 'Open' or not. You will read about the NAT type later in this article. Apart from all this, you also need to bear it in your mind that NAT should be the same for everyone who wants to join you in a lobby.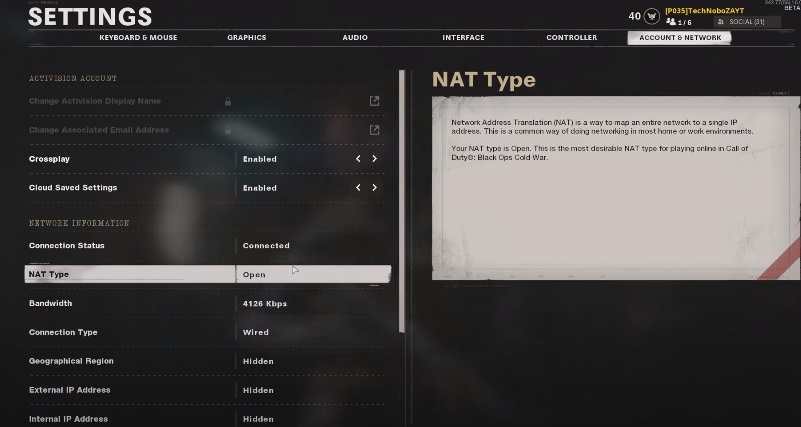 How to Check Check NAT Type?
If you are a proud Xbox (Xbox One, Xbox Series X/S), then you must have a Moderate NAT type. Of course, by default, your NAT type is set to open, but in some cases the ISPs only allow Moderate.
If you have installed the game on PS 4 or PS5, then you can try your luck by selecting Type 2 NAT. This is the equivalent of Moderate NAT on Xbox. Again, the ideal NAT type should be Type 1, but Type 2 should be okay for most gaming and online activities.
Furthermore, if your PlayStation console is either taking a Strict or Type 3 NAT, then, in that case, you should get help from your ISP to know how to change it to either Open NAT or Type 1 NAT.
Must Note:- If everything is perfectly fine at your end, but you may still face the Black Ops Cold War unable to join party error. Under these circumstances, you must confirm with your friend whether their NAT settings are correct or not.
Verify or Repair Game Files
There are many unfortunate events, where the main reason behind this error may not be related to any on-going server issue, ethernet problem or a random game bug.
However, if you have tried every solution, but the "unable to join the party" error continues. Then delete the game files and reinstall it, because now this is the only hope to get rid of deeper software glitches that damaged the files.