Popular TikTok user Nessa Barrett has led a somewhat out-of-the-ordinary life. Barrett, a senior in high school who made a TikTok account just for fun with her friends, gained roughly 10 million followers in the first year and is now a viral hit. When she was 18 years old, she was forced to leave her hometown in New Jersey and move to Los Angeles.
Barrett may have given the impression that she was ready for her climb to stardom, but in actuality, she was taken aback by how quickly it occurred. She tells Elite Daily, "I never intended [my TikTok] to be anything." According to him, it all had a very natural feel.
Since she was a child, Barrett has wanted to pursue a career in music, and her meteoric ascent to fame on social media was just the push she needed to realize her dream. With songs like "Pain" and "If U Love Me," she has recorded several emotionally charged singles.
I got this tattoo matching with you a few weeks ago @nessabarrett i love u so much, you have no idea how much you mean to me 🖤 pic.twitter.com/xB8vN89eYE

— 💔 (@eternal__ily) October 13, 2022
The ups and downs of her artistic career haven't been smooth sailing either. She's gained a massive fanbase thanks to social media, with over 4 million Instagram followers and 12 million on TikTok, but with her newfound fame has come criticism.
The musician recognizes that what is shown about him on social media is incomplete. "Singing gives me the freedom to be myself in front of my fans; it helps me connect with them on a more personal level." Below, Barrett gives some context for the more intriguing of her  Tattoos.
Also, Look At
Nessa Barrett Tattoos
TikTok celebrity turned musician Nessa Barrett is heavily inked to commemorate her evolution from artist to performer. The 20-year-old is heavily tattooed, with several designs paying tribute to her trials, climb to prominence, and music.
If you want to see pictures of her tattoos and learn what they signify, read on! Nessa told Elite Daily in November 2020, "Most of my tattoos have something to do with music."
Arm Tattoos
Her tattoos include a butterfly, two ghosts, a rose, a spider, the word "beautiful," a tooth, "777," and the words "I still dream of you" on one arm. Additionally, she has a tattoo that reads "small," which is what her grandmother calls her.
She also has the words "beauty is a knife" written in crimson over her other arm.
Debut Ink
The first of her tattoos reads "HEAVY SOUL" and is positioned on her rib cage.
Tattoo on the Neck
In June 2020, she got a tattoo that reads "pure" on her neck. In a November 2020 interview with Elite Daily, Nessa defined "pure" for the magazine's readers. That's the spot I've always wanted a tattoo. The majority of my tattoos are related to the music industry.
Growing up, I always got compliments on my "pure," "distinct," and "unique" voice anytime I sang. That was mostly due to the presence of tunes. Furthermore, I thought that would be quite neat. What a lovely word.
Skull Heart
Examining the human heart in the skull's hand that adorns Nessa's arm.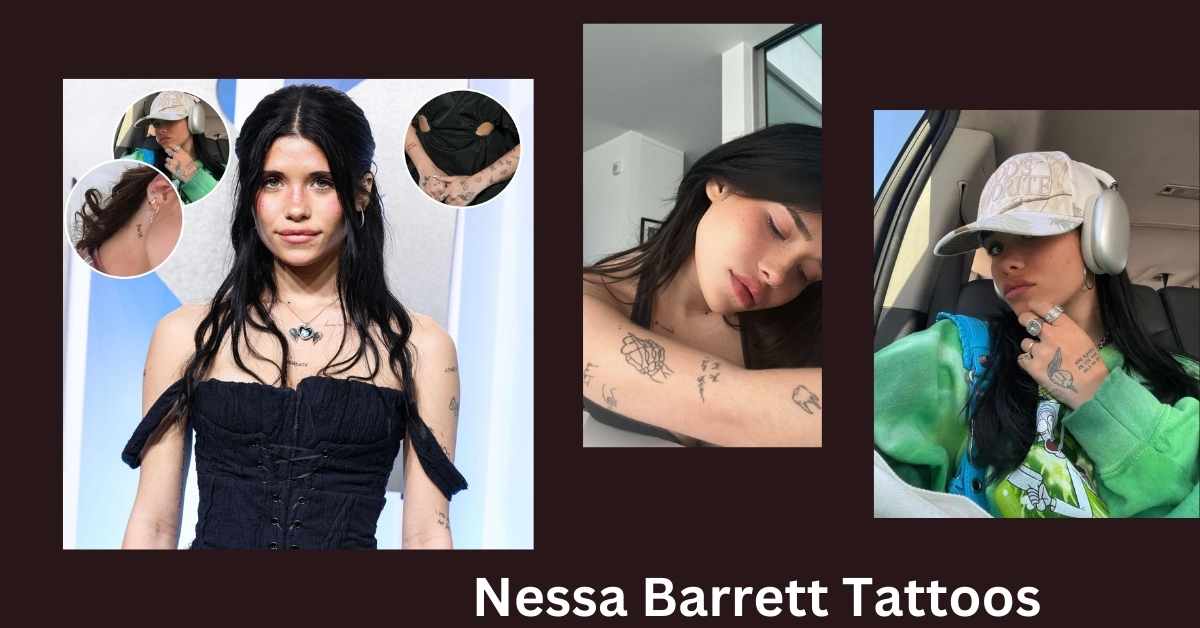 Hand Tats
On her left hand, she has a tattoo of Cupid's head with the words, "Oh dear, I've been hit by cupid's bow."
Matching Butterflies With Cooper
After the tragic death of Cooper Noriega in June 2022, Nessa and his sister Parker received matching tattoos to honour him. In a June 2021 TikTok, Nessa mentioned having the built. At one point, he was having severe difficulties, and he ended up taking an overdose. The bitch died, so I got this tattoo right away.
"I'm not joking; it was only for five seconds, and then he returned to life," she said. I thought of that, and went out and bought it for him. Nessa's central breast says, "Heaven is for lovers," and the word "delicate," while her other reads "delicate."