Model Emily Ratajkowski And Pete Davidson Are Reportedly Dating: Worldwide, men and women would kill to get a glimpse of Emily Ratajkowski, but only a select handful have succeeded. In November 2022, the model and sex icon acknowledged that most of her adult life had been spent as a "pick-me" girl and serial monogamist.
The author of "My Body," however, made a promise to never again "put up with s-t" after filing for divorce. Here is a list of Ratajkowski's relationships, starting with the one that led to her 2013 topless performance in Robin Thicke's "Blurred Lines" music video. Please scroll down to check out Model Emily Ratajkowski And Pete Davidson Are Reportedly Dating and her dating history.
Read More News
Andrew Dryden
Between 2013 and 2014, Andrew Dryden Ratajkowski dated the Los Angeles-based art director and clothes buyer Andrew Dryden. Although nothing is known about their relationship, the Inamorata designer was overheard announcing her recently single status to guests at Super Bowl parties in February of that year.
When asked for comment at the time, Dryden responded to Page Six by saying, "Sorry, I don't want to talk about it," suggesting that Ratajkowski may have been the one to break things off.
Liza Minnelli has outlived the mystery of whom Pete Davidson will date next. The serial lothario is dating model/actress Emily Ratajkowski.

— LizaMinnelliOutlives (@LiZaOutlives) November 14, 2022
Jeff Magid
Ratajkowski started dating LA-based musician and music producer Jeff Magid the same year she broke up with Dryden. According to reports, the two spent three years "inseparable."
The model was seeking to leave Magid's downtown LA flat, according to a source who spoke to the New York Daily News in October 2017.
The source at the time stated, "Jeff is an extraordinarily successful music producer and is working all over the country. Since Emily is also experiencing a career boom, their business success did not allow them to spend much time together.
Sebastian Bear-McClard
Almost immediately after beginning her next relationship, Sebastian Bear-McClard Ratajkowski became engaged to the man.
feels like we're witnessing history, something extraordinary has been happening and we can't grasp it https://t.co/V3Pa6qhFrs

— Zeeshan Aleem (@ZeeshanAleem) November 15, 2022
Two weeks after being first seen together, she and film producer Sebastian Bear-McClard startled the world by secretly getting married in a courtroom in New York City in February 2018. In October 2020, Ratajkowski shared that she was expecting their son as their first child.
Sylvester, the infant, was born in March 2021. The brunette beauty, however, divorced in September 2022. two months after Page Six first announced the couple's decision to separate. At the time, an insider told us, "Yeah, he cheated." He repeatedly cheats. It stinks. He's a canine.
Brad Pitt
The mother of one began hanging out with Hollywood hottie Brad Pitt a few weeks after she officially ended her four-year marriage. "This has been the subject of speculation for some time.
They had been seen together a few times, an insider said to a news outlet in September 2022, adding, "Brad is not dating anyone." After their first meeting, the model and the actor went out "a couple" more times.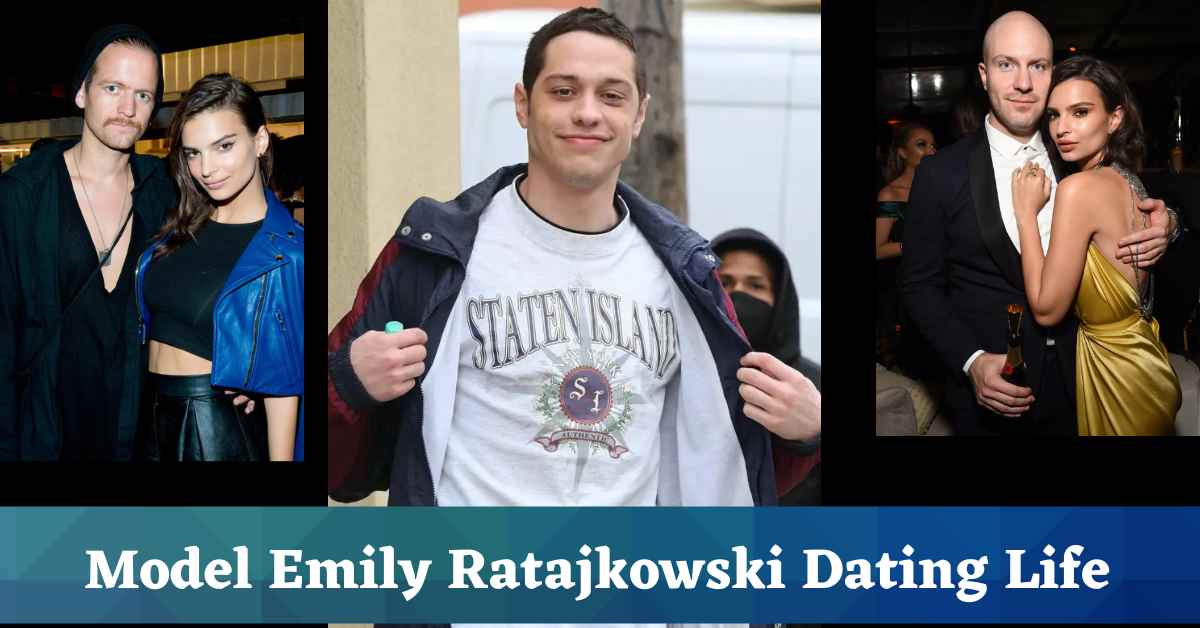 DJ Orazio Rispo
Ratajkowski was seen making out with an unknown man on a New York City date in October 2022. The lovers shared PDA before riding off the silver fox's motorcycle while the paparazzi clicked away. DJ Orazio Rispo was eventually revealed to be the lucky boy.
Model Emily Ratajkowski And Pete Davidson Are Reportedly Dating
Every path appears to lead to Pete Davidson. Following Kim Kardashian's divorce from Kanye West, which occurred after three months, Davidson moved on to Ratajkowski.
Pete Davidson and Emily Ratajkowski are reportedly now dating 😳‼️ pic.twitter.com/RF1jHpj09T

— RapTV (@Rap) November 14, 2022
In November 2022, a source informed Us Weekly that "Pete and Emily have been talking for a couple of months now," adding that they "both truly like each other."