We all enjoyed the first season of Clarkson's Farm and had a good laugh while watching it. Find out where the real-life Diddly Squat farm shop and restaurant are located, as well as what we know about a potential Clarkson's Farm Season 2.
The documentary series Clarkson's Farm, which premiered in June 2021, quickly became a hit after being made available on Amazon Prime Video. The show shed light on the challenges farmers confront, and viewers were shocked at the size and cost of running a farm, as well as a large amount of time required for relatively little returns on investment.
In addition to showcasing Clarkson's own excursion into farming, the show also produced a star out of young farming contractor Kaleb Cooper and other regular faces featured on the series. Clarkson opened a farm shop there at the conclusion of season 1, and now there's a restaurant that viewers can actually visit.
Girl in the Picture on Netflix, which follows the story of Franklin Floyd, is also drawing a lot of attention because of the shocking web of deceit and murder it uncovers. If you have seen the Channel 4 documentary Ghislaine Maxwell: The Making of a Monster, you know the answers to the questions concerning how long Ghislaine Maxwell has been in prison and where she is being held.
Read More-
Clarkson's Farm Season 2 Plot
The first season focused heavily on the farming industry's reaction to the outbreak. Clarkson was forthright about the cost to the farm's bottom line as a result of this development. In the future season, we hope to see them making amends for what happened.
We also saw the problems brought by prolonged drought, which prevented turning up the ground and by prolonged periods of heavy rain, which left the ground soggy. From 2021 to 2022, the climate was remarkably stable, so we expect to see them slogging through the same heatwaves, snow, and storms.
Some of Clarkson's early struggles in establishing the Diddly Squat Farm Shop were revealed in Season 1. We are about to see the ins and outs of Clarkson's plans to expand the farm, which have received extensive media coverage over the past year. With local opposition and the council's refusal, we can't wait to see what happens with the restaurant's launch.
Clarkson's Farm Season 2 Release Date: Latest News & Cast Updates – https://t.co/cm5dwoFXp2 pic.twitter.com/6yMC8syTe5

— KYM UK (@KnowYourMobile) July 4, 2022
Despite having his application for a restaurant with 60 seats and a 70-space parking lot refused, Clarkson saw a way to move forward with the launch. Clarkson and Cooper, who recently started a brewery, have received a lot of attention online for their Hawkstone beer and cider.
They've revealed their competitive sides once again by contrasting their beverages of choice, Clarkson with beer and Cooper with cider. Clarkson also hinted at an intriguing scenario on Instagram, including a reference to "Kaleb's Chopper."
We have no idea what they'll be doing with a helicopter out on the farm, but we can't wait to find out! We look forward to seeing the show and are confident that it will be as successful in its second season as it was in its first.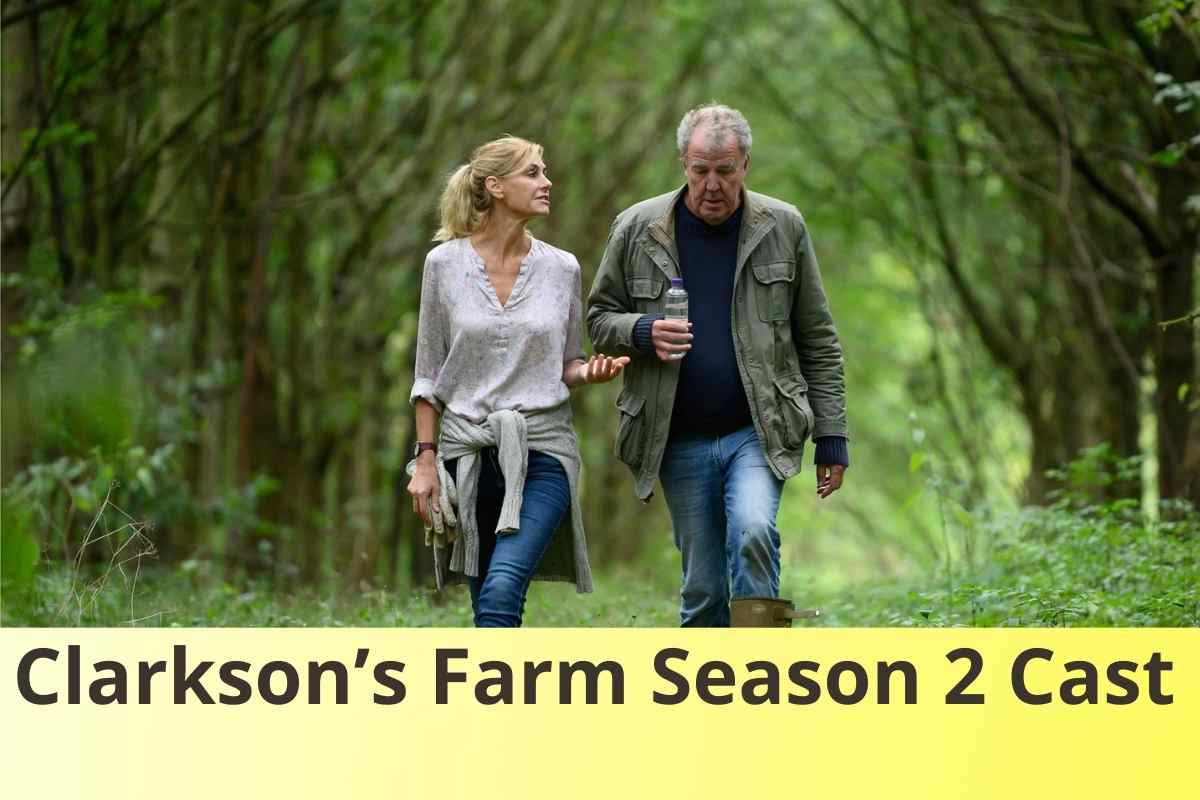 Clarkson's Farm Season 2 Cast
The good news is that a Clarkson's Farm Season 2 is on the way, and all indications are that it will be as good as, or even better than, the first. Those that appeared in the first season will undoubtedly return for the follow-up.
The cast of Diddly Squat, including Clarkson, Kaleb, Lisa, Charlie, and Gerald, will return for Season 2! Furthermore, there may be some fresh faces. There has been no formal announcement of Clarkson's Farm Season Season 2 cast members.
Clarkson's Farm Season 2 Release Date
The show's renewal for Clarkson's Farm Season 2 was announced in July 2021, and production began shortly thereafter. But there's been no formal word on when it'll be out. By 11 June 2022, Clarkson had responded to a fan's Instagram comment asking, "Any news on season 2?"
His words "Production is scheduled to wrap up around the middle of July. We anticipate having it finalized and published before the start of the new year." To put it another way, our current best guess is early 2023.
Clarkson's Farm Season 2 Trailer
While an official trailer has not yet been released for Clarkson's Farm Season 2, we have gotten a sneak peek at the film's action due to Clarkson and Cooper's social media posts and the Diddly Squat Instagram account.