Are Harry And Olivia Still Together In 2022? Harry Styles and Olivia Wilde have been together for almost a year and seem happier than ever. Having met in September 2020 on the production of their film Don't Worry Darling, the 38-year-old director and the 28-year-old singer publicly acknowledged their relationship at a wedding in January 2021.
What began as a tight relationship rapidly turned amorous, a source told PEOPLE exclusively at the time. "The outcome was predictable by everyone. He hasn't been able to stay away from her trailer, even during breaks."
A source reported in February 2021 to PEOPLE that the couple spent "all their time together" on the Don't Worry Darling set and were "extremely serious." "She is also delighted with Harry," the actress's confidant continued.
An informant told PEOPLE that Wilde and her seven-year fiancé Jason Sudeikis will be calling it quits in the first few months of 2020. Everything you need to know about Harry Styles and Olivia Wilde's relationship, from their on-set chemistry to their PDA-filled vacation.
Harry Styles And Olivia Wilde Age Gap
Olivia Wilde, an actor, and director, recently discussed her relationship with singer Harry Styles in an interview and addressed the age difference between them. Wilde and Styles have been dating for about a year without saying anything about it. Despite the age difference of 10, they seem happy together.
The need to set the record straight when someone is spreading misinformation is strong. "But I guess what you learn when you're genuinely happy is that it doesn't matter what strangers think of you," Wilde told Vogue in a recent interview.
olivia wilde is an actress/director

never seen any of her work but she's dating harry styles and caught flack last week for saying publicly she fired shia labouf from the newest film she directed but he shared receipts that in fact she begged him to stay on

— justice 😎 (@softlyemerging) August 28, 2022
She said, "All that counts to you is what's genuine, what you love, and who you love. The Booksmart filmmaker continued by saying she is in her best physical and mental condition ever. The two started dating in January 2021 after meeting during the production of Wilde's next film, Don't Worry Darling, in which Styles stars.
Is Harry Styles Still Dating Olivia Wilde?
Sometime later, when asked about the singer's decision to join the film's cast, the actress told the magazine "Vogue" that she was happy to hear the news since she knew the singer would enjoy the film's visual style and would help deconstruct toxic masculinity models in the same way he had in the past.
The two were pictured holding hands during the wedding of Harry Styles' agent, Jeffrey Azoff, in early 2021. Similarly, reports at the time stated that the couple "had been dating for a few weeks" since they "were affectionate with their pals, holding hands, and appearing quite pleased."
There was a period when they could keep their connection private before word got out. As Us Weekly reports, a source has confirmed that Styles and Wilde are dating after the singer referred to her as "his girlfriend" at his wedding address.
It is evident from what she said and the images circulating that this couple had started their love journey. Also, they were spotted together upon Harry Styles' return to his Los Angeles home. This unmistakably established the existence of a new Hollywood power couple.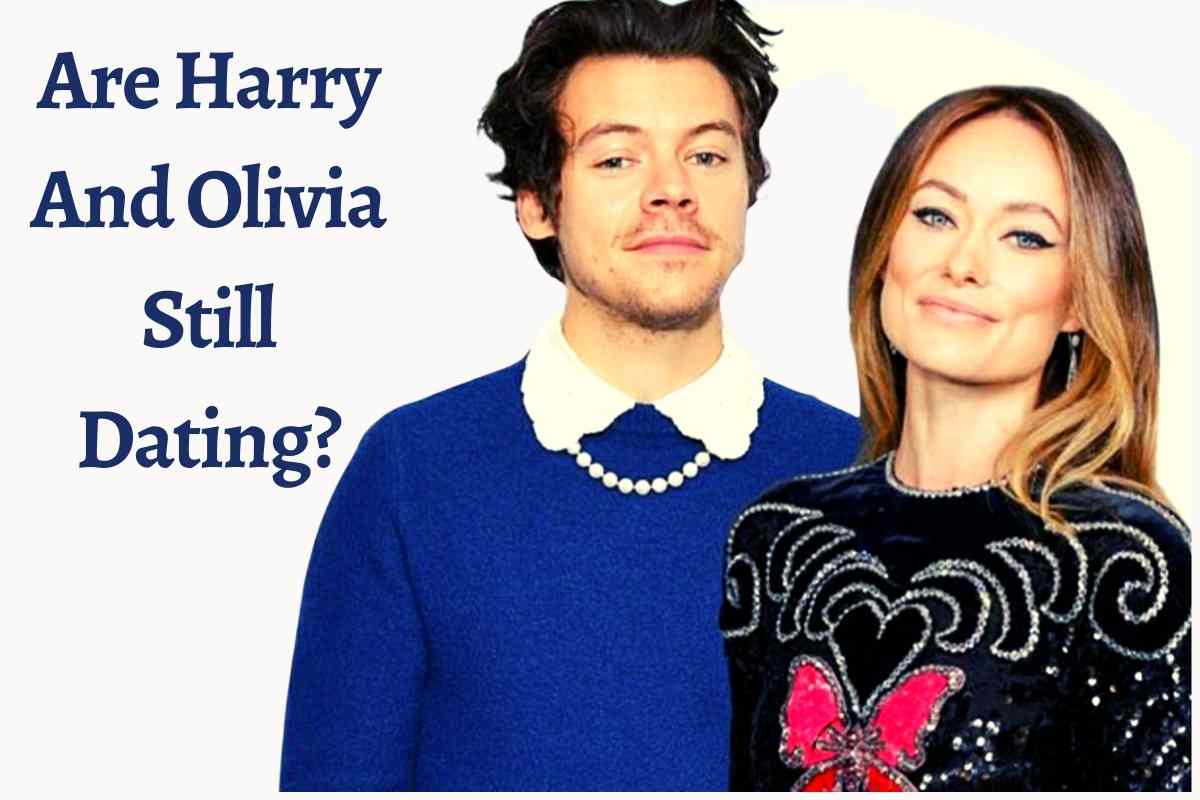 How Did Harry Styles and Olivia Wilde Meet?
They initially worked together on the set of Olivia's psychological thriller Don't Worry Darling, which starred Harry and Florence Pugh. Photographs of Harry and his manager Jeffrey Azoff touching hands at the wedding shocked their supporters in January 2021.
A British singer officiated the wedding. Us Weekly said an on-set source said, "Harry and Olivia had chemistry almost instantly." It was inevitable that they would end up together.
Are Harry And Olivia Still Together?
Both Harry and Olivia want to keep their love affair between them out of the spotlight. As 2021 progressed, rumors spread that the pair had become deeply attached and were ecstatic to be together.
They spent every waking moment together on set, and even though the movie has been done for years, they're still together. Wilde took things to the next level by introducing Styles to her two children, Otis, seven, and Daisy, five, whom she shares with her ex-husband, Jason Sudeikis, as their first anniversary neared.