Twister Sequel: Storm chasers, brace yourselves. A follow-up to the 1996 film Twister is in the works. The first film's plot, written by Jurassic Park author Michael Crichton, centers on a pair of scientists, played by Helen Hunt and Bill Paxton, who chase a tornado in an attempt to deploy weather sensors they have developed.
On their way, they patch up their strained relationship and try to outrun their rival, Dr. Jonas Miller, a rival storm chaser played by Cary Elwes, to the ultimate prize: witnessing the most powerful tornado ever recorded.
Twister was a commercial and critical success, grossing nearly $500 million worldwide and receiving two Academy Award nominations (for Best Visual Effects and Best Sound, respectively). A ride at Universal Studios Orlando, which operated from 2005 until 2015, was based on it, and so was a Sega Pinball game.
Read More:
What Be Will Twisters About?
Jo Harding, played by Helen Hunt, was a meteorologist in the first Twister who became obsessed with twisters after experiencing a traumatic event as a child.
Bill Harding (Bill Paxton), Jo's soon-to-be ex-husband, and their team would put themselves in harm's way by driving right up to the eye of massive storms to launch a sensor device that would provide invaluable data for their study of tornadoes.
Michael Crichton, whose novel Jurassic Park was the basis for one of the most successful film adaptations of all time, co-wrote the original screenplay with Anne-Marie Martin, and Jan De Bont was in charge of the film's direction.
Jo, played by Hunt, may or may not make an appearance in Twisters; Mark L. Smith wrote the screenplay, and according to reports, it follows the couple's daughter as she follows in her parent's footsteps by chasing storms.
What Actors And Actresses Are Featured In Twisters?
The cast and crew members for Twisters have not yet been finalized. Helen Hunt's return as Jo has not yet been confirmed, and the identity of whoever may play her daughter in the film remains unknown. Actor Bill Paxton, known for his portrayal of Bill Harding, died in 2017. Whether or not the rest of the original cast will make an appearance in the sequel is still up in the air.
Helen Hunt Pitched a Twister Sequel And Was Told No
Cast member Helen Hunt proposed making a sequel to the film on her own, but she was met with resistance from a studio nobody had heard of. It was revealed in a podcast episode that the actress had reached out to studio executives around the time the reboot was announced.
The studio was uninterested, and it was tough to get even a meeting to pitch the concept. Daveed Diggs (Hamilton, The Little Mermaid) and Rafael Casal (The Shape of Water) were going to be co-writers on the script with her (Blindspotting). The plan was to have an ensemble cast of various races continue the tradition of storm chasers set by the original form. 
Hunt expressed an interest in making a cameo appearance as herself, albeit as a "tired" and "haggard" woman killed by a tornado in the opening scene. The film studio they finally met with rejected their pitch.
It's possible that this plan for a sequel could have been the best option for keeping the franchise going, mainly since it includes a way to say goodbye to Hunt's character. Some successful and some flops have been seen in the continuing sagas of other famous films with more diverse casts. One of the original cast members is returning to take part.
Lee Isaac Chung's "Twister" sequel will be released July 19, 2024. https://t.co/fWaH0rjGWh pic.twitter.com/WamwsMKbBA

— IndieWire (@IndieWire) December 21, 2022
Twisters Has A Script And Is Looking For A Director
Without any word on the reboot, a sequel was announced in October 2022. Universal Pictures and Amblin Entertainment reworked the project into a "legacy sequel" titled Twisters. Although much of the story has been kept secret, we know a few key points.
The film's plot revolves around the daughter of Dr. Harding and Dr. Harding, who have taken up storm chasing as a hobby. We can only guess the story and the other characters' personalities based on our limited information.
Despite the presence of their child, it is unclear if Hunt will make a return appearance in the film, though it appears that Universal is holding out hope that she will. Paxton died in 2017, so his daughter will carry on his Twisters legacy in his place.
The production team and other involved parties were discussed in an exclusive report by Deadline. The studio was hoping to hire Kosinski to direct the reboot, but now that he has committed to running a film starring Brad Pitt, they must look elsewhere.
The list, according to Deadline, includes Dan Trachtenberg (10 Cloverfield Lane), Travis Knight (Missing Link), and Jimmy Chin and Elizabeth Chai (The Meg) (Free Solo). Trachtenberg, however, has denied being involved in the project.
Mark L. Smith, who also wrote the screenplay for The Revenant, penned this one. The studio reportedly got their act together and began filming it earlier because Steven Spielberg read it and loved it. Production is scheduled to start in the spring of 2023.
In addition, no actors attached to Twisters have been officially announced. We probably won't hear anything about casting until a director is on board, but seeing how they hope to start shooting in the next few months, we should hear something soon.
While we wait to hear more about the sequel and whether or not it will go into production, we recommend watching some of the best films about natural disasters.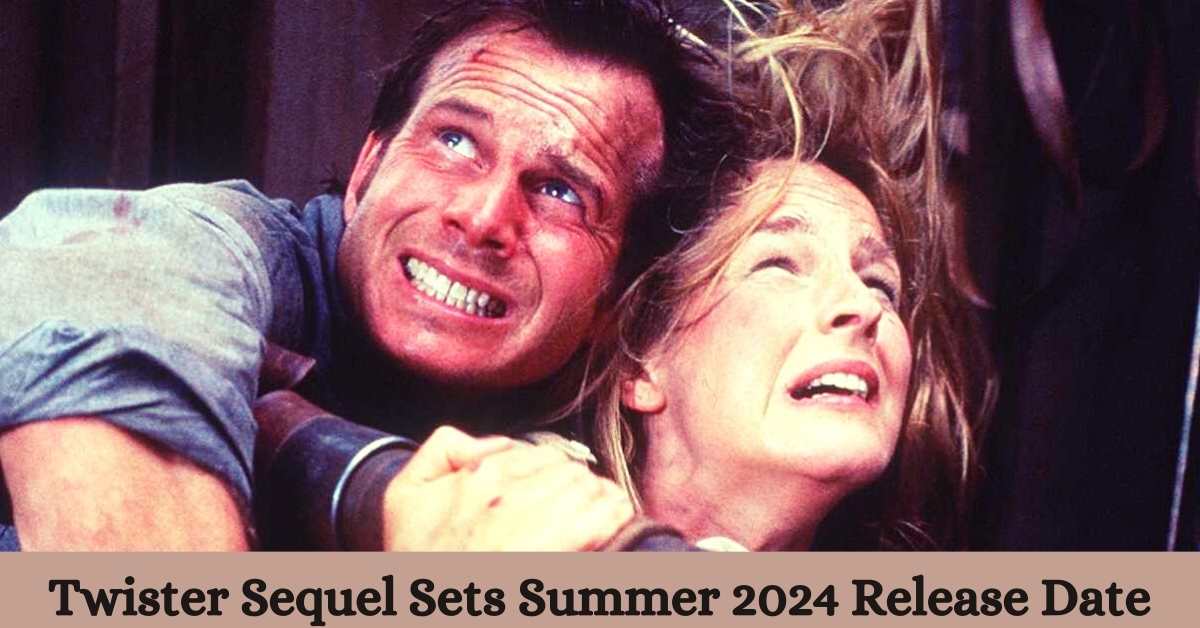 Twister Sequel Sets Summer 2024 Release Date
The summer of 2024 will see the release of "Twister sequel to the 1996 disaster film "Twister." With Universal's support, the film is scheduled for a wide release on July 19, 2024. With its current release date, "Twisters" will share theatres with Paramount's "Transformers: A New Generation" and will debut one week before Marvel's "Thunderbolts."
Lee Isaac Chung, whose direction of "Minari" earned him multiple Oscar nods, is at the helm of "Twisters." Mark L. Smith, who collaborated with director Alejandro G. Iárritu on the script for "The Revenant," which won an Oscar and starred Leonardo DiCaprio, will write the screenplay for this film.
Thanks mainly to its innovative special effects, the first "Twister" became a worldwide smash hit and grossed nearly $500 million. Not only did "Twister" become a financial success, but it was also nominated for Oscars in the best visual effects and sound categories.
The film stars Helen Hunt, Bill Paxton, Cary Elwes, and Philip Seymour Hoffman as a group of scientists searching for the most powerful tornado in decades. The sequel has been developing since 2020, but plot specifics are still unknown. While Universal has billed the remake as "a new chapter from the 1996 movie," it remains unclear how the two films will be connected.
Warner Bros. Pictures will contribute to the budget of "Twisters." Producer Frank Marshall's resume includes such blockbusters as "Jurassic World," "Indiana Jones," and "Bourne," as well as "The Sixth Sense" and "The Color Purple." His company, Kennedy/Marshall, is behind the film.
For Universal, the project will be supervised by executive VP of production Sara Scott and creative executive Jacqueline Garell; for Kennedy/Marshall, it will be directed by executive VP of production Ashley Jay Sandberg.