The Wonder Movie Ending Explained: The Wonder, a new Netflix film, has finally arrived, and here you will find the plot twist revealed at the film's climax explained. Lead actress Florence Pugh is among today's most exciting and promising young actors.
Additional supporting cast members include Kila Lord Cassidy, Niamh Algar, Cirián Hinds, Toby Jones, and Tom Burker. The movie was adapted from Emma Donoghue's novel of the same name. Sebastian Lelio, a Chilean director, takes the next logical step in his filmmaking career with this picture.
The picture has the potential to be among the greatest of the year. Besides its engaging narrative, the book is noteworthy for exploring essential topics, including the Irish famine, religious beliefs, and women's societal roles. But it's also great because it shows us a fantastic illustration of our relationship with stories in action.
The film intends to spark a discussion about how stories can influence us as people and as a culture. In the end, the movie becomes less of a traditional narrative and more of a brilliant experiment in storytelling. Spoilers for The Wonder will be discussed below. You should know that you're reading at your own risk.
Check Out More Post
About The Wonder Movie
In "The Wonder," which takes place in Ireland in 1862, Nurse Lib Wright visits a little town to check on a girl named Anna, who has gone four months without eating yet seems to be doing OK.
To observe how Anna is carrying this out, a male council (Dr McBrearty, Sir Otway, Father Thaddeus, John Flynn, and Seán Ryan) assigns Lib and Sister Michael to eight-hour stints. Lib and Michael's final assessment of the scenario must be as impartial as possible, so they're not allowed to discuss their inferences with each other.
As Lib begins her watch, she observes Anna in a very unremarkable fashion and passively records all she sees about her. While Lib appreciates her parents' dedication, she is wary of the numerous people who make appointments to see her and donate to the cause. She claims she needs a proper reading, so she stops Anna from visiting her parents and other strangers. That's when problems begin to emerge.
Does Anna Confess Why She Is Fasting?
Anna's religious leanings are repeatedly alluded to in the film, and the O'Donnells' home is adorned with Christian icons and symbolism. Then we learn that Pat, Rosaleen and Malachy's kid, has died.
Anna's fast is assumed to be a form of sorrow for her brother's death after discovering that she keeps a lock of his hair hidden away in the bust of St. Mary. Anna briefly adds that in Purgatory, souls are made to burn eternally when discussing Lib's background of caring for ill soldiers who had done "terrible things" during battle.
Upon hearing Lib declare that Pat is without a doubt in Heaven, Anna firmly counters that nobody knows for sure. Lib makes the deduction that two plus two equals four and forces, Anna, to come clean. She finds out that Anna and Pat were involved in an incestuous union, ultimately leading to Pat's illness and death.
THE WONDER MOVIE OF THE YEAR pic.twitter.com/zBdna7TS0n

— sophia (@hellopugh) November 15, 2022
Rosaleen holds Anna responsible for Pat's death and compels her to do the ceremony mentioned above to release Pat's soul from Purgatory and return it to Heaven. Incest, whether voluntary or voluntary, is illegal under Ireland's "Punishment of Incest Act 1908."
This indicates that having a romantic relationship with a family member was frequent before 1908. Do feel free to get sick from that thought. In such case, please, for the love of God, see a doctor. When it comes to "The Wonder," it's easy to see that Rosaleen and Malachy approve of the relationship between Pat and Anna.
They keep stating that because Lib is British, she doesn't comprehend the O'Donnells and is too "modern" to condone incest. And it seems like Rosaleen is feeding Anna during their "goodnight kiss" by spitting into her mouth and chewing food like a bird, all the while using religion to convince Anna that she is doing the right thing (hence, the bird trapped in a cage allegory).
They are capitalizing on Anna's misfortune on the side because, as was noted earlier, such content was popular at the time. That makes Rosaleen somewhat of a leader (the kind that exploits their family to get brand endorsements).
'The Wonder' Ending Explained: How Does Lib Emancipate Anna? What's Up With Kitty Breaking The Fourth Wall?
It's important to note that Lib's husband left her after she gave birth to a kid who only lived for three weeks and two days. She has a ritual where she takes a sedative and plays with the boots while holding a pair of the child's shoes. This demonstrates how often she suffers from grief over her kid's death and how being close to Anna revives her maternal impulses.
Kind of insulting that The Wonder is getting dumped straight to Netflix while Don't Worry, Darling got to be the most discussed movie of the year

The Wonder is properly weighty and cinematic while DWD feels like it was made to be half-watched and fully forgotten pic.twitter.com/t828mmHW6W

— Finn-al Destination (@Fickelas) November 16, 2022
Even when instructed to observe, she makes it her responsibility to ensure her well-being. In her final moments of desperation, she pleads with Rosaleen to keep feeding Anna like a bird so that she can keep living. Upon realizing that tactic was ineffective, Lib resorts to more in-depth brainwashing to convince Anna that she will die and be reborn as Nan (the nickname that Anna and Lib decided on earlier).
As soon as Anna gives her consent, Lib takes her for a run and performs a rite in which she pretends to pass out as Anna for a few seconds before coming to as Nan. After that, Lib rushes to the O'Donnell home and burns anything she can get her hands on, including the bottle of sedative she used and the pair of baby boots.
As a result, she suffers burns. But it destroys not only her last recollections but Anna's as well. It's common knowledge that fire represents illumination, cleansing, destruction, and suffering. In Christian tradition, fire symbolizes God's wrath and a means by which sinners are punished.
After learning that Anna had passed away, Lib claims that she "accidentally" reduced her to ashes by knocking over a light. This makes it appear that Anna's death was an "act of God." So, she hides the fact that she and Will have taken her somewhere secure by using the common understanding of fire.
The O'Donnells and the rest of the village mourn Anna's death, but in London, we see the girl living as their adopted daughter, Nan, and eating alongside Lib and Will. Does she remember what happened to her? I don't think so, at least. She forgot about it or remembered it only as a terrible dream.
What's with all these set-within-a-set and other fourth-wall violations, though? In the first scene, we are taken to a movie set where the "The Wonder" production is underway. The narrator presents it as a story that we, like the "characters" in the film, must accept at face value.
In the film's final quarter-hour, we learn that Kitty O'Donnell is behind the narration and is reminded of the importance of storytelling. While filling out the registration form, Nan or Anna breaks the fourth wall by staring directly into the camera, suggesting that she is aware that we are witnessing her story develop.
And in the film's last seconds, the camera reveals that the final eating scene is a movie set, with Kitty standing there (dressed in contemporary garb) and saying, "In. Out. In. Out." So, as far as my powers of reasoning take me, "The Wonder" seems to imply that accounts of women's liberation from various forms of tyranny are only feasible in works of fiction.
Things are far more nuanced in the real world. The system may use the same tools and techniques for abuse, but we can learn from these stories, support women trapped in cages (actual or figurative), and help them break free.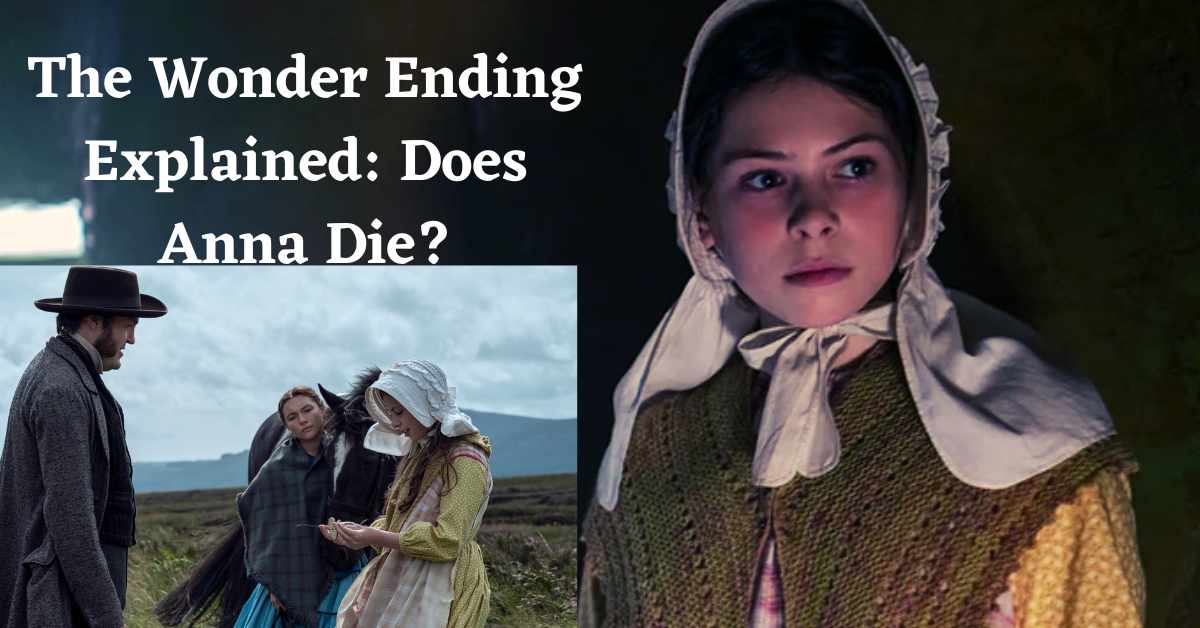 The Wonder Ending Explained: Does Anna Die?
Sceptical Lib thinks she'll have the riddle solved quickly, but as the days pass and the secret feeding remains hidden, she becomes increasingly frustrated. Lib tries to force-feed Anna in one scene but is shocked by her actions and pulls the feeding tube out of Anna's mouth.
The family's deepest secrets begin to unravel until Lib gives up her quest to reveal deception and her own set of dogmatic ideas and accepts Anna's version of events. Anna, it seems, is not being fed by "manna from heaven" but rather by her mother, who feeds her by passing food to her with each kiss.
Anna is grieving the loss of her brother, whom she says showered her with "double love" when she was nine years old—the love given to a sister and the love given to a wife. Anna believes that if she abstains from food and makes other sacrifices for him, she can help him escape Purgatory and go to Heaven.
What Happens After Lib Separates Anna From Her Family?
To stop the violence, Lib takes Anna away from her parents. Rosaleen, who says she wants her children to be happy in paradise, and the stubborn town committee, who want Anna's predicament to be a religious or medical miracle, refuse to act, leading to Anna's rapid decline.
Remember 'Don't Worry Darling'? We don't either.

Luckily, Florence Pugh has another movie coming out in 2022 — and this one reminds you why she's one of the most brilliant actors working today. Our review of 'The Wonder.' https://t.co/o20zr8mXfO

— Rolling Stone (@RollingStone) November 16, 2022
Last but not least, Lib decides to take matters into her own hands, convincing a hesitant Will to assist her in transporting Anna to Dublin. Lib then pretends to be a priest at the Holy Well, instructing Anna to close her eyes so she can bless the kid. By repeatedly calling her " Nan, " Anna is reawakened and can eat for the first time in days.
Now on a roll, Lib goes on to fire down the house where the watch was taking place, convincing the committee that Anna perished in the blaze after she knocked over a lamp. The committee debates Lib's report and whether she should be charged, but they soon realize they could be responsible for her actions because she was their employee.
In an emotional and happy climax, Lib travels to England, where she makes up with Will and 'Nan'. Under false names, they board a boat destined for Sydney, Australia. We see them eat at a table with other passengers at sea until the camera pans around, leaving the stage and revealing to the audience the large studio that holds it.