For the Dancing with the Stars program on Monday, viewers travelled back to the 1990s. The live performance of "Whatta Man" by Salt-N-Pepa and En Vogue in the ballroom, which featured a dance by the professionals who will be participating in the DWTS Live 2023 Tour, got things off to an exciting start.
Following the introduction of the eight couples for '90s Night, co-hosts Tyra Banks and Alfonso Ribeiro revealed there will be two rounds of competition (including a fun relay dance that might give the couples extra points) as well as a double elimination after the evening.
Additionally, Tyra disclosed that the episode would honour Aaron Carter, who was discovered dead over the weekend at the age of 34. Carter and Karina Smirnoff competed on DWTS season 9; they finished sixth overall.
"Aaron Carter passed away the last weekend. And the Dancing with the Stars crew here remembers the joy and vigour he brought to the program and this floor. And we send his family our heartfelt sorrow," Tyra said.
Also, Read The Recent News
Dancing With The Stars Emma Slater and Trevor Donovan
Following a nearly faultless performance the previous week, Trevor rejoiced in sharing the top spot with Charli D'Amelio. The 90210 actors remarked, "I never in a million years thought I could do what I did last week. In fact, "I feel like I'm turning into a dancer."
Trevor claimed that he primarily remembers the 1990s for their "grunge music," such as Nirvana, thus he was rather taken aback to find that he would be dancing a Salsa to "Barbie Girl" by Aqua.
Trevor was motivated to perform the routine flawlessly (as well as the difficult lift) even though the song wasn't his first choice to earn the right to move on to the following week. The judges praised him highly following his energetic performance.
Len Goodman, the head judge, praised the introduction as "so much fun" and a "wonderful way to start the program," but Derek Hough criticized it as "totally plastic" and praised Trevor for growing in "assurance." Bruno Tonioli remarked that seeing the choreography was similar to watching a musical sitcom.
You have improved as a performer like there is no tomorrow. Every aspect of the roles came to life flawlessly. Carrie Ann Inaba, on the other hand, was a little harsher, commenting that Trevor appeared "a bit too tense" and advising him to try to "smooth it out" the next time.
Trevor said on the dance after he finished performing: "That was so much fun… the choreography was incredible." Emma "launched that lift on me and it terrified me to death," he further acknowledged.
Emma, though, was unfazed. I do trust him, she added. "I anticipated that he would always get me, and he did. He's just a fantastic companion, and we get along pretty well.
The singer says her husband has been her rock during 'Dancing with the Stars.'
MY COWBOY: Jessie James Decker reveals her secret to a strong marriage
Jessie James Decker spoke to Fox News Digital about her family, her challening expereince on "Dancing with the Stars" and her l… pic.twitter.com/pSs2xhkebk

— Sarah Velazquez (@SarahVe98542136) October 31, 2022
Dancing With The Stars Gleb Savchenko and Shangela
After receiving a perfect score the previous week, Shangela was still in a happy place. She recalled that she was so overtaken with enthusiasm that she was unable to feel her legs beneath her. The drag queen then reflected on her teenage years in the 1990s and stated that was when she came to terms with being gay.
In the 1990s, Shangela attended her first LGBT bar, which is when she "truly started to love who I was as a person," she added. Shangela expressed her delight when she learned she would be doing the samba to the Spice Girls' "Spice Up Your Life" because she had performed on Ru Paul's Drag Race and received praise from Emma Bunton, a.k.a. Baby Spice.
That didn't lessen the pressure she was under, though. There is a double elimination right now, she remarked. "Any slip-up and I might be in the bottom two and out the door all of a sudden."
Going outside the door, though, didn't seem likely after her dance. She "crushed the room and the crowd appeal is off the charts," Derek observed. She had "a bit sloppy at times" footwork, he added, but he insisted that "I am not taking anything away from that beautiful, incredible performance."
You have so much fire down there, you erupt on stage, Bruno said to her. Carrie Ann couldn't stop gushing about the routine and said, "You take over the stage. She remarked, "I always anticipate your performance because you're going to bring such joy and such energy. "You did an outstanding job, you killed it!"
Len said, "You come out every time and give it your all. The footwork occasionally loses a little bit of control, but generally, great. In response to the double elimination from the previous night, Shangela declared, "Gleb and I are about to turn it up and turn it out if I have to get them five more points."
Dancing With The Stars Witney Carson and Wayne Brady
After last week's dance, Wayne claimed that he "felt vindicated," but he added that "it's anybody's game" now that Trevor is at the top of the leaderboard. When looking back on the 1990s, Wayne claimed that because it was the decade in which Who's Line Is It Anyway? debuted and catapulted him to fame, it "changed my life forever."
ALL THE WAY FROM L.A. – There wasn't a dry eye on "Dancing with the Stars" last night. Selma Blair had to bow out due to her MS. Here she is breaking the news to her partner, and talking about how sad she is to leave, but glad she danced. https://t.co/XYoO591hWC

— 93.1 KATO Hits (@931katohits) October 18, 2022
Then he made note of how busy he is right now, presenting several shows in addition to competing on DWTS. The actor and TV personality remarked, "I'm fatigued, yet I show up here because I have a fire," adding that "Everyone's so close that one slip-up might send you home."
Bruno praised their routine, saying, "When you get in the flow, you are unstoppable… you are the ultimate consummate performer," as they danced a lively salsa to Boyz II Men's peppy song "Motownphilly."
Carrie Ann remarked, "That was your best dance so far." "Everyone was dancing with you. This is "90s Night, your night!" Len said, "That was wonderful," and Derek said, "That was really, truly top-notch. You managed the choreography, brother; it was a challenging routine.
Physically, of course, it's difficult, but just as in relationships, you find time for the things you want and love, Wayne added later while discussing his hectic schedule with Alfonso. Then, Wayne and Witney achieved their first unblemished grade since prom night. Wayne remarked, "It feels good to be back."
Dancing With The Stars Britt Stewart and Daniel Durant
Before focusing on '90s Night, Daniel enjoyed moving up to a fourth position on the scoreboard last week. That required the CODA actor to consider his early years, especially his tense bond with his mother who abandoned him.
Check Out
After graduating from high school, Daniel stated he finally got to meet his birth mother, and during their initial embrace, he "could feel my blood." She passed away approximately two weeks later after Daniel discovered she had cancer a few years later.
"I still harbour regret today. I wish I had seen her more, I feel stupid," he remarked. "To this day, that still bothers me." It's challenging and emotional for him to relate this experience, but he was overjoyed to be able to open up and pour out his heart and soul to Britt and everyone else watching. "I want to prove to everyone that I can win"
After that, Daniel and Britt gave a jazz routine to Depeche Mode's "Enjoy the Silence" that featured a moving moment when the music stopped and viewers could see Daniel dance deaf.
The routine was praised by the judges, with Carrie Ann calling it "amazing." "It was so funky, this new Daniel came out," she continued. It's an honour to see you dance, and I am very proud of you.
You never cease to astonish me, Len said to Daniel. You have such a confident dance style. It was polished and powerful. Through his emotions, Derek described the routine as "insanely intense" and that it had "made me realize how much I depend on the music."
The world is proud of you, Bruno continued. We heard nothing but quiet. All of us were transfixed. Your work up here is so unique and distinctive; it's a gift to us.
Daniel expressed to Alfonso his desire for the dance to demonstrate to everyone "I'm successful and I'm here. And no matter what, you can succeed. Britt said that the experience of dancing to silence was "extremely meaningful" for her. This week has strengthened our relationship even further, she remarked.
https://t.co/9Jq6lMkep0 How Teresa Giudice Really Feels About Her Dancing With the Stars Elimination https://t.co/BXQMlCvs33 #News pic.twitter.com/ydu6x59uLS

— World Cup Zone (@WorldCupZone) September 27, 2022
Dancing With The Stars Artem Chigvintsev, Heidi D'Amelio
I don't know if they will save me again if I wind up in the bottom two again, Heidi acknowledged after thinking back on last week's results, where she finished in the bottom two for the second time.
As she sobbed in her introduction video, Heidi said, "I don't want this to end for me or Charli because it's been fantastic. For us, it's far bigger than a dance performance. The reality star continued, saying that her relationship with her daughter had changed.
As she strove to be open and vulnerable, Heidi continued to experience emotional turmoil during rehearsals. This week, a lot is on the line. I need to demonstrate to the judges that I deserve a spot in the semifinals, she said. The judges didn't particularly enjoy the contemporary the duo performed to Alanis Morissette's song "Ironic," but they praised Heidi for being open-minded and letting go.
Some dances "fit you very much" while others don't, according to Len, who also noted that "this was the type of dance that doesn't suit your nature." "You're a lot more outgoing," he said, "and I thought this was more introverted."
Bruno added, "You let it all out… you did it with all the passion you have," to Derek's comments, "I thought that was wonderful, I truly felt your emotion in that." Carrie Ann complimented Heidi on her perseverance and said, "In society and on the dance floor, more is expected of women."
There were beautiful and vulnerable moments, she said. "You let go, and that's what we were hoping for." I'm an emotional person, but I do not show it on TV. All of the emotions were rising this week, Heidi subsequently reflected on her trying week.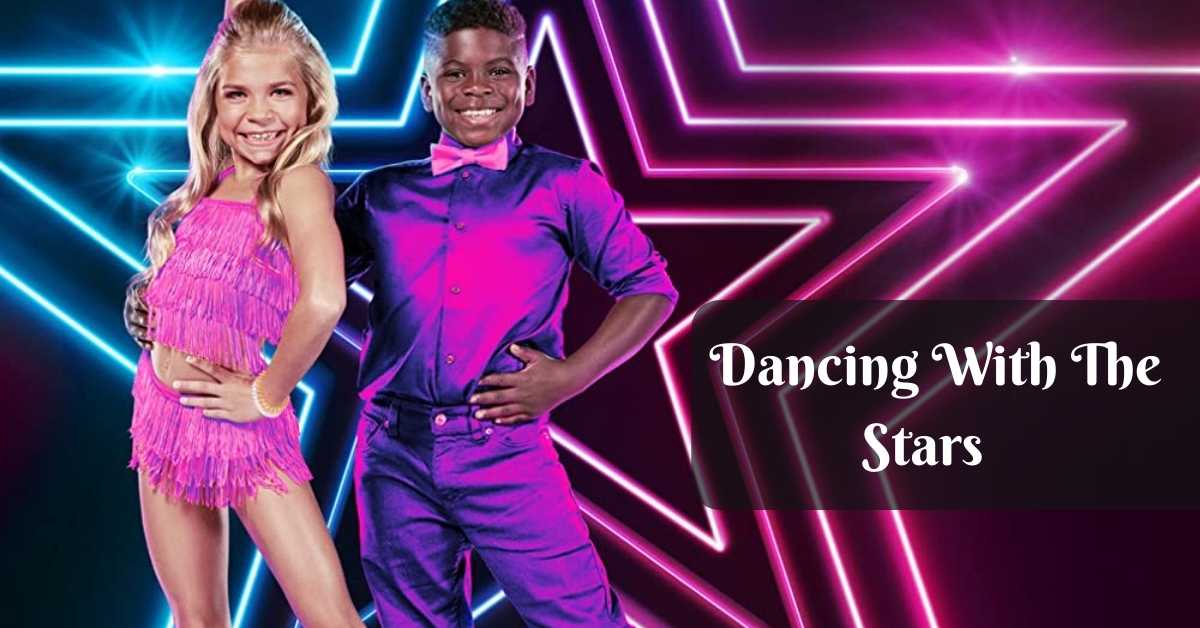 Dancing With The Stars Val Chmerkovskiy and Gabby Windey
Although she highlighted that "none of us is safe," Gabby stated she was pleased with her performance from last week. She continued, "It seems like they're throwing curveballs at us week after week. This competition is becoming harder and harder."
Nevertheless, Val's return to the ballroom was greatly appreciated by Gabby as he had to skip last week's episode due to COVID. The former Bachelorette star exclaimed, "I'm so pleased to have Val back." During practice, Val pushed Gabby to the limit, saying, "I made this dance demanding because I believe in her." Val acknowledged that the choreography was challenging.
Despite the challenge of the routine, the pair performed their Samba to Ricky Martin's "Livin' La Vida Loca" flawlessly and received a standing ovation from the judges and audience. The finest Samba I've ever heard was that. It was excellent! Derek exulted. Bruno made a joke about feeling like he had been hit with a sex bomb.
The ease with which you performed was one of the best we've ever seen. "The technique and amount of content he offered you is incredible." Len described the relationship as "a mix of flare and care," while Carrie Ann dubbed the couple a "well-oiled machine." Derek and Bruno received a perfect score after jokingly taking off their tops as Val did in the sensual Samba.
Dancing With The Stars Koko Iwasaki and Vinny Guadagnino
Although Vinny said that last week marked a significant improvement, he still "landed at the bottom of the list." He remarked, pointing out that he had advanced further in the competition than his fellow Jersey Shore co-stars Nicole "Snooki" Polizzi and Mike "The Situation" Sorrentino, "I saw an improvement but being on the bottom sorta hurts."
What will it take for me to win the judges over? Before promising to make this week the best of his life, Vinny asked his companion. Voting will only get you so far, and I shouldn't be here, I must provide the heat.
An entire US territory is without power and facing floods and landslides; but Twitter wants to tell me about the new Dancing with the Stars.

Seriously, nothing under "Breaking News" and that's bullshit. https://t.co/SpxUUggz2n

— Definitely not You Know Who (@Donball) September 19, 2022
Bruno subsequently remarked, "You tried to do everything just right… the thing is, my love, the tango must always be on one level. Vinny and Koko danced the Tango to "What Is Love" by Haddaway. There aren't any skips. "You do well with a challenge, Vinny," Carrie Ann remarked. You're performing so well in this tournament because of that.
Vinny has a "far way to go," Len continued, "but you came out and you came out and performed, so well done." Derek praised the reality star for being "fun, playful, but most of all, you're captivating."
After the dance, Alfonso remarked that Vinny had progressed further on the show than his Jersey Shore co-stars and was now in the quarterfinals. That's my people, and I love them, but I have some bragging rights for the rest of my life, Vinny retorted.
Dancing With The Stars Mark Ballas and Charli D'Amelio
It "just goes to show you how quickly things can change and I am not taking anything for granted," the TikTok celebrity said of last week's "so many surprises."
Charli made a joke about it being the "greatest moment of my life" as she wasn't even born until 2004 when Mark revealed the theme for Monday night. She then received a quiz on everything '90s as Mark continued to make light of her young age.
Charli stressed the necessity for her to concentrate on her "frame and controlled sharpness" after realizing she would be dancing the Tango to Blur's "Song 2." Then the couple entered the dance floor, to the applause of everyone in the ballroom.
"You are a Picasso if you were a painting. Carrie Ann gushed about their "masterpiece" routine, saying, "That was above anything I've ever seen on this dance floor. Len remarked, "It was crisp, clean, and sharp." "You dance with tremendous maturity for a young lady."
Derek praised Charli's ability to finish "strong" and noted her amazing "stride." According to Bruno, it was "like seeing two prowling panthers… at their best." The "quality of movement… this is it," he continued.
1990s Relay Dance Competition The Relay Dance Competition then resumed that evening, dividing the teams into four pairs, each of which performed a particular style of dance. The best-performing couple in each relay would then face off against the other two couples for five bonus points from one judge.
The special guest performers for the evening, who included Vanilla Ice, En Vogue, Salt-N-Pepa, and Kid 'N Play, performed live at each of the four Relay Dances. The first matchup featured Shangela and Gleb vs. Daniel and Britt performing the Cha Cha to Vanilla Ice's "Ice Ice Baby."
Before declaring Shangela and Gleb the victors, Len concluded that one duo was "significantly crisper and displayed greater rhythm." The next round pitted Vinny and Koko against Trevor and Emma as they danced the Samba to En Vogue's "My Lovin' (You're Never Gonna Get It).
The dance-off was judged by Carrie Ann, who selected Trevor and Emma as the winners of this round. After them, Heidi and Artem faced Wayne and Witney in a Samba match that Salt-N-Pepa had tasked to "Shoop." Wayne and Witney were finally crowned the winners of this round by Bruno.
Last but not least, Charli and Mark competed against Gabby and Val in a Salsa to Kid 'N Play's "Ain't Gonna Hurt Nobody." Derek was conflicted and claimed it was "unfair" to choose between the two, but he ultimately chose to award Charli and Mark the victory.
Results
Even though Shangela, Trevor, Wayne, and Charli all entered the elimination round with five bonus points, two couples would be eliminated this week, just one week before the semifinals. This didn't calm anyone's concerns. The first four positions went to Wayne and Witney, Daniel and Britt, Gabby and Val, Shangela and Gleb, and Charli and Mark secured the final spot to advance to the next week.
The bottom three were Vinny and Koko, Heidi and Artem, and Trevor and Emma. Artem and Heidi were eliminated right away since they were at the bottom of the leaderboard. The contest between Trevor and Emma and Vinny and Koko was then decided by the judges.
Trevor and Emma were saved by votes from Derek, Bruno, and Carrie Ann, and Vinny and Koko were also sent packing as a result. Mondays at 8 p.m. ET, Disney+ streams live broadcasts of Dancing with the Stars.