Only a gamer knows the irritation level of disconnections during a multiplayer game session. Moreover, nobody can deny the fact that voice chat plays a vital role in these online sessions. These days, most of the gamers prefer to use discord just because of its mesmerising features such as voice changer, Nitro, emotes, etc. However, apart from Discord, we have TeamSpeak, the VoIP platform that is keeping the multiplayer gaming alive since 2001. But nowadays many players are looking for a solution regarding a problem due to TeamSpeak keeps disconnecting.
As a gamer, I can understand that there is nothing worse than losing a deciding match just because of "Connection to Server Lost" message. And as per my experience, the internet has a solution to every problem. So, let's read further to find some possible explanation for the TeamSpeak keeps disconnecting error.
#1 – TeamSpeak keeps disconnecting Because Your Ping or Packet Loss to a Server Is Too High
You face this TeamSpeak keeps disconnecting error message frequently when the ping from your ISP is very high. For the internet, the packet loss is a common thing, but if your ping or packet loss always remains very high, then the efficiency of the network will be reduced automatically. Therefore, due to the increased latency, the TeamSpeak can't work correctly.
To check the packet loss, try to notice if the game keeps lagging or the frame rate gets unusually high. Or if you see a connection lost message on your screen frequently.
Usually, a router restart can help you to resolve these connection conflicts. However, if you already tried your luck by restarting the router, then you might need to contact your ISP to check the error from their end.
If nothing changes even after getting help from ISP, then you might need to spend money on a gaming router that can handle the higher bandwidth.
#2 –TeamSpeak Keeps Disconnecting on Wireless Networks
If you are using a network wirelessly, then it also may be a reason for a lost connection. Because when data travel from your router to any other device through the ether, then plenty of it may get lost. Nobody can notice this loss unless you track your data usage. If you see a high data loss in the tracking report, then the sensitive servers of TeamSpeak will instantly stop working from your end.
Therefore, if you access the internet in your device wirelessly, then try using it through a LAN cable and monitor your data usage to check if the problem persists. If the TeamSpeak starts working flawlessly after plug in the LAN cable, then the packets are lost due to unstable wi-fi connection.
To this problem, there are two solutions. Whether you keep playing the games with LAN cable. Else contact your ISP to send a technical team to check and resolve the issues.
#3 – Windows Firewall May Cause the TeamSpeak Disconnecting Issues
Sometimes the Windows firewall covers your system with an extra layer of protection by blocking all the suspicious applications. In minor cases, this protective layer may become a reason behind the TeamSpeak's connection lost error.
Though, these firewalls block connection to all malicious applications and software in good intentions. Yet sometimes they stop us accessing the harmless software.
To check the possibility of blockage due to Windows Firewall, perform the following actions. This process is relatively the same for Windows 7, 8, and 10.
To open the Windows Firewall, click on the "Start Button" and type "Control Panel" in the search box.

Now hit the control panel icon from the search results.

Then choose and select the "Windows Firewall."

Now hit the left mouse button to select "Turn Windows Firewall on or off" from the left-side menu.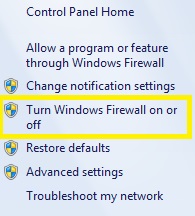 Click on the "Turn off Windows Firewall" button on both "Home or work" and "Public" network location settings.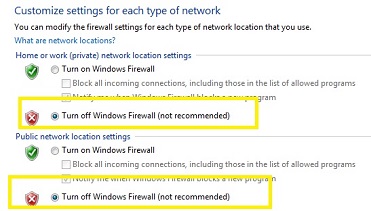 Now restart your computer or laptop and run the TeamSpeak to check if the improvements.
#4 – Doesn't Run as Administrator
Sometimes, the windows don't run specific software or application as an administrator. It happens because these software run at low or fewer priorities. And that may result in restricted bandwidth or no connection at all.
To rectify these errors, you can perform these steps to troubleshoot the TeamSpeak keeps disconnecting issues.
Right-click on your TeamSpeak icon on the desktop.
Select "Run as Administrator".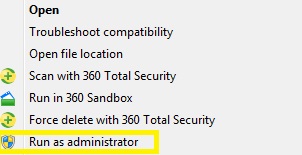 If your TeamSpeak sessions run smoothly after performing this administrator troubleshoot, then you may need to repeat this method whenever you launch a new session.