We don't believe anybody can wait much longer to find out what happens in Spy X Family Episode 5 after seeing Episode 4. Because how can a single show be that good? Spy x Family is unlike any other anime we've watched. Simply when you thought the last episode was the finest, it just continues getting better with each subsequent episode. There are great hopes for Spy x Family Episode 5, but there is little doubt that it will live up to those hopes and more.
Like us, if you're anxiously awaiting the release of Spy x Family's fifth episode. You'll find out where and when to watch Spy x Family and any newly available information. Before we go any further, we need to know when Episode 5 will air.
Spy X Family Episode 4 Recap "The Prestigious School's Interview"
The Forger family's interview at Eden Academy has finally arrived. This Academy, on the other hand, goes to extremes. Housemaster Henry Henderson and his assistants began scrutinising families when they stepped foot within the school's gates. Each household was faced with a variety of tests. When it came to the Forgers, Henderson already had his sights set on the forger family. Even after these years, the Forgers never stopped fascinating both Henderson and us. Regardless of the challenges they faced, they overcame them with grace and charm. Anya utilised her telepathy to soothe the bull down even after the bunch of bulls got away by accident.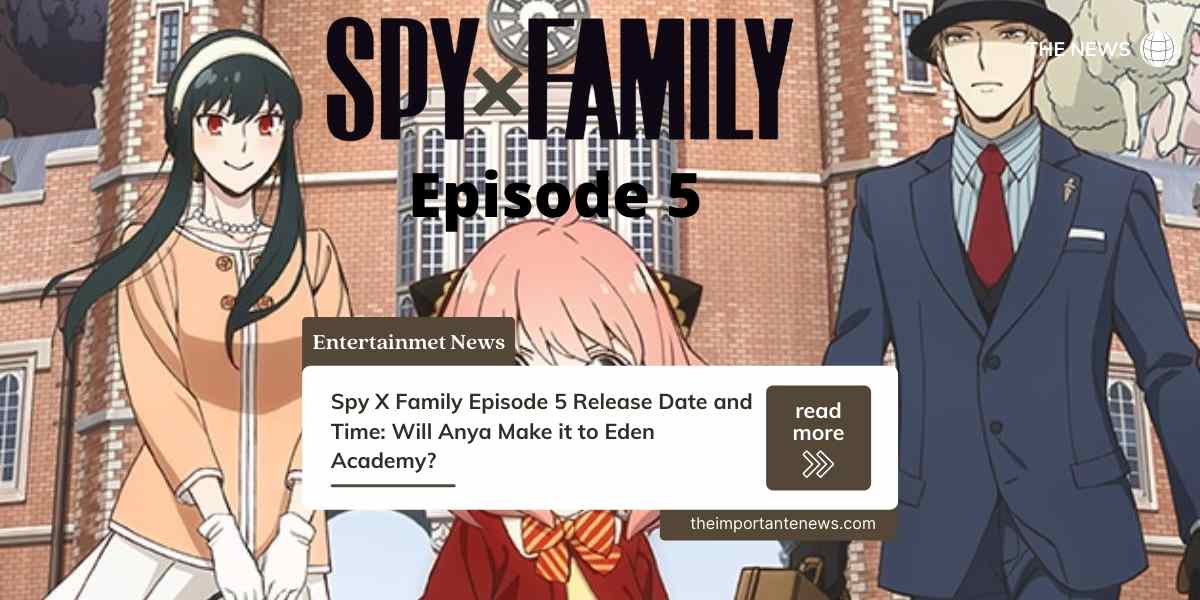 Episode 5 Expected Plot
If she didn't make it to the Academy, Anya feared losing the only family she'd ever known. That is something she does not wish to give up. After an extended period, she is finally pleased. We don't want her to be depressed either. In reality, we don't see her crying. There would be no need for him to continue playing the family man if she fails, and Twilight's mission would end. Today's family is everything they've ever needed, even if they don't realise it. Every one of them is finally experiencing something they've never felt before, and we don't want it to end.
No, we don't believe Anya will fail. We'll call it our instinct. However, we can also prove it by reasoning. If Anya fails, there will be no Spy x Family. Because we all want to see more of this adorable family, Anya will be a no-go. We guess that Henderson won't let go of such a beautiful family. For sure, he'll put up a good fight for this family.
Spy X Family Episode 5 Release Date And Time
On Saturday, May 7th, 2022, Spy x Family Episode 5 will be released. The Japanese version of this episode will be available at 23:00 JST for those who live in the country (JST). US viewers may tune in at 7:00 a.m. PST/9:00 a.m. CT/ 10:00 a.m. ET, while Indian viewers can see Spy x Family Episode 5 at 19:30 a.m. IST, according to the show's official release schedule (IST).
Where To Watch Spy X Family Episode 5?
If you're having trouble finding a place to watch Spy x Family, here is the site. Netflix and Crunchyroll both have Spy x Family readily available. You may see it on the Muse Asia YouTube channel if you're in an Asian country.
Keep up with TheImportantEnews for the latest news and updates on Spy x Family!