Skate 4 Release Date: After 2010's successful kickflip into gamers' laps, nothing new has been heard from the Skate franchise, despite pleas from die-hard fans for EA Blackbox to revive the storied series.
A new game, capitalizing on fan demand and the recent resurgence of skateboarding games like Tony Hawk's Pro Skater 1 and 2, Skater XL, and Session, was announced at EA Play in 2020.
There's still some time until the game's release, but in the meantime, we've gathered all the rumors, leaks, and other bits of information we can find about the next installment in the series. Just keep reading, because here you'll find all the info you require.
Read More:
Skate 4 Release Date
The release date of Skate 4 has not been announced officially. The creators are adamant that they won't release it until it's perfect. The game was said to be in its infancy when it was first shown off.
Several positions for the Skate development team are still listed on the developer's website, suggesting that the game is still in the early stages of development. We last heard from EA CEO Andrew Wilson during the company's third quarter 2022 earnings call when he promised that the game would "launch soon."
After a long period of playtesting, veteran leaker Tom Henderson revealed in late March 2022 that the game would soon be revealed: In April of 2022, Jeff Grubb of VentureBeat discovered some hacked footage on a burner account on the video-sharing platform Odysee.
It was a brief preview of the game's pre-alpha state. Development is still in its infancy, but according to Grubb, the team is putting the gameplay mechanics for skateboarding games first. Just because something leaked doesn't mean it will be released soon; there's still a lot of prep work to be done.
Tom Henderson reappeared in late June 2022 to report that a reveal for Skate 4 would occur in July 2022, establishing a 2023 release window and, hopefully, showcasing the first glimpses of polished gameplay.
Almost two full hours in and not a single word on the Skate 4 release date… pic.twitter.com/IOhPjiSnyB

— Beet Burner (@TheBigHoney) January 20, 2021
Gameplay Of Skate 4
While the aforementioned leaks do show some actual gameplay, one of the more intriguing gameplay elements we've heard discussed involves user-generated content. EA CEO Andrew Wilson has been touting this feature for quite some time.
Wilson said on an investor call that games like Skate are successful because of a secular trend within the industry toward user-generated content, open worlds, and interactive features.
Skateboarding, for many people, is a gateway to other realms of interest, such as the arts and culture. One of the best skateboarders in the world, Nyjah Huston, is also a fashion and art icon, the proud owner of a mansion in Beverly Hills and a Rolls Royce, and a young man you can follow on Instagram.
According to quotes transcribed by VGC, Jeff Grubb has spoken with developers of a new online free skate mode that allows players to socialize while constructing skateparks.
According to Grubb, "they are going to be taking some modern stuff, specifically the kind of stuff you might see in a Forza game or a lot of modern online multiplayer games," meaning that players will be able to personalize their experience by choosing from a wide variety of cosmetic options.
They plan to place special emphasis on user-created content, such as the ability to decorate your board with bizarre creations from the community.
Anyone on the server can say, "Hey, does anyone want to try and lay down some tricks with me over here on this thing?" while chatting with their friends or anyone else who joins the server.
"And then somebody can lay down the skate park stuff required to do that in real-time with everyone else right there and just say, 'here's the ramp we need to make this happen, there it is, now everyone starts doing this,' and they can all jump right in and start doing it."
Also, communities can form around the creation of these parks. People who have played the mode describe it as "the standout where it was just really fun to do that with friends and other people," as you can add and remove content on the fly.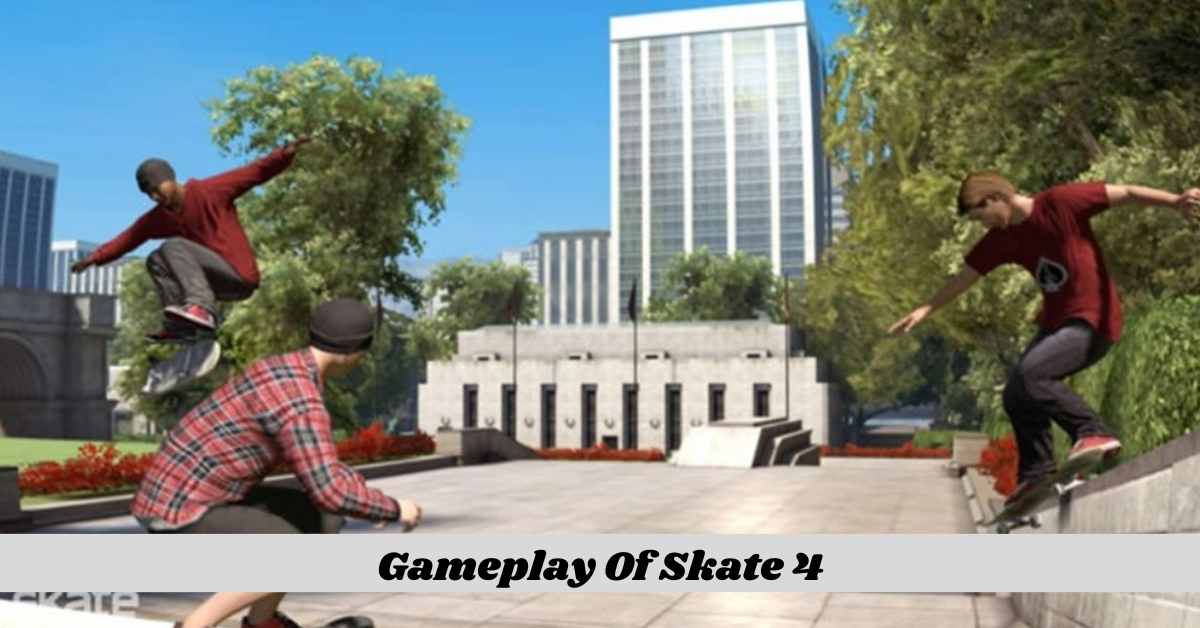 Four-Platform Skating
Not all the platforms have been revealed, but we first learned that Skate will be coming to PC for the first time. The next Skate game will be available on as many platforms as possible and will support cross-platform play.
It was announced during a live stream on the Skate YouTube channel. That includes mobile platforms like Android and iOS, as well as PC, Xbox, PlayStation, and Wii U.
Development Squad for Skateboards
Instead of assigning Skate 4 to an existing development team at Electronic Arts, the publisher announced the launch of a new studio based out of Vancouver, called Full Circle.
The team is coming together to make cool stuff and reimagine how players make content to share with the Skate community under the direction of Daniel McCulloch, who has a solid track record of linking players with great games as the former Head of Xbox Live at Microsoft.
Fans wanted Skate to return, so we're making it a priority to keep them in the loop at every stage, from concept to release and beyond. When people work with us, we want them to feel like they're a part of something bigger," said Daniel McCulloch, Full Circle's general manager.
We are dedicated to creating entertaining games that people look forward to sharing with their loved ones. And we need more programmers to help us create interesting environments for players to explore.
Many will remember that it was EA Black Box who created the original games, and the good news is that some of that team are returning once again. Dean Chung and Cuz Parry, the creative minds behind Skate and essential to the development of the series' first three games, are returning to their roles as series directors.
They can't wait to drive the franchise forward with their expertise and enthusiasm for skateboarding. There are open positions for artists, designers, and engineers on the development team, and more are opening up throughout the year.