An Instagram direct message is credited as the beginning of Sarah Hyland and Wells Adams' romance. Adams attempted to win JoJo Fletcher's heart on her season of The Bachelorette in 2016. They didn't work out, but the Modern Family star saw him during his time on the show. Hyland, an avid viewer of the ABC series, frequently mentioned her feelings for Adams in tweets as the season progressed.
Adams and Hyland had been tweeting back and forth, and after a while, Adams decided to invite Hyland out for tacos via direct message. "I had never been in a relationship before and thought, "This is great!" Liked how you were so forthright and bold without being aggressive "In a subsequent appearance on Jimmy Kimmel Live!, Hyland mentioned Adams' initial message.
Since then, the couple has been together, and they've given their fans plenty of adorable moments to enjoy. Sarah said in a 2019 interview with PeopleTV, "We like to joke when we first started dating, that we're the same person, and I think [that] still holds today." Simply put, our similarities made us feel like we'd met a long-lost soul mate.
Adams popped the question to Hyland this past July. They had to postpone their wedding until August 2022 because of the pandemic, but they got married that year. Here's the full history of Sarah Hyland and Wells Adams' relationship, from their first meeting online to their beachside engagement.
When Did Wells Adams And Sarah Hyland Start Dating?
The happy couple first started dating in October 2017 and made their engagement announcement in July 2019. Their wedding was scheduled for August 8, 2020, but due to the wide spread of the coronavirus, it had to be postponed several times.
View this post on Instagram
What Caused Wells Adams and Sarah Hyland To Delay Their Wedding?
While promoting the 2022 Hilton Grand Vacations Tournament of Champions in January, the Bachelor in Paradise star told Life & Style in an exclusive video interview with Bachelor Nation's Ben Higgins, "We were supposed to get married two years ago — and then COVID — and then we were supposed to get married last year — and then COVID — so we're hoping that this is going to be the year."
Wells elaborates, saying that the two parties "are probably just going to walk down to the courthouse and bang this thing out" if "some other bizarre, crazy, you know, occurrence happens." Since it's been so long, of course. We were just discussing the fact that "we've been engaged longer than we dated, and that's not right."
Sarah is taking the reins when it comes to organizing the wedding. You've come to the incorrect person to ask about the finer details of my wedding. Wells jokes, "I'm not in charge of any of this; I just think the band and the taco truck are great. And that's the extent of my knowledge. Don't be shy; approach Sarah. She is in charge of the administrative details.
Are Wells Adams And Sarah Hyland Still Together?
Although they were forced to postpone their wedding for a long time, Sarah and Wells are now more in love than ever. "I know this is going to sound cold, but when it comes to building a lasting bond with someone, I now believe…" The Californian advises looking for "someone who is on your team and who is always wanting to help your team and who is continuously being a motivating force." In this way, we are that for each other, which is not particularly romantic but is the truth.
The host of the podcast "Your Favorite Thing" gushes that the thing he "loves most" about Sarah is that they are "each other's cheerleaders." I can't make it in the world without her.
Even an ideal pair has flaws, and this one has. Wells quips, "I once started an episode of HBO's Succession before her and oh man, it was a barrier that we had to go through." My advice to all the couples out there is to avoid doing that. No, that's not a wise move. Don't tell them you've done that if you do it.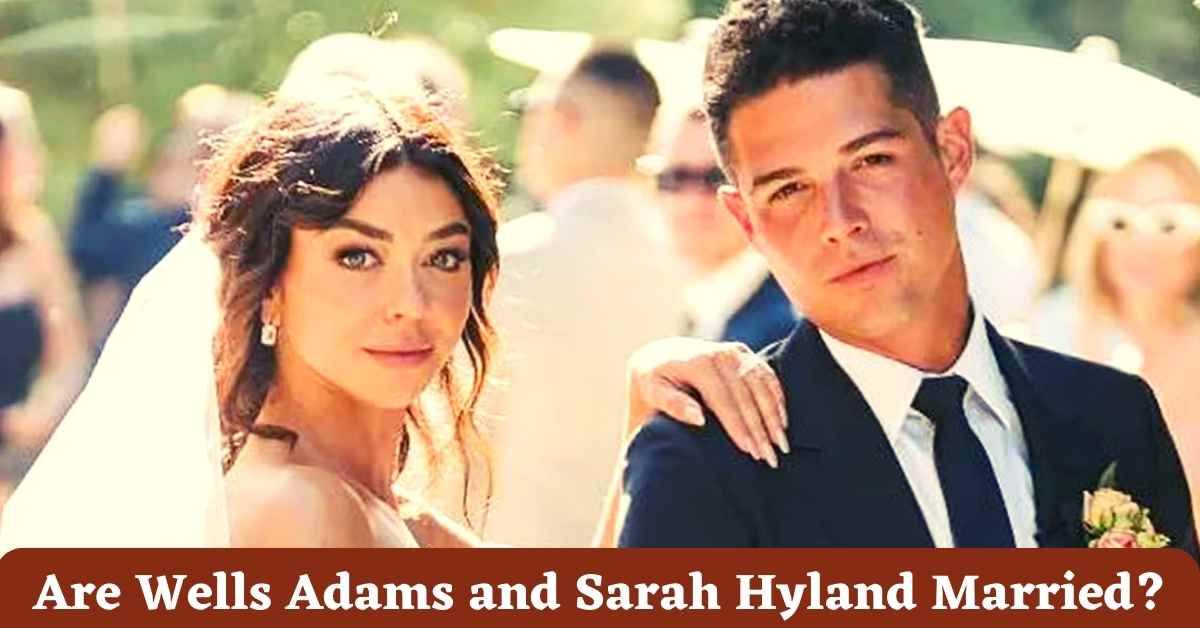 Are Wells Adams and Sarah Hyland Married?
Sarah and Wells' wedding was originally scheduled on August 20, 2020, but was postponed due to Wells' deployment. The pair were married in front of their friends and family at a winery in Santa Ynez, California. Many of Sarah's Modern Family co-stars, including Sofia Vergara, Julie Bowen, and Nolan Gould, were there, making it feel like a red-carpet event.
Did Sarah Hyland and Wells Break Up?
Hyland and Wells are still together and engaged. On April 29, Sarah revealed her wedding plans while holding a wedding cake. She had also welcomed Wells's baby brother, Baby Avett Adams, into her home. She posted a sweet photo of herself and her boyfriend Wells to Instagram on Valentine's Day, 2022.
'And I would travel 500 miles Happy Valentine's Day to the man who pulls off turtlenecks like no other,' she has warned. Anything you say has my undying devotion. In addition, on January 2 she said that they plan to tie the knot in 2022.
Back at the turn of the year, Wells was seen hugging Hyland. They also had a passionate kiss on Christmas Eve. In addition, she proposed to Wells with an emoji ring on December 9, 2021. According to Sarah's data, the couple got engaged in 2020 and is scheduled to tie the knot at the end of May 2022.