If you've followed Ryan Seacrest for 20 years, you may be curious about Ryan Seacrest Net Worth 2023 and how much he made from American Idol, Live With Kelly and Ryan, Dick Clark's New Year's Rockin' Eve, and other hosting gigs. Ryan John Seacrest was born December 24, 1974, in Atlanta, Georgia. At 16, he obtained an internship at Atlanta radio station 94.1 WSTR, where he filled in for sick DJs. Seacrest studied journalism at the University of Georgia but left at 19 to pursue a broadcasting career in Los Angeles.
He hosted Radical Outdoor Challenge, Gladiators 2000, and Wild Animal Games before landing American Idol in 2002. "Being on the radio at 16 in Atlanta was one of the most exhilarating times for me. Opening that microphone and realizing its power and exposure. "I found that fascinating," Seacrest told GQ in 2015. American Idol was my "break." It was special and unique from the start. It inspired me. I saw it as an opportunity to expand my enterprises since I suddenly had access to meetings I didn't have before the show's success.
Seacrest hosts On Air With Ryan Seacrest, Live With Kelly and Ryan, and Dick Clark's New Year's Rockin' Eve in addition to American Idol. He also executive produces reality shows including Keeping Up With the Kardashians and Shahs of Sunset. Ryan Seacrest's net worth? Ryan Seacrest's American Idol and other hosting earnings are listed below.
Browse this link for other posts relating to Ryan Seacrest's personal life:
What Is Ryan Seacrest Net Worth In 2023?
Ryan Seacrest net worth: According to Celebrity Net Worth, Ryan Seacrest is worth $450 million and earns $75 million annually. (Celebrity Net Worth estimates Kelly Ripa's net worth at $120 million.) Ryan Seacrest's net worth includes his earnings from hosting other shows and specials, such as his radio show, On Air With Ryan Seacrest, which he's hosted since 2004 and executive produces; E! News, which he hosted from 2006 to 2015; E! Live from the Red Carpet, which he's hosted since 2006; and the Primetime Emmy Awards, which he hosted in 2007 and co-hosted.
Ryan Seacrest's net worth includes his executive producing work on reality TV shows like Keeping Up With the Kardashians, Denise Richards: It's Complicated, Married to Jonas, The Desired Life, Shahs of Sunset, Rob & Chyna, Life of Kylie, and The Kardashians. He executive produces Netflix's Insatiable. Ryan Seacrest net worth includes his menswear line, Ryan Seacrest Distinction, released with Macy's in 2014, and his face care line, Polished, launched with dermatologist Harold Lancer in 2017.
In 2015, Seacrest told GQ how he juggles many gigs. Seacrest replied, "I don't know." "I've got three radio shows, American Idol, red carpets for E!, the production company, hosting New Year's Eve, the clothing line, the Ryan Seacrest Foundation, nine…close to ten." He added, "I work swiftly and efficiently. I've consolidated. I keep many things together. I have the radio show, but I can stroll across the hall to the TV studio. My fantastic staff helps me stay on top. I keep current by finding an expert at each job. Each day is a puzzle, and I get an email summary of what transpired in each division.
He also told GQ his legacy. Never considered it. I remember my inspiration. He remarked, "I think mentors and someone to turn to for advice and study are incredibly vital for young people." I liked Merv Griffin, Dick Clark, and Larry King. I hope people remember me as their radio and TV friend who made it look easy and provided escapism. No surgery, no rocket science. My shows are escapism." Further, I should stay out of the way. My role is to start, leave, and say goodnight. I host shows to highlight people and make the most of the moment. Whether a musician is singing a song or going to perform in Times Square in front of millions of people worldwide. Listening and understanding when to step aside are the most vital hosting skills.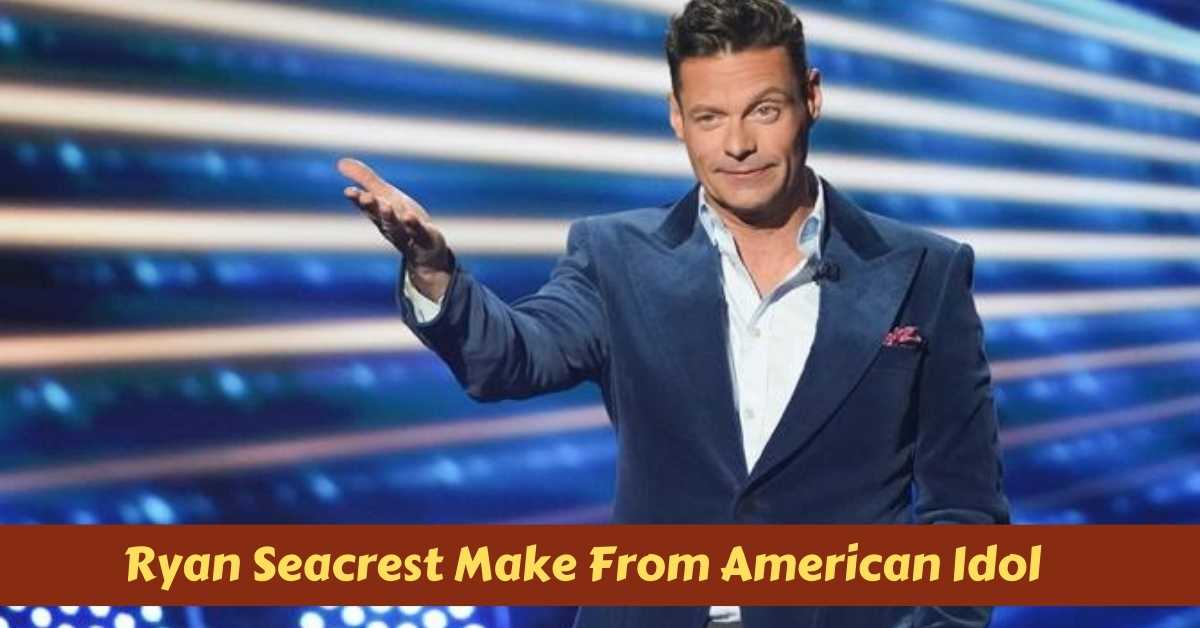 How Much Does Ryan Seacrest Make From American Idol?
Ryan Seacrest's American Idol earnings? From 2002 until 2016, Seacrest hosted American Idol. (Brian Dunkleman co-hosted season one.) After ABC revived American Idol in 2018, Seacrest hosted again. Ryan Seacrest's American Idol earnings? American Idol seasons one through eight earned Seacrest $5 million per season, according to The Hollywood Reporter.
View this post on Instagram
In 2009, he received a $45 million contract to host American Idol for seasons nine through eleven, earning $15 million per season. (According to Forbes, American Idol was the most profitable show on television in 2011, grossing $7.11 million every half hour, three times more than Two and a Half Men.) According to Celebrity Net Worth, Seacrest inked a $30 million contract in 2012 to host American Idol for seasons 12 and 13, earning $15 million per season.
He hosted season 14 of American Idol for $15 million in 2014. He signed the same $15 million deal for American Idol's 15th and final season on FOX in 2015. Ryan Seacrest's American Idol revival earnings? The Hollywood Reporter reported that ABC offered Seacrest $5 million to host the American Idol relaunch, $10 million less than FOX. During talks, Seacrest agreed to host the American Idol relaunch for $10 million for the first season, $5 million less than his FOX salary.
Seacrest's American Idol reboot compensation is unknown. Page Six reports that he makes $15 million per season, the same as before American Idol was reinvented, but The Wall Street Journal reports $12 million, $3 million less than when American Idol was on FOX. Lionel Richie, Luke Bryan, and Katy Perry judge Seacrest's American Idol relaunch. According to Page Six, Richie and Bryan make $7 million per season, while Perry makes $25 million. ABC planned to spend $50 million on talent.
A 2017 insider told Page Six that Lionel required a budget increase. "[ABC President] Ben Sherwood blew the Katy budget without considering how it would affect other show budgets. Because of her youth and social media presence, he risked her. Katy is collecting money from the other judges, who had to be paid much less." The insider added, "The conversations with Luke and Lionel have been contentious and difficult because of [Katy's payment]. They expected Katy-like deals but got far less. ABC had to pay again to sign the other judges."
The Hollywood Reporter quoted Cecile Frot-Coutaz, CEO of FremantleMedia North America, the production firm behind American Idol, defending Perry's compensation. The show is cheaper than its genre peers. "If other networks can do it on similar properties, ABC can too," she said. It's incorrect that the show costs more than the others. We know it from making different genre shows.
ABC would not order something unprofitable." She acknowledged that ABC only considered Seacrest for the American Idol relaunch. It was inevitable. Ryan struggles. "He's on the East Coast now and has to figure out how to make it work, but he's the hardest-working man in show business, so there will be some flying back and forth," Frot-Coutaz told The Hollywood Reporter. Nonetheless, it was inevitable. He represents an "Idol."
How Much Did Ryan Seacrest Make From Live With Kelly And Ryan?
Live With Kelly and Ryan's Ryan Seacrest earnings? As Michael Strahan left Live With Kelly and Ryan after four years in 2016, Seacrest became a co-host in 2017. Seacrest executive produces the show. "Over the years, Kelly Ripa has become one of the most skilled live hosts in broadcast TV and a personal friend.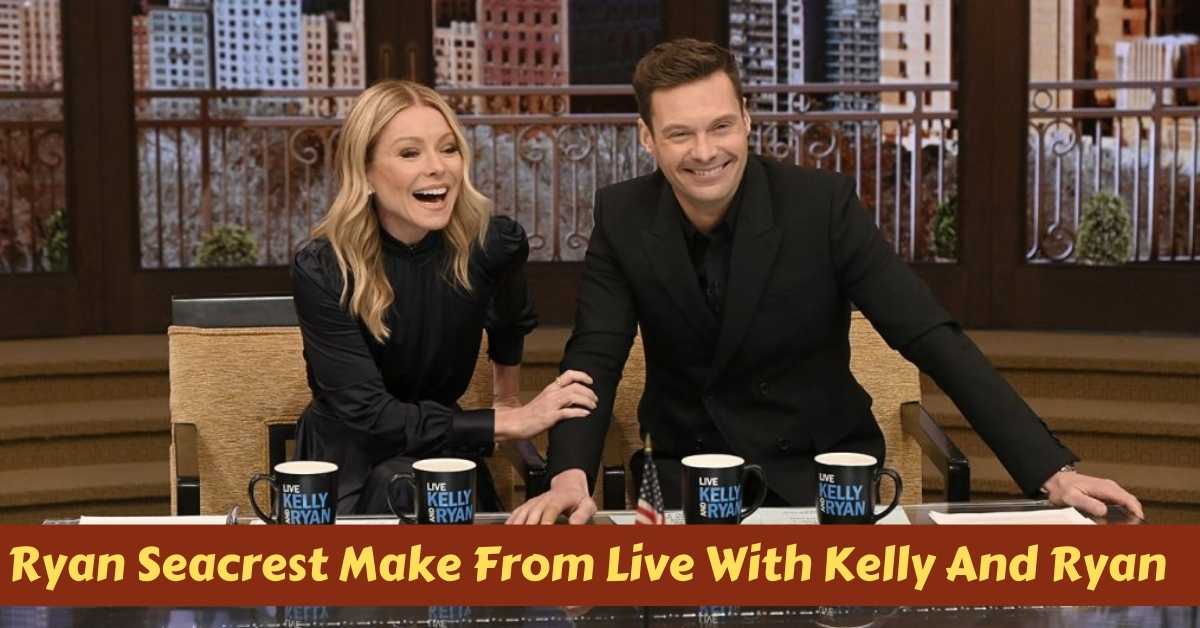 "Whether presenting the Disney Christmas Day Parade special a decade ago or guest co-hosting alongside her on 'Live,' it's always just been simple and pleasant to share a set with her, and we have a laugh," Seacrest remarked at the time. "I've been so fortunate in my career to be a part of some incredible TV programs, and I'm excited to join daytime's top entertainment talk show, and most importantly, I couldn't think of anyone I'd rather share this new chapter with than Kelly Ripa—she's dream broadcast partner, and I can't wait to start."
"Ryan is a great broadcaster and at the top of his game," Ripa remarked. "I am pleased to start my mornings with him every day, and we are so lucky at 'Live' to have him join the family. Ryan is a good friend and a star off-camera. His fame matches his success. Everyone likes him, and our everyday viewers will too."
Explore the articles listed below to learn more about celebrities' net worth:
Ryan Seacrest's Live With Kelly and Ryan earnings? Live With Kelly and Ryan co-host Seacrest earns $10 million a year, per Forbes. According to In Touch Weekly, Kelly Ripa, his co-host since 2001, earns $22 million per year, $17 million more than Seacrest. On February 16, 2023, Seacrest announced on Instagram that he was quitting Live With Kelly and Ryan after almost six years as co-host.
"I'm going to miss my work wife and all the laughter we share," he captioned a series of Instagram images of him and Kelly Ripa. "I signed on to host Live in 2017 for three years, but I liked the job and working with Kelly so much that I extended my tenure, and last year I decided to continue for one more final season. One of the finest parts of the job is sharing coffee with viewers every day.
Seacrest wrote that he was quitting Live With Kelly and Ryan to focus on American Idol, On Air with Ryan Seacrest, Dick Clark's New Year's Rockin' Eve, and his charity, Ryan Seacrest Foundation Studios. Mark Consuelos, Ripa's husband, would replace him, he said. "I'll be transitioning out of Live this Spring to shoot the 21st season of American Idol in LA, continue my radio program on KIIS-FM and Dick Clark's New Year's Rockin Eve, and focus my summer on creating three more Ryan Seacrest Foundation Studios in pediatric hospitals around the country," he wrote.
I hope to guest host again, and Kelly, I'll always share my cooking pics, chicken eggs, and olive oil. Congratulations to my brother Mark—remodel my dressing room!" Ripa responded to Seacrest's departure on Instagram. "We're empty nesters now. "When your friends become workmates become family," she captioned an Instagram photo of her and Seacrest. "Congratulations @ryanseacrest on surviving six NYC winters! I support you always. Welcome home, @instasuelos, or to the contractual duty part of our relationship."
View this post on Instagram
Ryan Seacrest's Dick Clark's New Year's Rockin' Eve earnings
Ryan Seacrest's Dick Clark's New Year's Rockin' Eve earnings? After Dick Clark's 2004 stroke left him speechless, Seacrest took over hosting Dick Clark's New Year's Rockin Eve in 2005. (Clark died after a heart attack on April 18, 2012. 82.) In 2007, Seacrest became New Year's Rockin' Eve's permanent host after replacing Clark in 2005 and 2006. Dick Clark's New Year's Rockin' Eve with Ryan Seacrest was rebranded in 2009.
Ryan Seacrest's earnings from Dick Clark's New Year's Rockin' Eve? Forbes reports that Seacrest earns $1 million per year for executive producing the special. Seacrest's $1 million for Dick Clark's New Year's Rockin' Eve comes from one night of work.