Riverdale is a television series based on the Archie Comics characters that follow the lives of high school students in the fictional town. The network has confirmed that the forthcoming seventh season will be the final one for the show. More than 110 episodes have been aired since Riverdale's launch in 2017, and some argue that's more than enough.
The sixth season of the show is still airing. It will wrap up on July 31 with 22 episodes. Season 7 has already sparked speculation amongst viewers. The display may include new characters for the upcoming season, but fans must wait until the CW publishes more information about the forthcoming season and cast. To learn more about Riverdale Season 7's release date.
Read More-
What Happened In Riverdale Season 6?
Things have changed in Riverdale ever since Season 6 began. Not necessarily for the worse, but definitely for the spookier. Along with the first appearance of supernatural aspects in the context of the Rivervale alternate world, Kiernan Shipka briefly appeared in the show as Sabrina Spellman from the Netflix series The Chilling Adventures of Sabrina.
But the story is far from over. After learning that Betty, Archie, and Jughead's ancestors burned Cheryl's cousin, Abigail, to the stake under the pretext that she was a witch, Cheryl and Sabrina joined forces to cast a revenge curse on the entire town. Now that Sabrina and Cheryl can cast spells, Rivervale has more than one magical component.
The whole town even joined a witch-cult, and viewers have witnessed the devil physically pull Archie's heart out of his chest. Things are more fantastical and supernatural than ever before! Aguirre-Sacasa said about the first five episodes of Season 6: "One of the things that we worked hard on is to make sure that these five episodes."
"But it was crucial to make sure that they were "in continuity," which means that whatever occurs in Rivervale will reflect or relate to what occurs in Riverdale. We begin very different storylines each year and attempt to tie them all together, and this year is no different."
Riverdale season 7 tease pic.twitter.com/meTCYYfnP2

— Barchie Updates (@BarchieUpdates) July 7, 2022
Riverdale Season 7 Plot
It appears that Riverdale's drama is not over. Archie (KJ Apa), the Ghoulies, and the Serpents are all on the verge of another turf war, and the Trash Bag Killer has reappeared. Betty (Lili Reinhart) will be the biggest threat for the rest of the season because of their dark and deep bond.
A new and bloodthirsty opponent will be introduced in Season 7, and these people will have to fight and strive to overcome them. Fans of Riverdale expect their favorite characters to get up to something interesting, as is the case with most things on the show. To learn more about Riverdale Season 7's release date.
Riverdale Season 7 Cast
To date, the following is all we know about the upcoming campaign: By The CW Television Network, the entire cast will be back for the final season.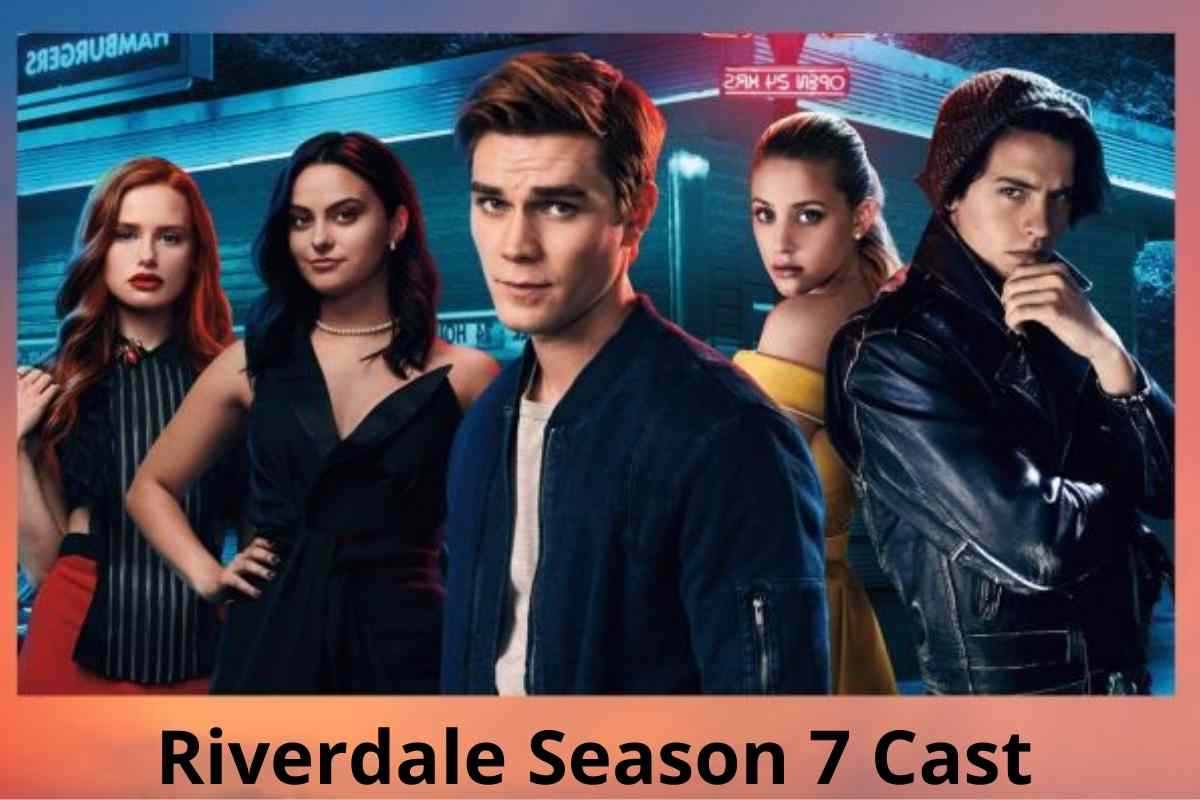 KJ Apa as Archie Andrews
Lili Reinhart as Betty Cooper
Camila Mendes as Veronica Lodge
Cole Sprouse as Jughead Jones
Madelaine Petsch as Cheryl Blossom
Casey Cott as Kevin Keller
Charles Melton as Reggie Mantle
Vanessa Morgan as Toni Topaz
Drew Ray Tanner as Fangs Fogarty
Mädchen Amick as Alice Smith
Erinn Westbrook as Tabitha Tate
Riverdale Season 7 Release Date
The CW hasn't announced the schedule yet. Season 7 of Riverdale will be released in the fall of 2022 when most fans expect it to debut. We should expect the show to premiere in October 2022 and be available on Netflix in 2023, as the show has been on a regular release schedule since season two.
Riverdale Season 7 Trailer
There isn't a trailer for Riverdale Season 7 because it hasn't been officially confirmed. Here's a trailer for Riverdale Season 6, in case you missed the show. Because Riverdale Season 6 is still airing on television, there hasn't been much information given regarding Season 7.
The lack of a trailer, which we'll have to wait for, is included in this.
Riverdale Season 6 Ratings
Riverdale's sixth season got an 18-49 demographic rating of 0.07. This season (season 6) has seen a 35% decrease in the demographic's rating and a 36% decrease in the number of viewers.
Despite this, the show's supporters continue to grow. Our sleeves are up because Riverdale is full of surprises, and the show's writers and producers have kept us guessing. To get more information about the upcoming season, visits our site theimportantenews.com.