When will the Ratched Season 2 be available to stream? Producing a prequel to a famous film is always a gamble. Still, American Horror Story's Ryan Murphy and Sarah Paulson nailed it with their Netflix adaptation of the novel and film One Flew Over the Cuckoo's Nest.
The TV show examines the life of the film's antagonist, the dictatorial Nurse Mildred Ratched, and explains how she came to be the woman audiences grew to love to hate in the iconic suspense flick. When the first season premiered in September 2020, it became an instant hit.
Four Primetime Emmy nominations and a 61% approval rating on Rotten Tomatoes indicate that Ratched was a rating and viewership success. Forty-eight million households watched Ratched in its first 28 days on Netflix, making it the most-watched series launch of 2020.
The show's overwhelming success ensured it would be renewed for a second season. Here is the latest information about Ratched Season 2, including its premiere date, cast, and plot details.
Also, Look At The Post
Ratched Season 2 Plot
What will happen in Ratched Season 2? Nurse Bucket was left in charge of Lucia State after Nurse Ratched, and Briggs (who had been magically cured of cancer) fled to Mexico at the end of season one. This reminded me more of Thelma and Louise than an episode of American Horror Story.
Yet, we know that this happy ending can't last forever. Since this is a prequel serial, we already know how Ratched's story will end, and her brother Edmund is still at large, plotting her murder. The series' overarching purpose is to explain the development of Nurse Ratched into the sick, perverted megalomaniac depicted in One Flew Over the Cuckoo's Nest.
Accordingly, season 2 will have to explain what happened to Ratched that made her lose every trace of compassion. Edmund, his fiancée Louise, and Charlotte, who suffers from dissociative identity disorder, are all suspects in Ratched's impending demise.
In a September 2020 interview with The Wrap, Paulson seems to hint that her character's struggle with her brother and her discovery of his violent tendencies will be the show's focal point, at the cost of her character's sanity. She predicted that after her brother's death, Mildred would become even more hardened than before.
did netflix cancel season 2 of ratched where the hell is it

— h. main hater (@dutyofluv) November 3, 2022
"What you're probably going to see is a Mildred who has now become even harder," she said. "The thing that kept her soft was the part of her engaged in the love, protection, and desire for absolution, as it pertained to her brother." As far as I can see, she is moving further away from her humanity and her heart.
To Recap, What Did Happen At The End Of The First Season Of Ratched?
Season 1 of Ratched was riveting despite its gloomy subject matter. After the season, we witness Edmund break free, attempt to steal the guard's gun, and demand that Bucket reveal Ratched's plan so that he and Charlotte can escape.
The first season of Ratched ends with a flash forward to three years later when Edmund calls Ratched to warn her he will kill her. In response, Ratched assures him that she will find him first.
Ratched Season 2 Cast
Though Gwendolyn and Nurse Ratched spent the season one finale hiding out in Mexico, we don't think they'll be able to keep away from St. Lucia for long. The cast of Ratched, including Sarah Paulson and Cynthia Nixon and Finn Wittrock as Edmund Tolleson (who seems eager to exact revenge on Sarah Paulson and Cynthia Nixon), is expected to return for a second season.
Although the two-year time jump at the end of season 1 allows leeway for certain characters to be murdered off-screen, the survivors of the first season's deaths will likely also make a comeback in the second.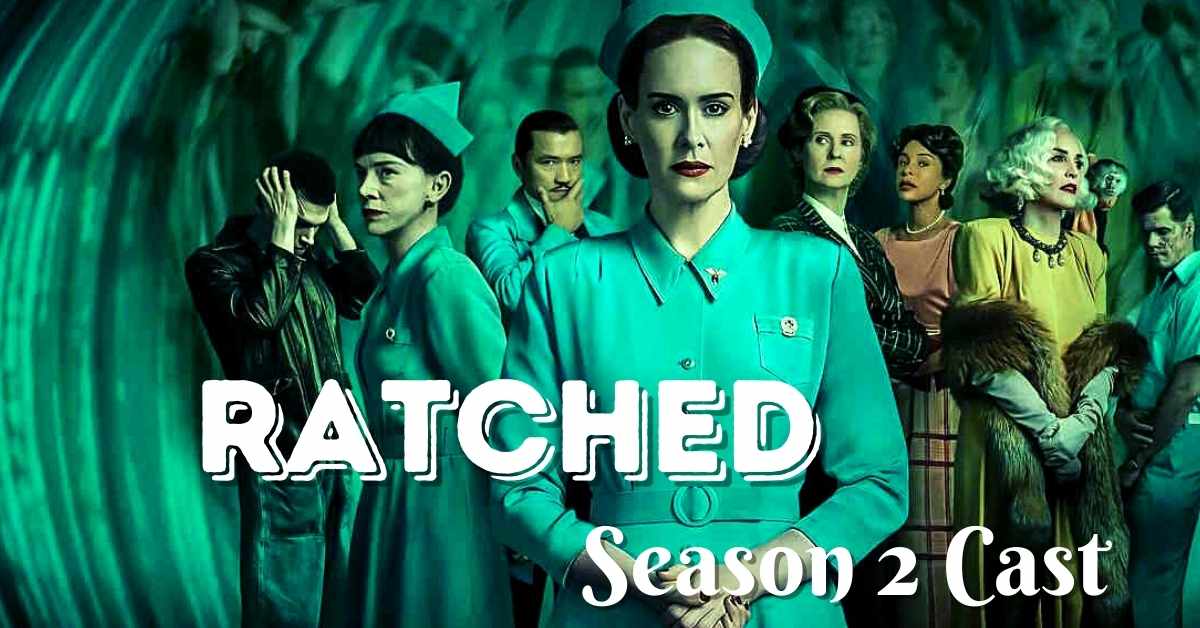 Some of the following actors and characters, however, have been rumoured to return: Dr Richard Hanover (Jon Jon Briones), Nurse Huck Finnigan (Charlie Carver), Dr Lenore Osgood (Sharon Stone), Dolly (Alice Englert), Charles Wainwright (Corey Stoll), and Jermaine Williams (Harold).
Ratched Season 2 Episodes
Ratched has been ordered for two seasons by Netflix. When this news broke, Netflix stated, "Ratched received a two-season, 18-episode straight-to-series order." According to What's On Netflix, the series now has 19 episodes instead of the 18 initially planned.
Where To Watch Ratched Season 2?
The Netflix original series Ratched is available exclusively through the service mentioned above.
When Will Season 2 of Ratched Premiere?
The good news is that you don't have to wonder if season 2 of Ratched will air. Initially, the show was ordered to air for two full seasons. The bad news is that it's difficult to estimate a specific release date for Ratched.
The cast's busy schedules, Covid-19, and Ryan Murphy's many other projects have all contributed to the delay in beginning production on Ratched season 2.
Ratched Season 2 Trailer Update
Since the confirmation of the renewal announcement, fans have been asking for the premiere of the season 2 trailer for the show Ratched. The production company has not yet released a trailer for Season 2 of Ratched, but we will have all the details soon. Stay tuned for more information.