Everything will have changed when Power Book 2 Ghost Season 3 premiered. Courtney Kemp, formerly the showrunner, has been promoted to executive producer, and Empire's Brett Mahoney has assumed the role of showrunner.
However, that's just the beginning of the series changes, and Tariq's on-screen journey will get more convoluted from here on out. So, what can we expect? Here's the latest on what's to come and when we may look forward to the show's return.
According to Starz CEO Jeffrey Hirsch, "the sustained success and cultural resonance of the Power universe is unprecedented," and "fans are certainly still hungry for more Power Book II: Ghost."
We're looking forward to starting production on season three of the star-studded series early next year, just in time for the release of Power Book IV: Force, the fourth instalment in the fast-growing franchise. All the information you need about the third season of Power Book II: Ghost is here.
Read More
Power Book 2 Ghost Season 3 Plot
When season two concludes with a bang, Monet learns that her husband Lorenzo Tejada (Berto Colon) accidentally shot and murdered their son Zeke.
After killing Professor Jabari Reynolds (Justin McManus) and getting away with it, Tariq, who had previously planned to leave the drug trade, has opted to stay and replace Mecca as the industry's critical connection.
The opposite is true for Tariq, whose college love Lauren was killed in a car accident after being set up by Brayden, who had saved his life by confessing to being the student selling drugs on campus and revealing himself as the CEO of their drug peddling program Course Correct.
In an interview with PopSugar, Rainey hinted that Tariq would be making money and fighting a lot because he was attempting to piece together what had occurred with Lauren and how things had gone.
Power Book 2 season 3: Release Date & More! https://t.co/Y8avYmHbeT

— United Fact (@UnitedFact24) November 20, 2022
She elaborated, "It's going to be hard for [Brayden] to hide one secret from Tariq. You have to give Tariq credit; he's bright and resourceful, so he'll find a way. Everything that interests him will be investigated thoroughly.
I'm looking forward to witnessing the inevitable ups and downs in the relationships about to begin. We can expect insanity.
Detective Blanca Rodriguez (Monique Gabriela Curnen), absent until the final episode, returned as the NYPD officer assigned to Mecca, the confidential informant. Blanca's reappearance, complete with a blurry photo of Tariq in her possession, will cause Tariq no trouble as she probes the circumstances behind Mecca's shooting.
Cooper Saxe is teaming up with Prosecutor Jenny Sullivan (Paton Ashbrook) to blow the whistle on Davis MacLean's shady legal practices, which should heat things in Season 3. MacLean is attempting to free his innocent brother, Theo Rollins, from prison on murder charges.
From what Rainey said on the latest episode of The Crew Has It podcast, all we can assume is that it will live up to our expectations for excitement, which is to say, at the very least, at the same level as in prior seasons.
Power Book 2 Ghost Season 3 Cast
As the show's protagonist, Tariq St. Patrick (Michael Rainey Jr.), son of James "Ghost" St. Patrick and Tasha Green-St. Patrick, we can count on the return of Michael Rainey Jr. and the rest of the series' core cast:
Cliff "Method Man" Smith as David Maclean; Shane Johnson as Cooper Saxe; Redman as Theo Rollins; Gianni Paolo as Brayden Weston; Mary J. Blige as Monet; Berto Colon as Lorenzo Tejada; Lovell Adams-Gray as Dru Tajada; Woody McClain as Cane Tejada; LaToya Tonodeo as Diana Tejada;
Professor Carrie Milgram (Melanie Liburd), her high school sweetheart Ezekiel 'Zeke' Cross (Daniel Bellamy), and Daniel Sunjata's Mecca/Danté Spears all passed away in season two. But it doesn't mean we won't see them again in flashbacks or other scenarios.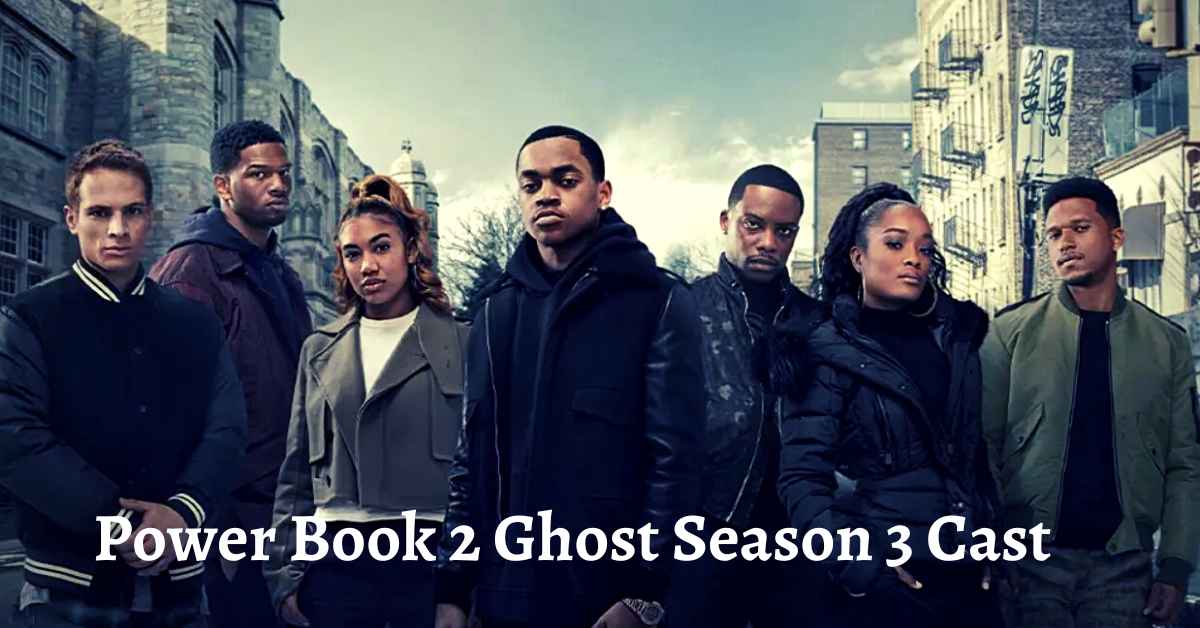 Keesha Sharp, who starred in Lethal Weapon, will significantly return in Season 3. Prof. Harper Bonet, "a progressive academic and boho beauty," will be played by Sharp (via Deadline). More cast members may be revealed as development continues.
Deadline announced in March that Gbenga Akinnagbe, Kyle Vincent Terry, and Caroline Chikezie had been added to the cast.
Gbenga, a returning cast member from The Deuce, will portray the role of Ron Samuel Jenkins, or RSJ. The business tycoon has worked his way up through college and Harvard Business School, so he is familiar with the upper crust.
Kyle, of Gotham, will play Obi, a man who is as adept with a gun as he is with cracking business transactions thanks to his British education.
Deadline described Noma (Caroline, of Mayhem fame) as "a worldly and strong woman with a regal presence who has earned her money with an illicit worldwide empire and is not hesitant to safeguard it by any means necessary."
Power Book 2 Ghost Season 3 Release Date
There has been no official word on when Season 3 of Power Book II: Ghost will be available. Nonetheless, Season 3 of Power Book II: Ghost will premiere sometime in late 2022. Starz will air it. See what develops.
Starz aired the first season of Power Book II: Ghost from September 6, 2020, to January 3, 2021. From November 21, 2021, until February 6, 2022, Starz aired the second season of the supernatural drama Power Book II: Ghost.
The release date of Power Book II: Ghost Season 3 will be updated here if and when we learn about it. Let's check out the Power Book II: Ghost season 3 trailer.
Power Book 2 Ghost Season 3 Trailer
The third season trailer for Power Book II: Ghost has not yet been released. Let's check out the sneak peek for Season 2 of Power Book II: Ghost. Take a look down below.
Don't forget to add this page to your bookmarks so you can quickly return to check for updates. Wait for the next update with great anticipation.