Finally the waiting period of every fan who has been eyeballing Outriders minimum and recommended specs is over. As Square Enix has shared the features of the game that includes the Outriders system requirements. Moreover, they have also released a short trailer of the game that showcase the several technologies featured in the outriders' PC version.
If you watch the video closely, you will find that full-blown spotlight video below, which we usually see in the Ultrawide form. Therefore, the user who has compatible display can enjoy the game in Ultrawide form. However, the ultra angles are for those who want to plat it in 4K, for which they surely require some higher-end optimization that is still under development. Have a look at the Outriders System Requirements below.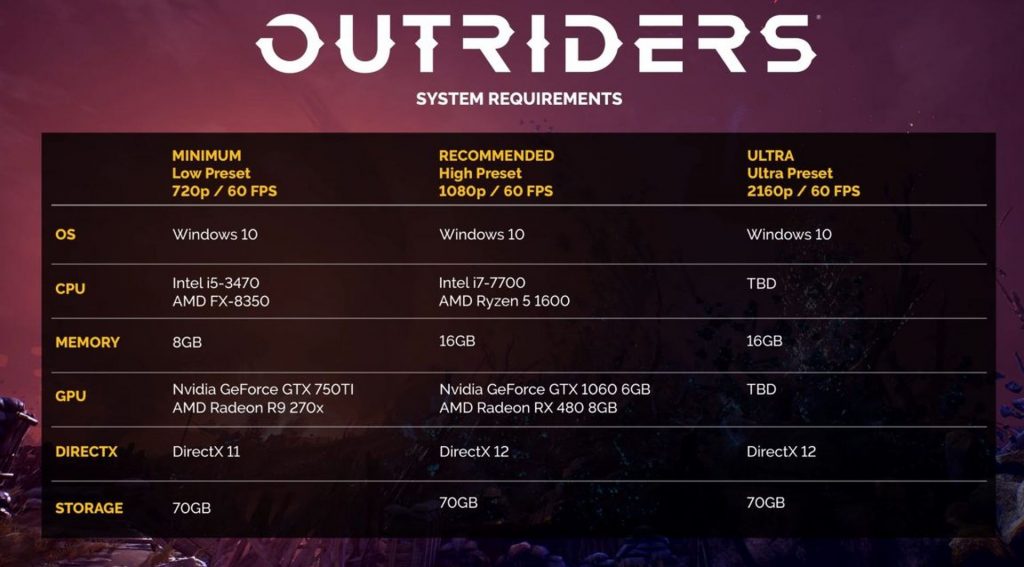 Outriders Minimum System Requirements (Low) – 720P/60FPS
OS – Windows 10
CPU – Intel i5-3470/AMD FX-8350
Memory – 8GB
GPU – Nividia GeForce GTX 750TI/AMD Radeon R9 270x
DirectX – DirectX 11
Storage – 70GB
Outriders Recommended System Requirements (High) – 1080P/60FPS
OS – Windows 10
CPU – Intel i7-7700/AMD Ryzen 5 1600
Memory – 16GB
GPU – Nividia GeForce GTX 1060 6GB/AMD Radeon RX 480 8GB
DirectX – DirectX 12
Storage – 70GB
Outriders Ultra System Requirements – 2160P/60FPS
OS – Windows 10
CPU – TBD
Memory – 16GB
GPU – TBD
DirectX – DirectX 12
Storage – 70GB
Any average gaming PC can easily fulfil the first two requirements of the game. But the information regarding the GPU required to play the game on Ultra preset is yet to be announced. Nevertheless, whichever settings you prefer to set, the 60 fps is always guaranteed. If you love to play games at ultra settings, you must have at least 70GB of free storage in your SSD/HDD.
The Outriders' other features include key remapping and full support for all types of controllers such as Stadia, Xbox, PS4, etc. A UI and HUD that a user can customise as per their preference, ultrawide display support, adjustable view, full support for cross-play. And apart from all these, you can always cross-save within ecosystems but not though the cross-platform. Still, there is a lot more which it offers to the players. Check out the table below.
Dynamic Resolution Scaling (DRS):- If this option is on, your system can automatically adjust the resolution to give you a smooth gaming experience. Reportedly, any user shouldn't even notice that it's happening.
NVIDIA DLSS:- This feature is specially designed for the NVIDIA players. It will ensure that you are experiencing high-fidelity gameplay and FPS by AI strength after turning it on.
NVIDIA Ansel:- By default, the game Outriders doesn't offer the photo mode. Nonetheless, a player can still capture unique screenshots from custom angles with filters and other tweaks.
Visual Effects:- Razer Chroma RGB.
Outriders Release Date
The Outriders will launch on April 1st, 2021 for PC, PS4, PS5, Xbox One, and Xbox Series X | S. If you want, you can pre-order it from Amazon at $59.99. Check the image below for reference.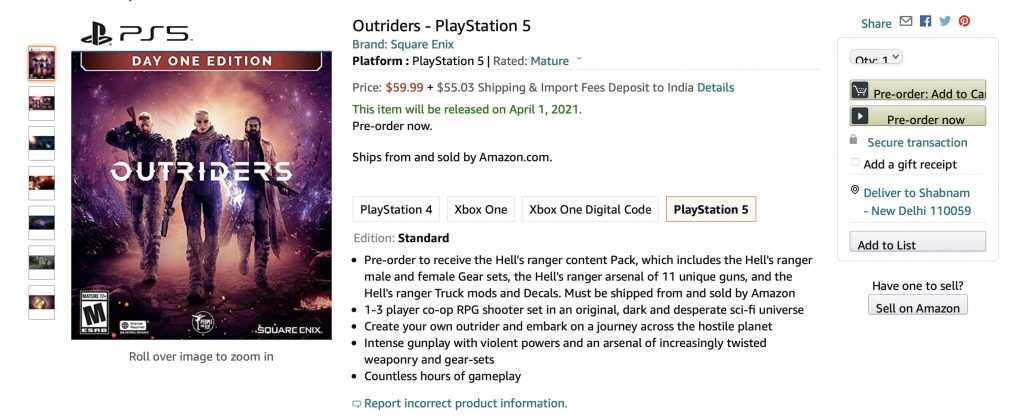 On February 25, a demo version will be launched for all the players who prefer to try out the games before purchasing. However, it will be a win-win situation for all those who want to avoid getting stuck in the loop of after-sales services to get a refund. If forgot, then try remembering the scenario where players started to claim a refund for Cyberpunk 2077.