Nick Kroll is an actor and comedian who rose to fame thanks to his appearance in Big Mouth and his series on Comedy Central called Kroll Show. In 2018, he began dating Lily Kwong, who would eventually become his wife.
Kwong is a landscape artist who has already accomplished much in her young career, including being featured on Forbes' 30 Under 30 list and collaborating with household names like Nike and St. Germain.
For #artbaselmiami, my girlfriend @lily kwong hand-stitched yards of moss and oolite limestone rock, and she used over 600 orchids," Kroll gushed on Instagram in 2019. As one user said, "When you sashay across it, you feel almost as lovely as the installation itself."
Likewise, Kroll and Kwong are now parents; in January of 2021, they received a son they named Leo. Here you find all information about Nick Kroll's wife, Lily Kwong, in this article. Must See Tommy Lee Wife
Nick Kroll career
Kroll began his career by writing for shows like Chappelle's Show on Comedy Central and Human Giant on MTV. From November to December 2008, he traveled across America to support Aziz Ansari on his Glow in the Dark Comedy Tour.
Live performances from Kroll feature a range of material, including stand-ups, skits, and characters. The stand-up special Thank You Very Cool aired on Comedy Central in 2011. He is a regular on the New York and Los Angeles stages of the Upright Citizens Brigade Theater and has co-hosted the stand-up show Welcome to Our Week with Jesse Klein.
His most well-known roles are as the cast member behind the character of Bobby Bottleservice, who has appeared in various films for the Funny or Die website. These include an audition tape for the Ed Hardy Boys and a segment for the MTV show Jersey Shore.
Co-created with John Mulaney, The Oh, Hello Show features his characters Gil Fazon, Ref Jeff, and Fabrice Fabrice. In The Kroll Show, a sketch comedy show on Comedy Central, his portrayals of various characters play a significant role. At 2013 Just for Laughs Comedy Festival held in Montreal, Quebec, Canada, Kroll was honored as the festival's Breakout Star of the Year.
Harry with Nick Kroll and his wife, Lily Kwong, on the red carpet!

📸: antidothrry pic.twitter.com/PyUFjhcs6P

— HL Daily (@UpdateHLD) September 5, 2022
Who Is Nick Kroll's Wife, Lily Kwong?
Lily Kwong is the brains behind the landscaping firms Studio Lily Kwong and Freedom Gardens, and she was previously a model. As a studio assistant and fit model for her cousin, designer Joseph Altuzarra, she broke into the industry in 2007 after being found by a model scout.
Following a rise in curiosity about urban and eco-friendly fashion, she earned a Bachelor of Arts in urban studies from Columbia University in 2012. In 2015, she worked on an eco-friendly clothing line with H&M and Maiyet and a floral display for New York's High Line with St-Germain.
In 2017, Kwong said to The New York Times, "These brands seek me out because of my record and knowledge on sustainable products." Kwong was given the alias "Scout" as a child in Northern California due to her love of the outdoors.
During first grade, she joined a nature club and shared the experience with Whitewall Thumb. When I was a kid, I was always taking groups of kids out into the woods to go foraging or collecting resources.
Kwong, who is now an environmental activist working in the fashion and art industries, said she is inspired by climate change and sustainability for her work. She emphasized that designers should contribute to ecological restoration whenever possible.
"In my line of work, I frequently see individuals who lack any perceptual ability for the surrounding natural environment. As a society, we've become so removed from the natural world that we have trouble appreciating the splendor of even a single flower.
"I enjoy working on a grand scale and exposing people to the natural world or an environmental philosophy, which I hope will transfer into environmental stewardship in the long run."
Lily's Career And Personal Life
She attended a private high school and then continued her study at Columbia University. Many art shows had her as a participant in a collaborative project with the environmentally conscious company Amour Vert and the American Trees tree-planting campaign.
She founded Freedom Gardens and her studio called Studio Lily Kwong. Nick (44), and Lily Kwong (26), met through an online dating service. The couple dated for two years before getting married in 2020. (November). A month after Lily Kwong announced she was pregnant, this occurred.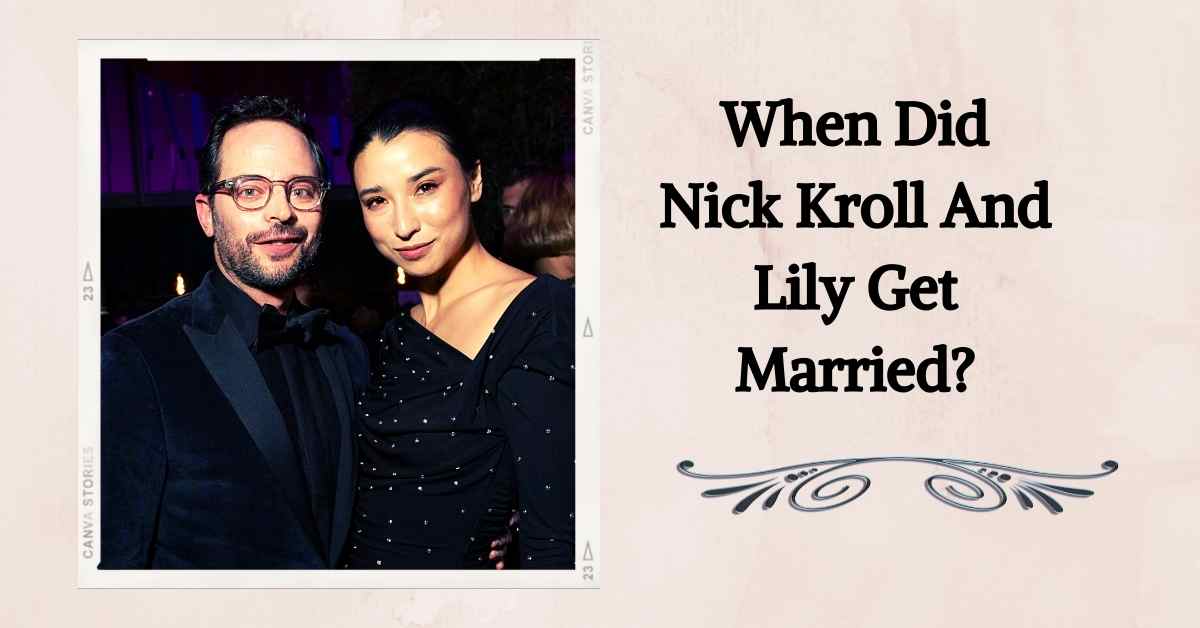 Kroll is an American comedian, writer, filmmaker, and voice actor. Among his many shows on Comedy Central are:
Kroll Show
The Oh, Hello
the FX comedy
The League
The Big Mouth animated feature (co-created)
You can also like- Is Snoop Dogg Dating Martha Stewart? Are Both In A Relationship Now?
When Did Nick Kroll And Lily Get Married?
Kroll and Kwong exchanged their vows in a beautiful wedding held in November 2020 beside the sea. After meeting in 2018, a source informed US Weekly, "Things are going well" in the couple's new romance.
According to one source, "They have a lot of fun together obviously and are both great big fans of each other." Soon after their wedding, Kroll posted a Polaroid of himself and his new wife, Kwong, holding hands on a ledge above the ocean.