It's safe to say that "My Dress-Up Darling" is one of 2022's more unexpected anime smashes. At the beginning of the series, shy Wakana Gojo, whose main interest is making hina ningyo dolls, develops an unusual friendship with Marin Kitagawa, a popular girl at his school. The two become close when Marin expresses an interest in cosplaying as her favorite characters, and Gojo offers his sewing ability to assist her in creating new outfits.
The first season of "My Dress-Up Darling" was well received by viewers, so much so that at least one "Attack on Titan" fan felt furious with the show because of its rising popularity. The creator of the manga "My Dress-Up Darling" is a big admirer of the show and has said that the first two episodes left them in tears.
Since the first season of "My Dress-Up Darling" ended in late March of 2022, its many admirers have presumably been hoping for news of a sequel ever since. Luckily, months later, the official social media channels for the show confirmed that production on Season 2 had begun.
Also, Look At
What Is The Plot Of My Dress-Up Darling Season 2?
The "My Dress-Up Darling" anime is based on an ongoing manga series by Shinichi Fukuda, as are the vast majority of successful anime. Season 2 will, therefore, borrow heavily from the first season's canon, and viewers already have a clear sense of which stories will be used.
Reddit user Ver3232 pointed out in a thread discussing Season 2's announcement that Season 1 adapts Chapters 1-39 of the "My Dress-Up Darling" manga, so that's something to keep in mind right off the bat. Thus, several fans, including Steeldj22, have suggested that Season 2 begin with Chapter 40.
TierRune also pointed out that the show's opening credits feature a costume from Chapter 40 of the manga, hinting that it will make its debut appearance in the series proper in Season 2, Episode 1. As always, readers of "My Dress-Up Darling" who are curious about Season 2's story can pick up the manga at Chapter 40 and get a head start.
My Dress-Up Darling Season 2 release date predictions: Sono Bisque Doll wa Koi wo Suru Season 2 sequel confirmed The chances of My Dress-Up Darling Seaso… #ANIME_NEXT_SEASONhttps://t.co/Htt3fb1qN8

— Anime Everyday (@AnimeEveryday69) October 25, 2022
Where Can You Watch My Dress-Up Darling Season 1?
Season 1 of "My Dress-Up Darling" has 12 episodes, all of which may be viewed in their entirety on the anime streaming service Crunchyroll. Users have the option of listening to the game's original Japanese audio or one of its dubbed versions in English, Spanish, Portuguese, Hindi, Arabic, Castilian, Italian, or German, albeit versions in languages other than Japanese, English, Spanish, and Portuguese are missing some content.
Meanwhile, the "My Dress-Up Darling" manga may be purchased in volumes online or at any major bookseller. Square Enix Books currently handles English publication of the series. Six of Shinichi Fukuda's nine books are available in English translations, as stated on his author page at Bookshop.
It's possible that by the time Volume 7 is released on January 24, 2023 in the United States, further details concerning Season 2 of "My Dress-Up Darling" will have been made public.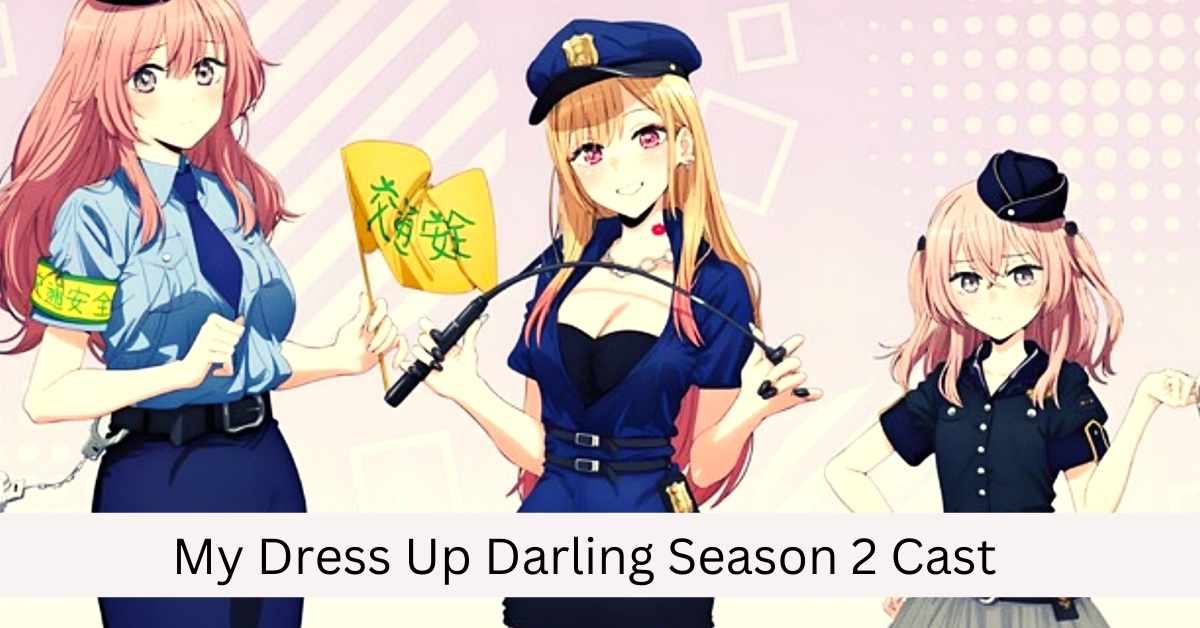 My Dress-Up Darling Season 2 Cast: Who can be in it?
A season 2 premiere date for My Dress-Up Darling has not been confirmed, but if everything goes according to plan, we can expect nearly all of the regular cast to return. Furthermore, several notable actors or actresses may appear in Season 2. Many fan-favorite characters will be back for the new season, and the show has added additional recurring and guest stars.
Celebrities And Rising Stars Alike Can Recognize Their Roles Models In This Show's Cast.
Shoya Ishige

 portrays gojô Wakana.

Hina Suguta

 performes Kitagawa Marin.
Atsumi Tanezaki presentes Inui Sajuna.
Atsushi Ono features Gojou Kaoru.
Hina Yomiya representes Inui Shinju.
My Dress Up Darling Season 2 Release Date
The second season of My Dress-Up Darling will air beginning on April 3, 2022. Due to Season 1's Season Finale airing in Episode 12, Season 2 does not immediately follow. The renewal for Season 2 has not yet been announced. If the creators of the show have any interest in carrying it further, we should hear from them shortly.
Anyone with a subscription to Crunchyroll or Funimation should be able to see the second season. If you want access the moment it goes live, you'll need to pay for a subscription, but if you want a free account, you'll have to wait seven days.
When Can We Expect to See New Information Regarding the My Dress-Up Darling Season 2 Trailer?
My Dress-Up Darling, Season 2 has not yet had its official trailer released. Now that production on My Dress-Up Darling Season 2 has begun, we may soon see the second installment of the show. While you wait for the season two trailer, you may watch the first season's.