After several setbacks for unfortunate reasons, eventually, we got the release date of Miss Kobayashi's Dragon Maid' Season 2. Let's catch some important updates on this series. 
Miss Kobayashi's Dragon Maid is a Japanese manga series written by Coolkyousinnjya. The series in the first issue of Futabasha's Monthly Action magazine on 25 May 2013, and it is adapted by Yuka Yamada, produced by Kyoto Animation. Crunchyroll licenses this comedy-fantasy. This fascinating story revolves around Kobayashi, who encounters a large dragon, who later lets the dragon stay with her as a maid. This story serves the comedy plot where Tohru's housekeeping works were rather bringing trouble in the life of Kobayashi, but gradually she develops a unique bond with the little dragon. This show is famous among the kids, and it is also has a good teenage fan base audience all over the globe.
This anime television series aired in Japan in 2017. The series faced several complications as the show was about to release two years back only. But the tragic reasons delayed the story. Now the much-awaited light entertainment is back and ready to refresh the audience's previous memories and bring a lot more entertainment. Here are all the updates that we have compiled for Miss Kobayashi's Dragon Maid' Season 2.
Release Date of Miss Kobayashi's Dragon Maid' Season 2
Now the wait is over…This time we have the official dates of the highly anticipated season 2 of the show. On July 7th, 2021, we will be getting it named  'Miss Kobayashi's Dragon Maid S' where the "S" stands for "Super Supreme Second life Starts."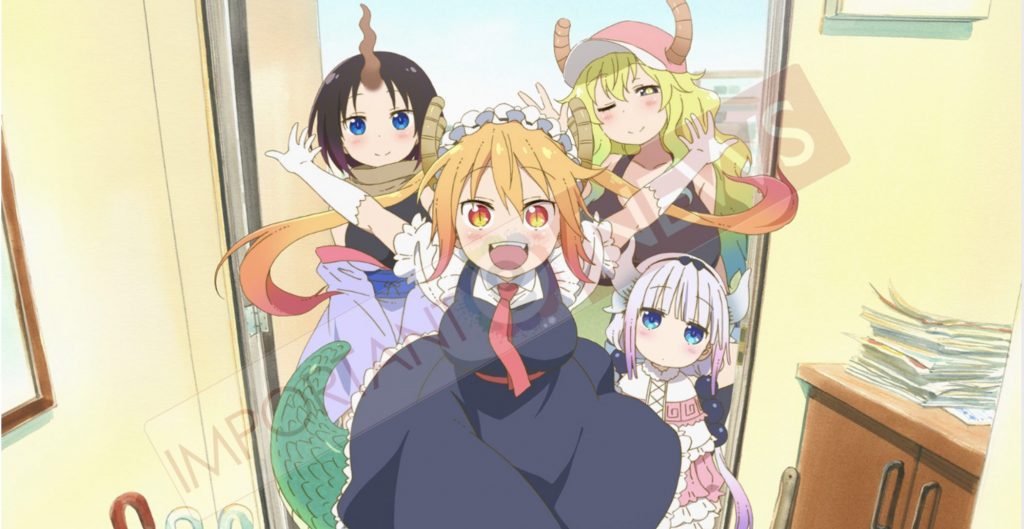 Earlier, anime television season 2 was ready to go on air in 2019. Still, Kyoto Animation suffered from an arson attack in which the director of the show Yasuhiro Takemoto died during this tragic assault. It was later delayed by the pandemic situation, which hit the entertainment industry badly. Now, fortunately, the story is about to revive with its new director Tatsuya Ishihara. In between tragedies, it is going to happen with the memory of the brilliant direction of Yasuhiro. It will be interesting to see how Ishihara will turn the story into an irresistible series. For that, we have to wait till 7th July and share what you think about the story with us.
Whom will we meet in Miss Kobayashi's Dragon Maid' Season 2?
We will meet the spectacular cast from season 1 again. However, there could be slight changes in English dubbed, but Japanese dubbed would be the same. The list of season 2 would go with the familiar faces stated below –
Kobayashi voiced by Mutsumi Tamura

Tohru, voiced by Yuki Kuwahara

Kanna Kamui, voiced by Maria Naganawa

Elma voiced by Yuki Takada

Fafnir, voiced by Daisuke Ono

Lucoa voiced by Minami Takahashi

Tomomi Mineuchi, voiced by Takayuki Sugo

Makoto Takiya, voiced by Yuichi Nakamura

Riko Saikawa voiced by Emiri Kato

Georgie Saikawa, voiced by Yuko Goto

Shouta Magatsuchi, voiced by Kaori Ishihara
What the story is going to serve!
We expect that season 2 will depict the amusing plot again, but it won't go that easy this time. As seen in the trailer, also Kobayashi has to face troubles in the journey with Tohru as some weary dragons will also approach her. How she will face those hurdles approaching her would be interesting to see.
Miss Kobayashi's Dragon Maid' is an extremely amusing plot that follows the story of office worker Kobayashi and the little girl dragon Tohru who turned into a human-like girl when the sword was removed. The relationship exists like maid and master, but it gets interesting when Tohru's immature and cute actions irritate Kobayashi. The whole story is based on light entertainment and emotional touch, where the girl didn't want to leave Tohru later.
Whatever the plot would be, there is one sure shot guarantee that we will be delighted to watch the continuation of the story filled with cute antics and innocence.
Where Can We Have a Glimpse of Season 2?
The trailer for season two is already out, as the show's comeback and approaching us soon. Now we can glance at the upcoming hilarious plot and predict the to-be story until the season drops on 7 July- Don't miss the date!
You can check out the trailer of season 2 is already available on Youtube.
Final Words
The show is all set to reveal the charming and hilarious plot again. We will be thrilled to see the story developing the bond of Tohru and Kobayashi and where the epic plot leads the story, but it is guaranteed that fun and entertainment would be doubled.
Don't forget to share what you think about this exciting show and keep us bookmarked for more such scoops and stories.