The workers at the Bryant & May match factory considered going on strike in 1888 for several reasons, including: They received petty fines, verbal abuse for minor infractions, and pitiful wages for long shifts of arduous work. However, their owners were killing them the most.
White phosphorus was used instead of red phosphorus in the production process, which increased business profits while poisoning the workers at the match factory. Phosphorus necrosis, a condition that led to engorged oral abscesses and catastrophic brain damage, struck the women and girls.
Enola Holmes, the witty and fantastical YA book series' lead character, is unaware of any of this when she decides to take on a missing person case at the start of Enola Holmes 2 on Netflix. Our talented Millie Bobby Brown is playing a teenage detective who is eager to crack a case.
Her attempts to launch her own practice are unsuccessful due to ageism, misogyny, and the fame of Sherlock Holmes ("Tell me, might your brother be free?"). Her endeavors are economically recounted in the buoyantly cut opening segment. Enola (Serrana Su-Ling Bliss), the despondent investigator, is both astonished and eager when Bess (Serrana Su-Ling Bliss) steps into her office.
Also, Read  
Enola is thrust into the middle of a simmering labor dispute while pursuing Sarah, a missing match factory worker, through the tangle of working-class politics in London. Similar to its well-liked predecessor, Enola Holmes 2 grounds its lead character in the actual social conflicts of the day, heightening the stakes of her cases and encouraging viewers to test their own sleuthing abilities.
But being the second entry in what is now confidently a series, Enola Holmes 2 also has to lay a solid groundwork for additional adventures of its lead character. The movie struggles to navigate its extra load as a result of this greater obligation.
Sarah's absence isn't the only thing keeping Enola up at night; she's also juggling developing feelings for Lord Tewkesbury (Louis Partridge) and attempting to avoid her brother Sherlock's (Henry Cavill) shadow and patronizing interventions.
After taking over as Enola's legal guardian at the conclusion of the first movie, Sherlock now has to juggle his fraternal obligations with his own work. While Enola Holmes 2 is devoted to the viewpoint of our tenacious heroine, it occasionally entertains Sherlock's perspective—shifts that clumsily split the movie's emphasis and leave too many unanswered questions.
The only rule of detective work is to "pull on every loose thread," so if we are to take Eudoria's (a wonderful Helena Bonham Carter) counsel to Enola seriously, then while these errant threads don't unravel the garment, they do create unneeded distractions. And the understandable desire to cut and tidy them up before the end credits manifests itself in a film with erratic pacing.
Enola Holmes 2 is coming to #Netflix on Nov. 4
More images here- https://t.co/sem9h4PfLY#EnolaHolmes2 #MillieBobbyBrown pic.twitter.com/BGViEggqsw

— Netflix World (@NetflixReporter) October 22, 2022
As Enola follows Bess into a distant area of London, Enola Holmes 2 initially travels with a steady hum. The Victorian-style buildings and cobblestone streets have been replaced by muddy roads and smoky factories. Enola disguises herself as a match factory worker and begins gathering early evidence, such as a hair strand, a burned message, and discarded letters, to assist her piece together the story of Sarah's disappearance.
Until Enola discovers that her case is about corruption, corporate greed, fraud, and an underground labor movement, all the pieces fit together with pleasant ease. Enola reluctantly asks Sherlock for his opinion because the stakes have grown. One of the most intriguing aspects of Enola Holmes 2 is the sibling relationship between Brown and Cavill, who convincingly portray the caustic communication style common of older and younger siblings.
We witness Enola and Sherlock's characters grow the most in these interactions because the two don't know how to communicate and frequently misunderstand or talk over one another. Enola Holmes 2 swings and swerves in ways that deviate from the steady rhythm as the siblings' paths cross more frequently. The film's quirky meanderings unfortunately extend it and make us impatient for it to conclude.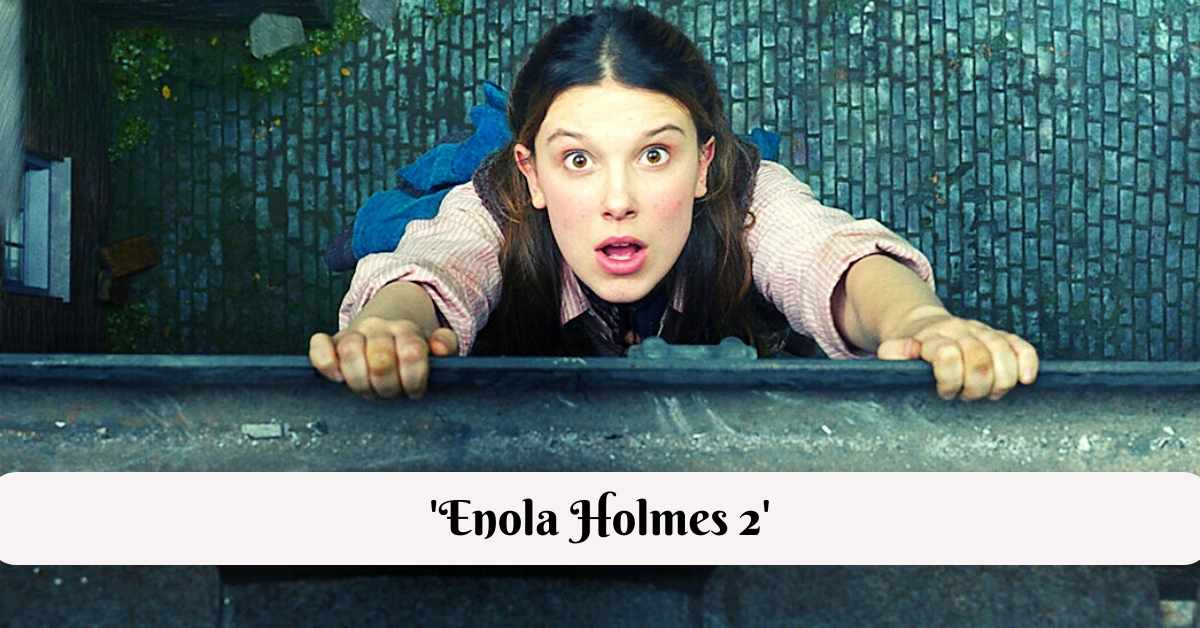 Returning as director, Harry Bradbeer uses a number of the same techniques as before, including dramatic perspective shifts, scenes that celebrate Enola's jiu jitsu prowess, and breaking the fourth wall. Michael Carlin and Consolata Boyle's painstaking production and costume design also transport audiences to 19th-century London and draw attention to the growing economic disparity and paradoxes in that city. Even still, the film's most tedious parts are unaffected by these details.
The narrative was created by Bradbeer and Jack Thorne, a seasoned screenwriter, and is based on the works of Nancy Springer. The story displays its trademark wit—Enola is still quick with a joke and prone to untimely honesty bursts—but it attempts to cover more ground than it is able to adequately dissect.
The 1888 match girl strike, which was a process of fostering community and a concentrated effort on we, is reframed as a lesson in one person speaking for the majority of the population. Even while that is partially to be anticipated in commercial narrative endeavors, it is nonetheless frustrating. Enola Holmes 2 is a serviceable sequel, so its flaws don't ruin the movie. However, the conflict between the film's heavy-handed technique and its themes should not recur in subsequent endeavors.