Lucifer Season 6 is scheduled to release on 10th September 2021! And just a few weeks before the official premiere of the 6th installment, Netflix dropped a huge bomb on the fans about a new cast member. Reportedly, young actor Andersen Bloomberg will feature in the third episode as "Jimmy." He won't be getting enough screen time, but the character is surely an important one. How? You'll read all about it below!
Who is the new character in Lucifer Season 6?
The picture with Jimmy, Lucifer, and Chloe in the same frame almost broke the internet. Several theories link this young character to Jimmy Barnes, a villain from the first season of Lucifer. Lucifer and Chloe seemed shocked and perturbed after looking at the boy, which hints at a crucial plot twist!
Several pictures showed Lucifer in an 80s setting, so there is a possibility that the devil will time travel to meet a younger version of Barnes. However, Netflix did not reveal any information regarding the picture of Jimmy. Most likely, it was a marketing stunt, and it is quite safe to say that it worked!
The plot
Lucifer will be seen as a God in the upcoming season, but he won't be able to keep up with the job. Our protagonist will also have to suffer because of his sister, who is hell-bent on destroying him. The trailer even showed a snippet of Lucifer's love interest Chloe throwing a knife at him. So, there are a lot of surprises in store for our devil-turned-God!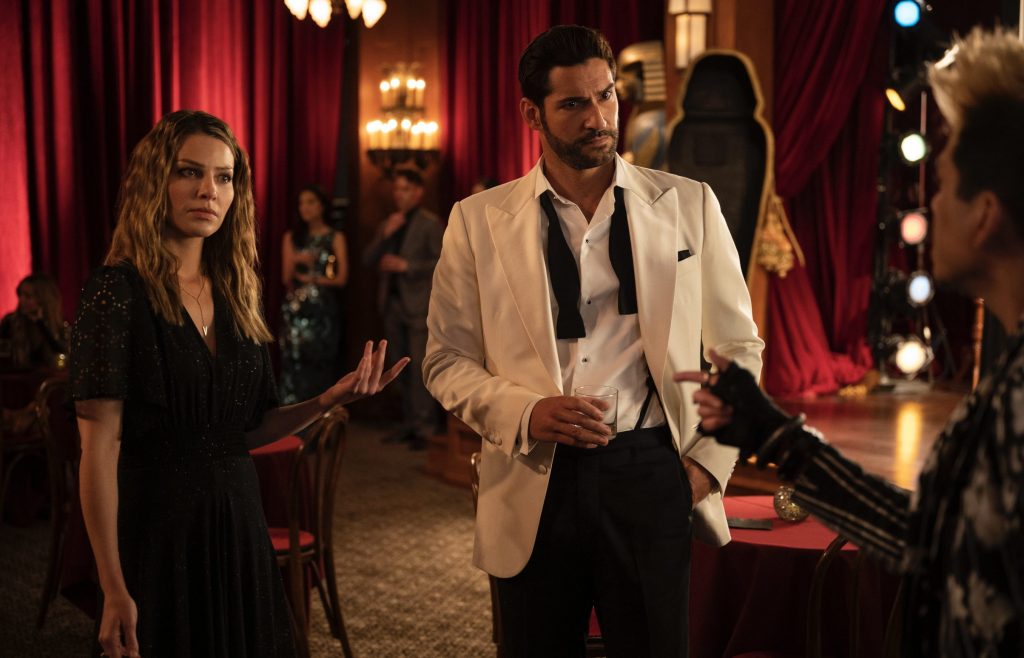 At one point, Lucifer will give up on the hectic job. He'll make this decision while talking to his therapist, and this grave decision will have a big impact on the world and its dwellers. Without a God, the natural system of the universe will break down, which might be the major plot twist of Lucifer Season 6! Surprisingly, this chaos won't affect Lucifer because he'll be busy on his vacation with Chloe. 
Some new characters will be joining the cast
Along with the character of Jimmy, Horace Goldfinger and Alan will also feature in the 6th season. Chris Coy and Rob Zabrecky will play Alan and Horace, respectively. We don't know much about their character details!
Merrin Dungey and Brianna Hildebrand will also star in Lucifer Season 6, and their characters will have "ties to the show's angelic family." Dungey will be seen as Sonya and Brianna as Rory.
There will be guest appearances too! One confirmed guest actor is Mandy June Turpin in the role of Dr. Jessica LaMotte.
Netflix has announced the episodes count for Lucifer Season 6!
The show was resurrected back to life after a petition made by fans went viral on the internet. And Lucifer is indeed one of the very few shows which were lucky enough to get renewed after being canceled. Therefore, fans surely have high expectations from the upcoming season. Netflix was kind enough to disclose that Lucifer Season 6 will consist of 10 episodes! The streaming site even revealed the titles of these episodes:
1st Episode: Nothing Ever Changes Around Here 

2nd Episode: Buckets of Baggage

Third Episode: Yabba Dabba Do Me 

Fourth Episode: Pin the Tail on the Baddie 

Fifth Episode: The Murder of Lucifer Morningstar 

Sixth Episode: A Lot Dirtier Than That 

Seventh Episode: My Best Friend 

Eighth Episode: Save the Devil, Save the World 

Ninth Episode: Goodbye, Lucifer 

Tenth Episode: Partners 'Til the End
In case you haven't watched the 2 minutes long trailer for Lucifer Season 6. Watch it on YouTube right now! The 7th season of Lucifer hasn't even premiered yet, but the fandom is already concerned about the 7th season. If you are one such fan, we have some disappointing news for you, Netflix is releasing the upcoming season as the concluding chapter of the Lucifer franchise. But who knows? We might get to see spinoffs in the future! So, all that we can do right now is to stay patient about it!