Reality TV Star Sister Wives' Meri Brown has dropped indications to viewers regarding the status of her marriage to reality star husband Kody Brown. Fans are wondering if Meri is considering leaving Kody once again because of the tensions between them.
Sister Wives watchers have been wishing for years that Meri, Kody's first wife, would finally have the guts to cut ties with the family patriarch. Another indication that their loveless marriage and Kody's selfishness are holding them back is Meri Brown's hint at the breakup.
Meri has recently posted some cryptic messages on social media, suggesting she is not interested in continuing the relationship.
Also, Check Out
What Are The Problems Arising Between Meri And Kody's Relationship?
In 2014, Kody legally married Robyn after divorcing Meri. Meri and Kody have opted to stay "spiritually" wedded even though they are no longer married under the law. In the most recent season of Sister Wives, Meri made it public that she and Kody are no longer a couple but a family.
It was humorous, unusual, and embarrassing to Meri, so she asked Kody about their relationship status in the show. Sister Wives season 16 reunion anchor Sukanya Krishnan questioned Meri about why she stayed in her marriage despite a lack of physical connection.
Why Did Kody Brown And Christine Brown Divorce?
Kody married Christine, his third wife, in 1994, and the couple now has six children together. However, in November 2021, Christine announced that she was divorcing her ex after a tumultuous few years.
Christine released a statement at the time saying, "Kody and I have drifted apart, and I've made the tough decision to leave," adding that the couple will "continue to be a strong presence in one other's lives as we parent our lovely children and support our amazing family."
Kody issued a statement as well, writing "There is a lot of regret over Christine's decision to leave. We were together for a long time, and I hold her in the highest esteem because of our shared experiences. Although our lives are taking us in various directions, we will always be supportive parents."
During season 16 of the TLC show, viewers saw the breakup play out after years of Christine growing progressively distant from Kody and his other spouses. "The solitude that comes with having my place is a huge plus for me. For my comfort, "In February of 2021, before the divorce rumours began to spread, Christine told ET the following.
Christine and Cody Brown's Daughters Weigh in on Divorce in 'Sister Wives' https://t.co/pq6DQ5B16h

— Olx Praca (@PracaOlx) October 6, 2022
"The freedom to make my own decisions is important to me. For the first time in a long time, I feel good about myself. And I feel like I've had the freedom to raise my kids the way I've always imagined I would… I thrive with some space between us." Christine reflected on a chat she had with her dad to pinpoint the final straw in her relationship with Kody.
"When will you start saying no, he said. You have a habit of agreeing to anything and everything that is suggested of you. Where do you draw the line before you begin to refuse? "The thought came back to her.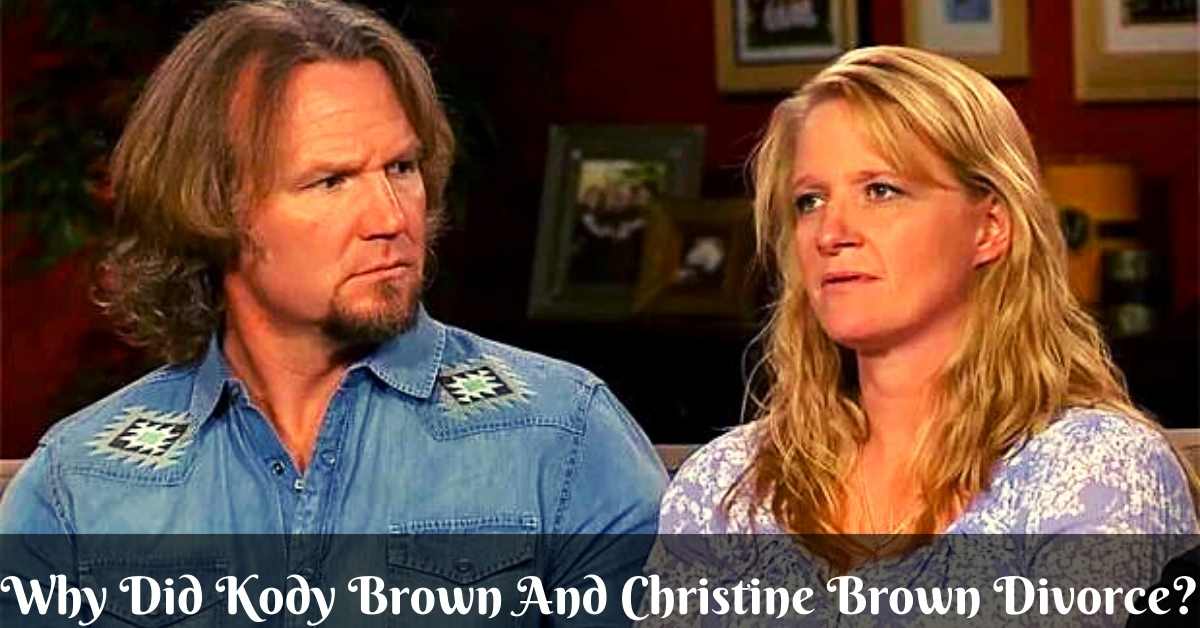 Christine pointed out that Kody was struggling to adjust to his wife's newfound independence and said, "I believe he heard me but didn't know what to do because I'd altered so rapidly. The situation altered, and Kody and I both decided to withdraw our support."
Kody was noticeably less open to talking about the breakup on camera, stating, "He said, she said, and we could sit here and argue it until the cows come home. All I'm doing is defending myself after she told you some things I completely disagree with."
When pressed further, he elaborated, "Now, all I want is for us to be able to heal, work through our differences, and reconnect as friends. This is all behind us, and she deserves a happy life."
Season 17 will focus on the tumultuous end of Christine and Kody's marriage. Many viewers have already seen Kody's angry confrontation with Christine in front of Christine's sister's wives.