Google surprised everyone by suddenly announcing the Pixel 6 and Pixel 6 Pro and introducing a few key specs, making it much more approachable and reliable as people are already aware of some major functions and features.
The biggest feature of the upcoming Pixel phones is a new system-on-chip called Tensor. The Tensor is designed to provide the Pixel 6 series with many AI powers we haven't seen before. Expect more than just improved computational photography. 
While Google has officially revealed a bit of information, leakers have gone to town on the Google Pixel 6, and we're hearing new information about the device all the time. It is weirdly awesome that we are already aware of some amazing official information about the google pixel 6 even though it's still a few months away from launch.
You can scroll down for all the important information we've heard so far, including the first official Pixel 6 images.
Google Pixel 6 Release Date and Price
The Google Pixel 6 release date has been confirmed to be in "fall 2021."
Google is pretty predictable when it comes to rolling out Pixel flagships. Its marquee phones almost always debut in October. One notable exception? The Pixel 5, which moved up its debut by a day to September 30 last year.
We're expecting Google sticks to form and targets early October for the Pixel 6 launch. In October, leaker Max Weinbach corroborated this, saying that Google plans to unveil the Pixel 6 and Pixel 6 Pro. However, if the chip shortage continues to cause problems, the company could push back the launch to November.
Google says that the Pixel 6 will be a "premium-priced product," so we would expect it to cost considerably more than the Pixel 5, which launched at $699/£599. It's possible that the Pixel 6 could start at $999, similar to the iPhone 12, but we'll have to see what happens this fall.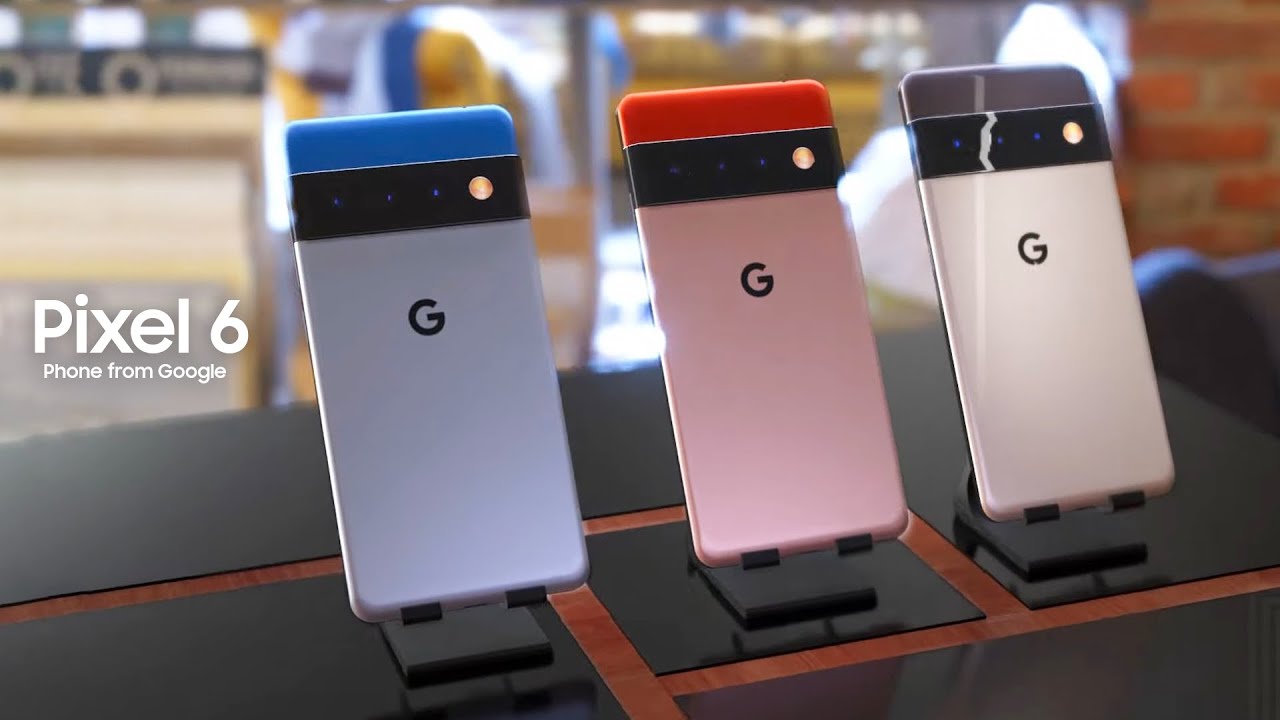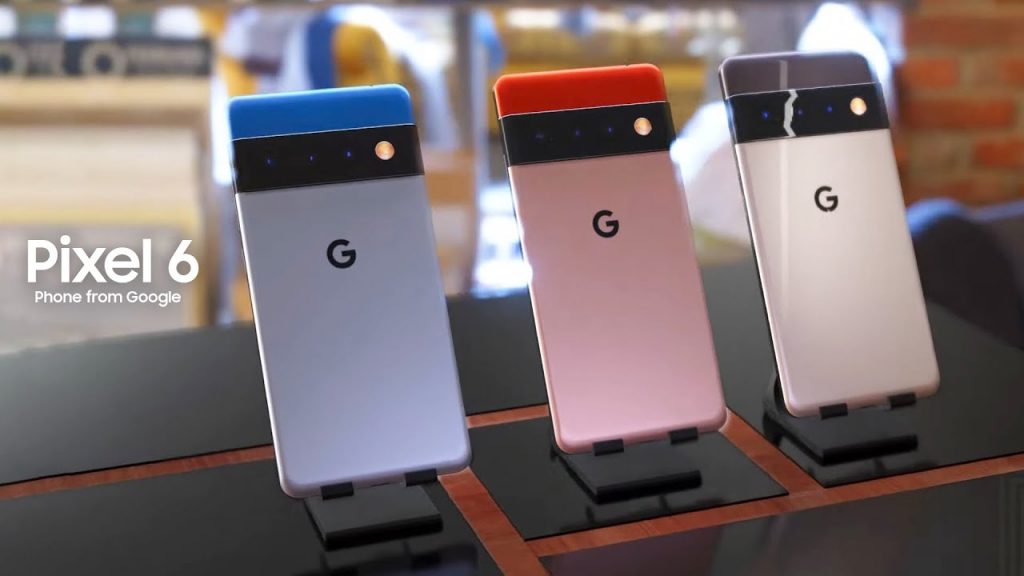 Google Pixel 6 Design and Display
Both Pixel phones feature a large black rectangular camera bar across the top of the phone's rears along with a two-tone design. The phone offers a few lavishing color options: pink, bluish-grey with a pale yellow accent, and a black model with a light grey top accent color. The Pixel 6 Pro is black on the grey model, a white model with a cream or pale slate accent bar, and pale orange with a brighter orange accent, giving the buyers much choice.
The majority of the glass rear appears to have a matte finish, whereas the space above the camera bar appears to have a brighter, glossier tone. The front of the Pixel 6 is almost all screen with a center hole punch cutout for the selfie camera. And it's also good to see the thin bezels around the display.
In another positive move, Google has moved away from the under-display earpiece on the Pixel 5 in favor of a more traditional earpiece speaker on the Pixel 6. Some have complained about the speaker being too loud and leaking sound.
The Google Pixel 6 will feature a 6.4-inch full HD+ display with a 90Hz refresh rate. Google's larger Pixel 6 Pro sports a 6.7-inch panel with a 120Hz refresh rate. We would have liked to see a 120Hz panel on the smaller Pixel 6, but it makes sense that Google would want to differentiate the two handsets. 
You will be happy to know that Google is ditching the fingerprint sensor on Pixel 6 in favor of an under-display fingerprint scanner. This would definitely make it easier for the user to unlock the phone.
We've also heard that the Pixel 6 might have 8GB of RAM and a choice of 128GB or 256GB of storage, with the Pixel 6 Pro upping the RAM to 12GB and offering 128GB, 256GB, or 512GB of storage. Additionally, this source claims that the two phones will get at least five years of software updates, far more than other Android devices.
Camera and Battery
It's confirmed that the Google Pixel 6 will feature both the main sensor and an ultra-wide camera. The Google Pixel 6 Pro adds a 4X optical-zoom telephoto lens. Google also says that the main wide-angle sensor now lets in 150% more light, but it doesn't share details. However, it appears that the big news is all about Tensor and how Google's improved computational photography will enhance both still photos and videos.
Google has confirmed that it will be making some changes to the computational software. The new software will power the cameras on its phone, with those new capabilities appearing on the Pixel phones arriving in the fall. Google says it's working with image experts. So that its cameras do a better job taking accurate photos of people with color. That means adjusting the Auto White balance to prevent over-brightening darker skin tones and developing more accurate detection for different hair types so that hair stands out more from the background of a photo. But another leak points to the Pixel 6 having a 50MP main and 12MP ultra-wide camera. While the Pixel 6 Pro apparently has both of those along with a 48MP telephoto one. This source also claims that the Pixel 6 has an 8MP selfie camera while the Pixel 6 Pro has a 12MP one.
With a 4,000 mAh battery, the Pixel 5 ran for 9 hours and 29 minutes on its default 90Hz mode in our battery test. Which is below average for a smartphone. With the Pixel 6, Google only promises "all-day" endurance, which is vague. 
Recent rumors suggest that the Pixel 6 Pro will have a nice, big 5,000 mAh battery to power its large display. Jon Prosser expects that to happen, adding that the Pixel 6 will feature a 4,614 mAh battery — a big improvement over the Pixel 5.
Another rumor has the Google Pixel 6 tipped to get faster wireless charging.
Will There be a Charger with Pixel 6?
Another battery life and charging issue suddenly becomes relevant for upcoming phones like the Pixel 6 — will it include a charger?
Last fall, Apple became the first phone maker to stop including chargers with its phone. When it shipped all four iPhone 12 models without the accessory in the box. Apple says the move is better for the environment. And while some rival companies rolled their eyes at Apple's decision, they also followed suit. Samsung doesn't include a charger with the Galaxy S21 models, either.
Therefore, it wouldn't be a great surprise to see the Pixel 6 come with little more than just a USB-C charging cable alongside the phone. Best start hoarding those power bricks just in case. As it's looking like this industry trend is here to stay. Google would be better off letting users still choose to buy a charger with the Pixel 6, though. Even if it doesn't come with one by default, they can use the assumed 18W fast charging system.
If you feel using wires to charge your phone is too old-fashioned, there's good news. OnLeaks claims that there will once again be wireless charging available on the Pixel 6 and 6pro.