Genshin Impact Slime Paradise Event is now live, all the players who want to own enough Hero's Wit, Mora and Primogems have a golden chance to earn all of them during the event. As per the Twitter announcement, the Slime Paradise Event was started on 22nd January and will end on January 31st at 23:59 (UTC+8). All the players who want to participate can join it by clicking here.
You must know that there is only a single requirement which you must fulfil before participating. Before joining, make it sure that at least you have level 10 Adventure Rank in the game. Apart from this, there is nothing which can become an obstacle to stop you from participating in the Slime Paradise web event in Genshin Impact.
Let's look at everything you should need to know about Genshin Impact Slime Paradise Event.
What to do in Genshin Impact Slime Paradise Web Event
During the event, you'll need to craft a sanctuary for the slimes. You can decorate the park with several decorations to attract certain slimes and hilichurls to visit your own paradise. In the last, you'll be getting rewards for your all effort!
How to Participate in Genshin Impact Slime Paradise Event?
Being a web-based event, no one can find it inside the game. If you are willing to take part, then you can open miHoYo's official website. Once you are on their website, click the "Enter" button. This will prompt you to enter your username/email and password. On this page, you must use your login credentials which you use for logging into the game.
Through a notification, the developers made it clear that they expect to attract more visitors with decorations. However, to get any decoration, they'll need to spend Paradise Coins (similar to Fortnite Gold bars and Blue Coins). Though, these coins could be earned after daily assigned quests in the event.
The tasks will keep on changing every day. And it is the only main source of earning coins throughout the day. Therefore, you must complete the jobs before they expire. Thus, always check your log whenever you want.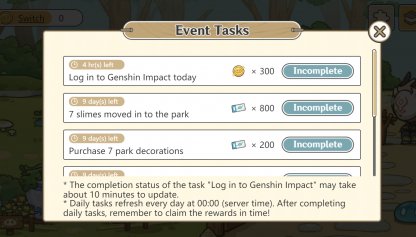 Genshin Impact Redeem Code
Aside from these coins, there is another most essential resource, that Genshin Impact players have to collect in Paradise Tickets in the event. A few tickets were also seen in its new trailer release for update 1.3. To make the process easy, below are some Genshin Impact Primogem codes which you can use.
jsSK8n23jzR
dU2mhjQL1ZT
nBEm3myAL2b
Whether you need Primogems, Mora These codes are advantageous to unlock free in-game rewards. Somehow, if these tickets don't work for you, then you can earn then in the following ways.
From Event Tasks: Complete the assigned task to earn Paradise Tickets.
Through Decorations: whenever you purchase a decorative item, it will begin generating Paradise Tickets at a specific time every day. Usually, the generation cycle starts on the next day. As per the server's designated time is 00:00 daily.
From monsters: When a different kind of monster makes a visit at your sanctuary for the first time, you'll get the paradise ticket as a greeting gift.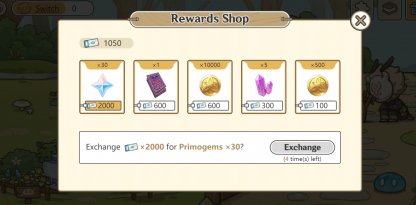 In exchange for paradise tickets, players can pile up rewards from the Rewards Shop. The list of rewards includes the following.
30 Primogems – Redeemable four times – Costs 2,000 Paradise Tickets
5 Hero's Wit – Redeemable five times – Costs 600 Paradise Tickets
5 Fine Enhancement Ore – Redeemable five times – Costs 300 Paradise Tickets
10,000 Mora – Redeemable 10 times – Costs 600 Paradise Tickets
500 Mora – Redeemable 99 times – Costs 100 Paradise Tickets
Is Genshin Impact Slime Paradise Event Available for PS4?
Unfortunately, the PS4 users can't enjoy this occasion. As currently, it is exclusively available for the PC and mobile users. According to the official announcement, the event's PS4 version will be released on a later date.
How to Buy And Place Decorations?
You can't place the decorative items according to your preference. The developers have pre-decided the placement. Hence, you cannot customize your own sanctuary.
As mentioned above, this event will end on January 31st at 23:59 (UTC+8). So, collect as many tickets as you can. The best thing about paradise tickets is that they help you collect in-game items and grow in the game.