Tesla CEO Elon Musk announced during the company's AI event on Thursday that the carmaker would branch out into humanoid robots, which will be known as Elon musk's Tesla Bot.
"Our cars are semi-sentient robots on wheels," Musk said, adding that "it kind of makes sense" to put the software "onto a humanoid form."
Musk said businesses ideally would use the bot to perform repetitive and dangerous tasks. He added that the real test would be the robot navigating the world without explicitly telling what to do.
"It has profound applications for the economy," Musk said, adding that "in the future, physical work will be a choice."
You gotta give Elon Musk one thing. The man knows how to get attention. 
As part of Tesla's A.I. Day, the entrepreneur announced plans to build a humanoid robot, called the Tesla Bot, which he envisions would "eliminate dangerous, repetitive, and boring tasks."
Rather than just announcing the robot or showing a prototype, though, he brought up an actor in a bodysuit modeled after the Tesla Bot, who then shifted from robotic moves to a dance that looked like Napoleon Dynamite had choreographed it. It was one of those jaw-dropping, head-scratching moments that Musk has become famous for—and is certain to be one of the Internet's most popular memes for months to come. 
What Must Elon musk's Tesla Bot Look Like?- Looks, Features, Price, and Much More
Musk unveiled the "Tesla Bot," a 5-foot-8, 125-pound robot that would have a screen where its face should be that would present information. According to the CEO, the humanoid robot would be capable of deadlifting 150 pounds and carrying about 45 pounds, though it would travel at only about 5 mph.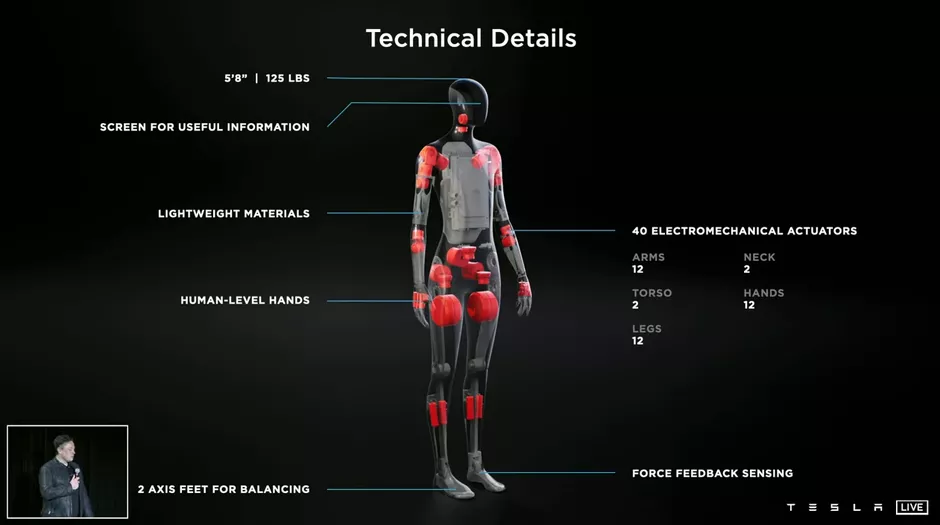 Musk said that the bot would use Tesla's Autopilot software and have eight cameras to feed into the neural network it's developed for its Full Self-Driving software.
The humanoid robot, internally code-named Optimus, runs on the same artificial intelligence used by Tesla's autonomous vehicles. The prototype may be available next year, "but not right now because this robot doesn't work," Musk jokes.
The CEO offered a visual representation of what he wants the robot to look like, but Tesla hasn't built a functioning bot — he said the company planned to have a prototype developed by sometime next year.
Musk said the robot fit seamlessly into Tesla's mission and would have many of the same materials the company uses for its cars.
Tesla is "making the pieces that are needed for a useful humanoid robot, so I guess we probably should make it," he said. "And if we don't, someone else will, and so I guess we should make it and make sure it's safe."
However, Musk did not say if it would be sold or for how much. But looking at the features and capabilities of the robot, it seems like this will be a high bid. 
The neural network is designed to help a Tesla vehicle analyze its surroundings, identify routes and images, and determine what to do when it encounters obstacles.
Musk also joked that the robot would be friendly.
How will Musk's Bot Affect the Economy?
He also fielded a question from the audience about how the automaker could make the robot part of its business. Musk said the robot would have a "profound" impact on the economy. He said physical work would be a choice in the future and would need a universal basic income. Musk is among the Silicon Valley leaders who have cautioned that technology may eliminate many people's jobs so that some humans will need another income source.
We will surely keep updating you as much as we can on this mind-blowing invention idea by Tesla. 
Till then enjoy yourself and be safe of covid.