Every Destiny 2 fan know that the exotic item merchant, Xur, hangs out in random locations in the realms of Destiny 2. And with his return, all the fans of Destiny 2 are very excited. This week he will be selling several exotic items and will also be offering some surprises. This week Destiny 2 Xur Location Jan 8 To Jan 12 will be in the EDZ. You can find him standing on a bluff, overlooking the Winding Cove. Furthermore, you can check the image below for an accurate location.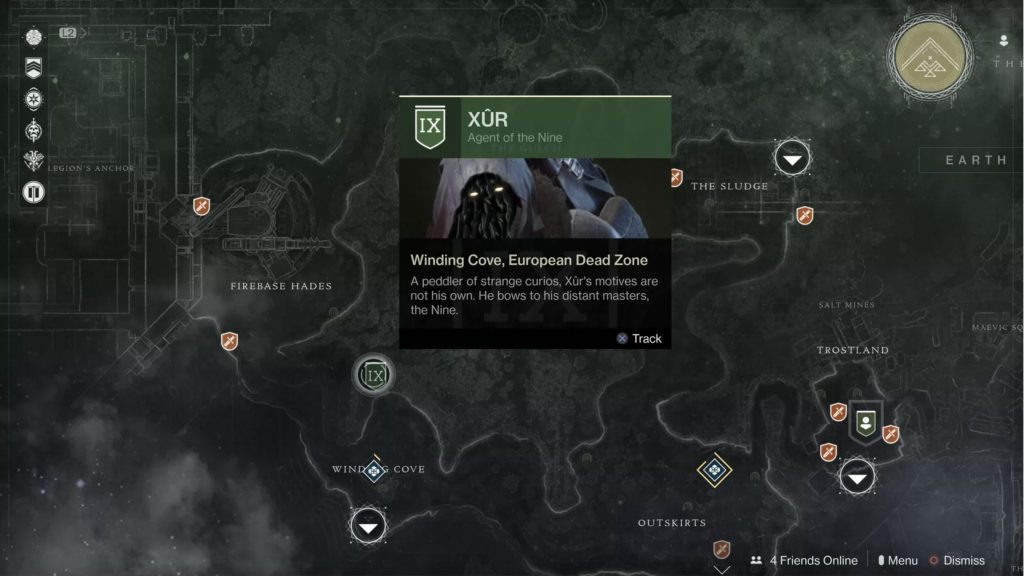 What is Destiny 2 Xur Location Jan 8 To Jan 12?
As mentioned above, you can find him in the EDZ, standing on a bluff, overlooking the Winding Cove.
From Jan 8 To Jan 12 Xur's inventory will consists of the following items:
Telesto, Void fusion rifle: 29 Legendary Shards.
Sealed Ahamkara Grasps, Hunter arms: 23 Legendary Shards.
Antaeus Wards, Titan boots: 23 Legendary Shards.
Getaway Artist, Warlock arms: 23 Legendary Shards.
Exotic Engram: 97 Legendary Shards (you can now purchase a second with an Exotic Cipher).
Exotic Cipher quest: free.
Destiny 2 Xur Location Jan 8 To Jan 12: Foetracer
This weapon is very beneficial when you are involved in melee battle. It allows you to reload your equipped weapon anytime you deal melee damage. As it is an exotic weapon, its perks are very mild. Which means adding these exotics in your build will rarely be worth a slot in your build. Additionally, the Sealed Ahamkara Grasps are subclass agnostic. Therefore, you can prefer to use them in any playstyle.
Xur's roll this week comes with 66 total stats.
Getaway Artist
It is the latest Warlock Exotic from Season of the Drifter. Its Exotic perk is Dynamic Duo. You can use this exotic perk to sacrifice your grenades to create a powerful Arc turret that follows you everywhere.
Moreover, Xur's roll this week comes with 62 total stats.
Antaeus Wards
It directly comes from the Forsaken expansion, and its main perk is Reflective Vents. It is handy for the players who love to slide, as it creates a shield in front of you. The shield also protects you from attacks. For instance, if a missile hits the shield, it will be instantly directed back at their owner.
Apart from this, it deflection grants you Super energy to use in the right situation.
Xur's roll this week comes with 63 total stats.
Telesto
This exotic item is also returning from destiny; it was added back in during Curse of Osiris. This week, it is the only weapon with two perks that make it very special in the list. Let's discuss them in short detail.
The first perk of Telesto is Unplanned Reprieve. When you shot an enemy with this rifle, the fusion particles attach to the enemy and explode at a later time.
The second perk is Harbinger's Pulse. With this ability, you can eliminate multiple enemies that help to reload your kinetic and energy weapons.
After getting these perks, the Telesto rifle becomes the most fun weapons to use in Destiny 2. If you love to use powerful weapons in public events to clear a large group of enemies. Then don't think twice before adding Telesto to your armoury.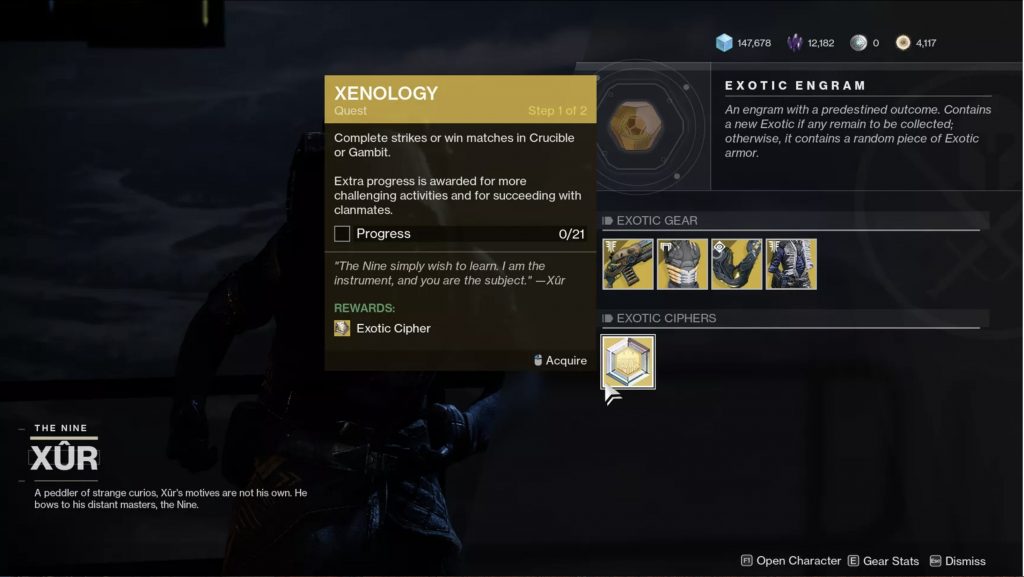 Destiny 2 Xur Location Jan 8 To Jan 12 Exotic Cipher Quest
During this quest, Xur will let you buy the old Exotics from the Monuments To Lost Light kiosk in the tower. Try to collect these items as much as possible. Because later in the game, you will require these items and other currencies to buy Exotics like Heir Apparent, Truth, etc.
How to get Exotic Cipher in Destiny 2?
To get the Exotic Cipher, you'll need to complete all the 21 Strikes or win Crucible or Gambit matches.