Finally, in episode 8 of She-Hulk: Attorney at Law, Daredevil (not Matt Murdock) made his formal MCU debut when he faced off against none other than She-Hulk. Naturally, Jen found out who Matt was after defeating him in combat, and that led to them cooperating against a common foe.
Naturally, the relationship developed into a heated one as they decided to sleep together because there was obvious chemistry between them. Why are She-Hulk and Daredevil from Marvel acting this way, and did they ever date in the comics?
Due to their distinct occupations and locations across the nation, it appears that the relationship between She-Hulk and Daredevil was only ever temporary. Even though Jen and Matt have frequently collaborated, they have never actually dated in the comics.
She-Hulk and Daredevil's romance in She-Hulk: Attorney at Law seems to have been specifically written for the series, which was presumably the result of their obvious chemistry. Of all, with She-Hulk and Daredevil still having a long way to go, anything is still possible in terms of these characters' romance at this point.
Also, Look At
Matt and Jen (Daredevil And She Hulk) Have A Platonic Relationship
It appears that the creators of "She-Hulk" have chosen to put a distinctive perspective on Jen Walters and Matthew Murdock's relationship after spending time reading through all of their exchanges in the comics, according to a contributing writer at Popverse. Despite the similarities between Jen and Matt, the characters in the comic books only interact on a professional level.
Despite Marvel's extensive and convoluted backstory, She-Hulk and Daredevil have only occasionally interacted. They initially interact as they leave a courthouse together in "House of M" #5, with Jen jokingly reminding Matt that he owes her a drink. This incident likely catalyzed Jen and Matt's cordial talk in the bar.
The comic book versions of Matt and Jen are depicted to be just allies in and out of court, except for that one incident of casual flirtation. Their dynamic is one of mutual respect and professional appreciation even in the absence of any romantic interest. Additionally, it is hinted that they have helped one another out legally, demonstrating a bond that extends to their identities as crime fighters.
Marvel is known for deviating from the comics, so it shouldn't come as a huge surprise to see these characters interact in a novel way. Fortunately, Maslany and Cox had plenty of charm. It will be intriguing to watch how Jen and Matt's relationship develops moving forward now that we know Daredevil will return for Phase 5 in his new series.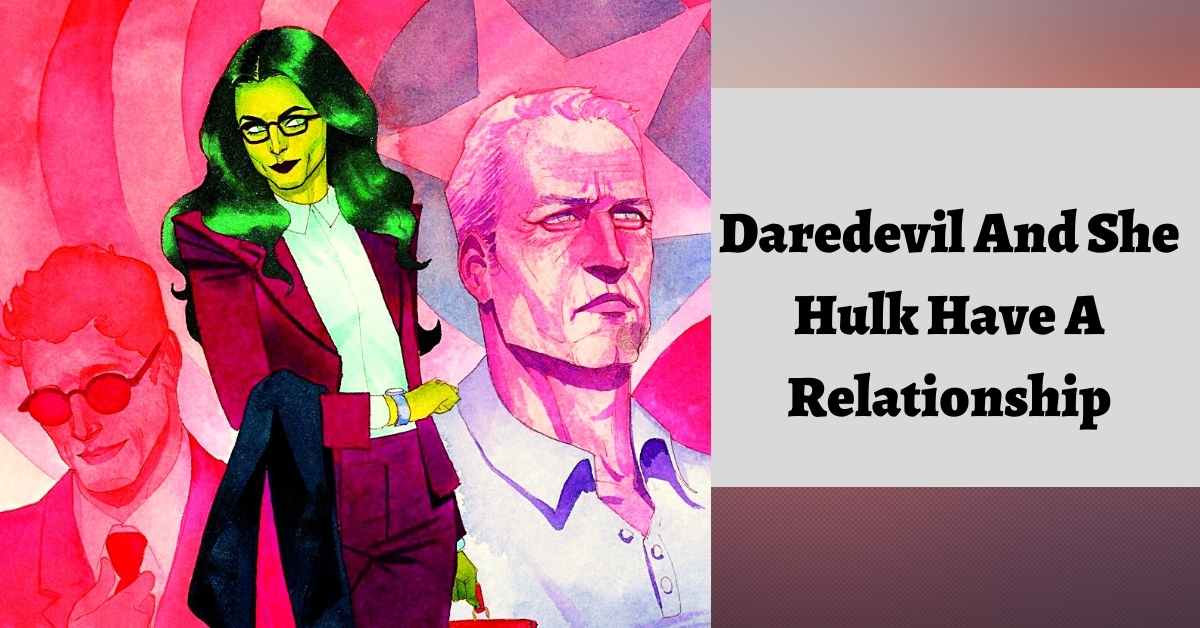 Will The Romance Between She-Hulk And Daredevil Continue?
It came as no surprise when Daredevil and She-Hulk hooked up because there was obvious love tension between them from the start of their relationship. But one can only speculate as to whether their romance will continue in the MCU moving forward since Charlie Cox's tenure as She-Hulk is coming to an end.
They appeared to have the potential for a relationship, and given their similar lifestyles, they are a perfect match. Especially since there haven't been many long-term superhero relationships in the MCU, adding another would undoubtedly be intriguing.
When She-Hulk and Daredevil next share a screen is the only way to determine how their relationship might develop going forward. The Man Without Fear is set to make his next appearance in Echo, but it's hard to see Jennifer Walters fitting in there, leaving Daredevil: Born Again as the only option.
Are She-Hulk And Daredevil Dating? Let's Explore the Truth! https://t.co/LetduEScBG

— Jaun News English (@EnglishJaun) October 9, 2022
Given that Daredevil has already made the transition to She-solo Hulk's story, Born Again's 18-episode first season offers plenty of opportunities for Walters to visit New York for a court matter, a superhero team-up, and possibly more romance.
But even if that doesn't happen, She-Hulk and Daredevil will probably play a part in Avengers: The Kang Dynasty as Earth's Mightiest Heroes use every resource at their disposal to defeat their time-travelling adversary. Even while there won't be much opportunity for romance in the huge film, a few flirtatious exchanges wouldn't harm.
Daredevil should return, potentially in a recurring capacity, if She-Hulk manages to secure a second-season renewal. Giving him more screen time should be obvious given the popularity and anticipation he generated over the entire season as people waited for his entrance.
She-Hulk: Attorney at Law's first eight episodes are available to watch on Disney+ right now; Daredevil: Born Again will debut in the spring of 2024.