There is no doubt that these days Cyberpunk 2077 is one of the most popular action role-playing games. Apart from the main story, the game has many side quests, romance options, missions to chase down cars or bikes, guns, and just like the real world the city's nightlife is full of obvious goals and well-hidden secrets. During the night, a player can discover the secrets of the night city as Cyberpunk 2077 has no shortage of wacky secrets. And one of these hidden secrets is Skippy the rare gun that has a unique personality that gives a memorable Cyberpunk 2077 experience to every player. If you are also looking for the Cyberpunk 2077 Skippy location, then read on to find the pistol easily.
In this latest video game, six weapons are special for each player. If you use any of these six special weapons, then you are entitled to receive some extra bonuses that users can easily acquire throughout the game at any level. During the gameplay, you'll be able to get them while completing certain missions; nevertheless, skippy is a reward for players to decide to dig through some trash. Though, what is skippy's location and why you need to find it?
What is Skippy?
It is nothing more than a pistol. But being a smart pistol, it scales the player's abilities to make their moves effective at any point in the game. Due to its talkative nature you may find it irritating and want to get rid of it, then the sale price of $75. You can read about the procedure to sell it later in this article.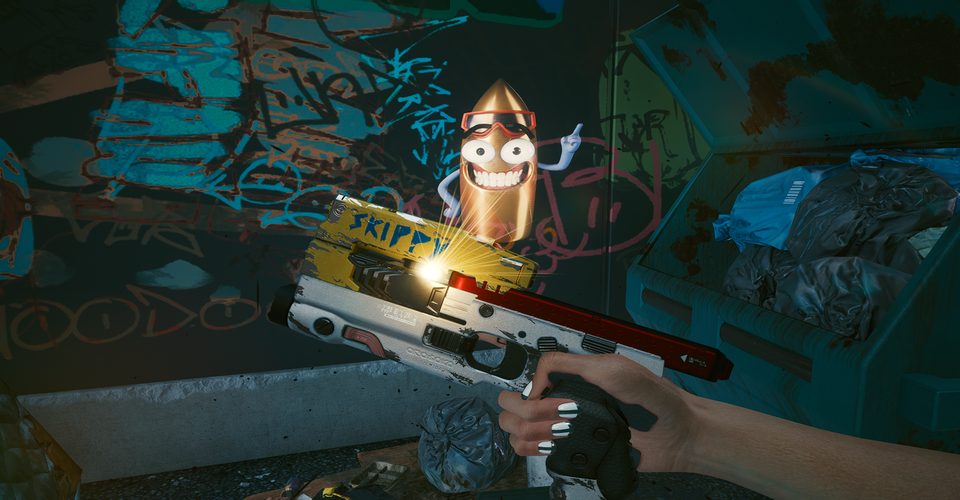 On the other hand, many other players are enjoying it because it has a unique user-interface in the form of a holographic bullet with arms and glasses.
It comes with two different modes. The first mode is exclusively designed to take down enemies by taking headshots; meanwhile, in the second mode, you can aim lower on targets for less dangerous shots.
Why is Cyberpunk 2077 Skippy Location?
Now you know that this pistol has it's own unique personality. If you want to complete the game and all the side quests, then you must have this gun in your inventory. Because, Skippy is involved in in a unique side quest, that can't be completed without this weapon. So, you should get it even you don't have any intention of using it.
How to Unlock Skippy In Cyberpunk 2077?
First of all, make sure that you have already unlocked the ability to explore Night City. Somehow, you don't know whether the night city ability is unlocked or not, then try to remember if you've met Keanu Reeves' character, Johnny Silverhand. Once you meet them, that means you've cleared the threshold.
To find the skippy, head to the alley near the College Street metro station in Heywood. Before reaching, you can find this spot on the map in Heywood, specifically in Vista Del Ray. After a short research, you'll be able to see Skippy marked on the map with a yellow dot. Check the image below to know the Cyberpunk 2077 Skippy Location.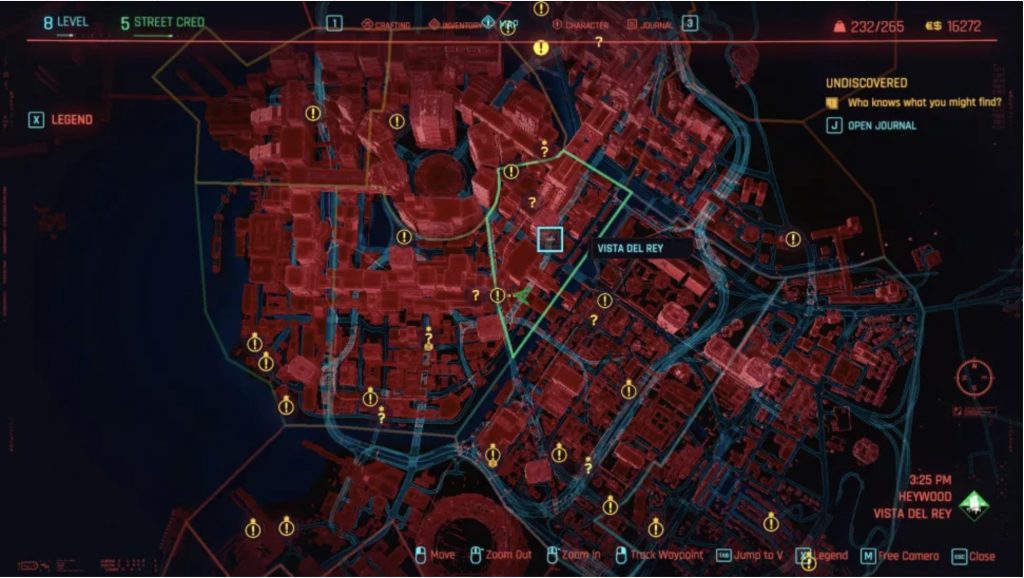 In the alley, the gun will be in a briefcase, and briefcase will have a yellow exclamation mark. Now pick the gun and do whatever you want to do with it.
What are the Skippy's Best Settings in CyberPunk 2077?
When you pick up the skippy in your hand, you will get options to customise settings as per your preference. You can choose to set it to either STONE COLD KILLER mode or PUPPY-LOVING PACIFIST mode, which are lethal and non-lethal, respectively. In the Stone killer mode, Skippy will constantly take headshots.
Once you finish killing the 50 enemies, the gun will switch to the mode opposite to the one you have already set. The modes will keep on switching until you choose the PUPPY-LOVING PACIFIST mode or you apprise Skippy that "killing is wrong."
How to Change Skippy's Name in Cyberpunk 2077?
From unlocking to upgrading cyberpunk 2077 provides you with several options of customisation. In the editing menu, you can try renaming it. Yet, whenever you rename it, the gun will reject your request, and you will get an error message that reads "Player doesn't have the correct administrator rights to do so." If you continue editing, the gun will raise its speaking volume by 300% to make you understand that the name cannot be changed.
At present, the players haven't discovered any secret way to change the name, but in the current scenario it just seems impossible.
How to Return Skippy in Cyberpunk 2077?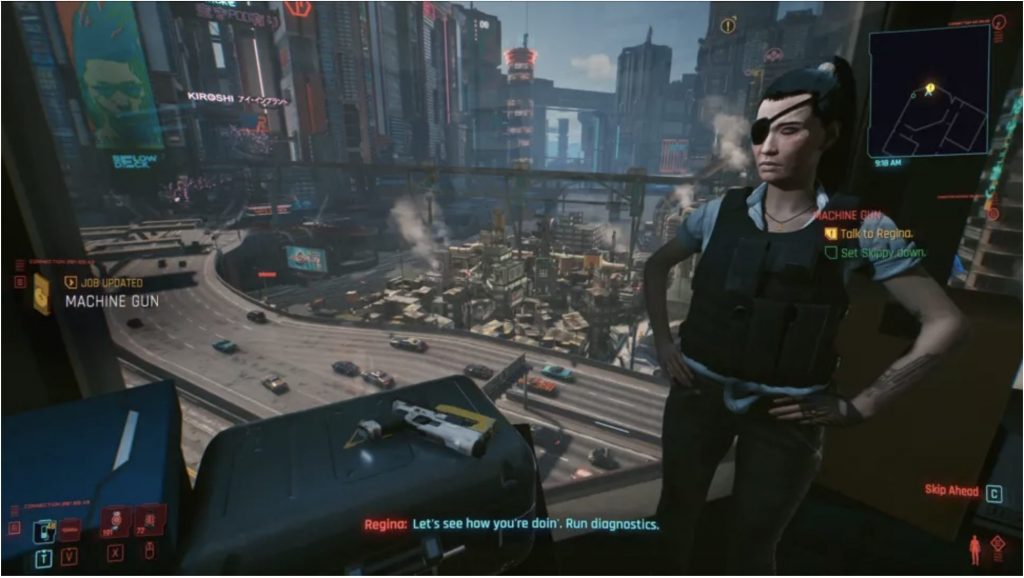 As you progress in the game, you will get to know that this gun is required in numerous battles. A side mission will also make you able to return the gun to its original owner, Regina Jones. If you decide to return this unique weapon, Regina will reward you with a few thousand Eddies.
Is It Possible to Upgrade Skippy?
The base stats of this gun aren't much impressive. Thus, you can always upgrade it from the crafting menu. The default stats are as follows.
4.55 Attacks Per Second.
152.4 DPS.
+21-26 Electrical Damage.
+37.39% Crit Damage.
+6% Shock Chance.
70 Headshot Damage Multiplier.
2 Empty Mod Slots.
When upgraded, the abilities will bee enhanced along with the rarity. Moreover, some of the mods can also be unlocked to allow you to make it stronger in other different ways, too.
Wrap Up
We all know that cyberpunk 2077 is breaking all the records. However, there are still a few players who didn't like the game; If you are also one of them, then you can claim a full refund after fulfiling the requirements.