Fan speculation has Brittany And Jax Taylor Cartwright of VANDERPUMP Rules breaking up. In recent weeks, audience members have expressed concern over the reality stars' mysterious behaviors. One of their fans brought it up in a discussion thread, wondering if the two were still together.
"These two are more than just friends. Does anybody else see this?" with this, the post officially started. The user provided several indicators that Jax, 43, and Brittany, 33, might have ended their seven-year marriage. First, they mentioned that there hadn't been many photos of the two together on social media recently.
Read More: 
Vanderpump Rules' Brittany Shows Off Post-Baby Body After 30-lb Weight Loss.
They have a one-year-old son named Cruz, and last month Brittany shared a rare photo of the family at a pumpkin patch. The new mother wore shorts and a black sweatshirt that read "Momster," while her son Cruz wore a shirt that said "Little Monster."
Jax joined in on the fun for one shot, donning a pair of dark jeans, a denim button-down shirt, and a baseball cap. Brittany used a pumpkin and a monster emoji to express her enthusiasm for the season.
Al Roker Announces A Big Move As He Says, 'It's Time To Take A Break'
Jax added a "heart" emoji to his comment. The user claims that Jax rarely interacts with Brittany's posts and that the family photo and his words were unusual. Since their family vacation to Mexico in August, Brittany has not responded to any of Jax's social media updates.
The supporter went on to say that Jax has allegedly missed some events, including a week-long trip to Kentucky that Brittany and Cruz took while the father of their child stayed at home. The user claims he said on Instagram Live that he "needed a break" from his baby mama and their son.
People also observed that Jax and his young son didn't participate in any Halloween events, instead opting to spend the night watching Instagram Live. Vanderpump Rules viewers commented on the post, many wondering if this is further evidence that Jax and Brittany have broken up.
A person wrote self-assuredly, "Definitely something is off! The most concerning clue are that she recently returned from Kentuck,y, but he has yet to make any posts about her trip there or Cruz in particular. It smells very fishy!"
A second person echoed this opinion: "It sounds like trouble in paradise, said another, while a third wondered, "What kind of self-proclaimed proud dad says he needs a break from his family?" About ten days' worth of time."
Plus s, a new number four: "When Britney visited her family in Kentucky, I had a bad feeling that there might be trouble brewing. She seems to be taking a break from him, not the other way around."
After giving birth in August, Brittany took a trip to Cancun, where she was photographed in a skimpy swimsuit while lounging by the pool. But Jax and their young son were also there, and he wasn't in the photo.
View this post on Instagram
Jax Taylor And Brittany Cartwright Address Divorce Rumors
Some of the most wildly dysfunctional couples ever seen on television can be traced back to the world of reality television. In contrast to Jax Taylor and Brittany Cartwright, however, very few were as effed up as they were.
These two provided ongoing drama as they staggered toward the altar before they were fired from Vanderpump Rules for racism. Understandably, viewers were skeptical of Jax and Brittany's 2019 wedding. The truth about Jax's plot with Stassi Schroeder and Kristen Doute to frame Faith for crimes she didn't commit led to his dismissal.
There are messy people, and then there is Jax Taylor. A 2020 episode of Vanderpump Rules revealed that both Jax Taylor and Brittany Cartwright had been fired from the show. Jax and Brittany's breakup has been widely reported in the media over the past few months.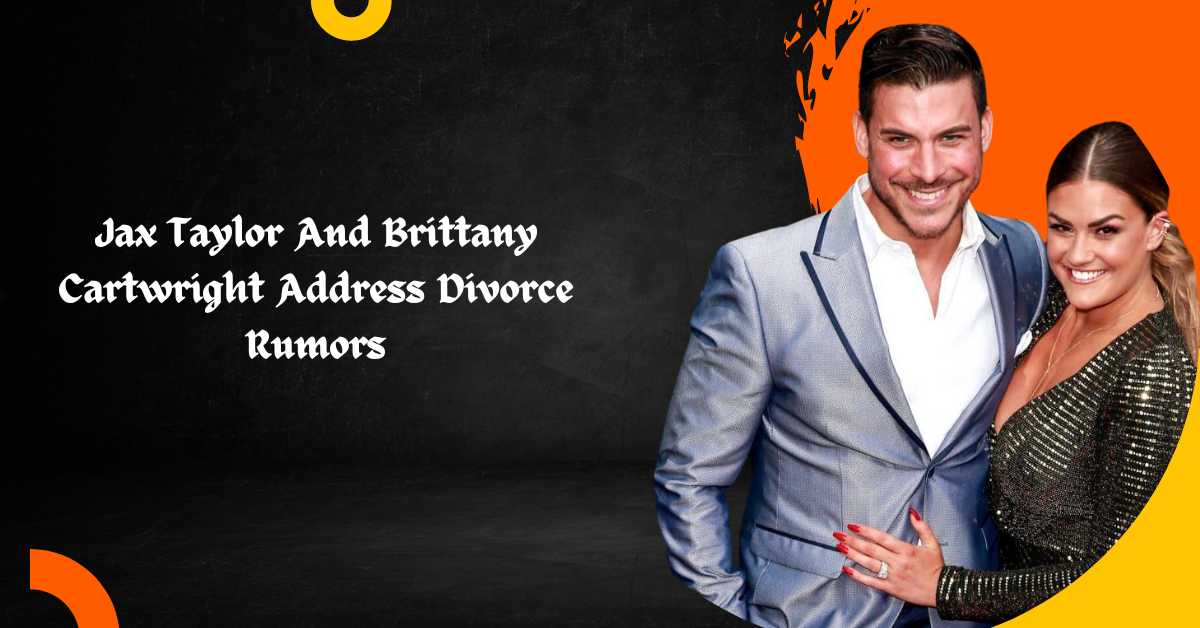 Brittany hadn't been seen on Jax's Instagram page since July, which is odd considering how often he updates his account. However, over the weekend, Jax shared the photo of the couple celebrating at a People's Choice Awards after-party.
As soon as fans caught wind of Brittany's reappearance, they began to speculate about whether or not the divorce rumors were true. What a stunning couple you make!" I hope those divorce rumors aren't true. The red heart emoji means "you two belong together" in this case.
"We don't believe in divorce, so it will never happen between us. Jax retorted, "I don't know [why] people are saying that." To put it bluntly, this is a masterclass in providing answers that don't convince. Someone baited Jax into gushing about his wife and the joy they find in each other.
A home run would have been if he had mentioned how their hardships strengthened their bond. Instead, he spewed nonsensical ramblings about how their religion forbids divorce.