Are Cam And Emily Still Together? Since its release, Netflix's "Too Hot to Handle" has amassed a sizable fan base thanks to its intriguing premise and engaging execution. During the dating show, a group of young men and women are invited to a lavish mansion and given substantial money to help them enjoy their time there. However, they must avoid all forms of sexual activity and self-gratification and work hard to create genuine connections with one another.
Like previous seasons, the second season of the dating reality TV show featured several intriguing contestants. The relationship between Cam and Emily Faye Miller was undeniably strong throughout the series, despite facing numerous trials. Fans want to know if the couple is still together, and we have the answer.
Read More:
Cam and Emily's Too Hot to Handle Journey
One of the most famous couples of Season 2 was Cam and Emily Faye Miller. Their chemistry off-screen was just as strong. As soon as their eyes met, they were captivated by one another. As their passionate on-screen relationship progressed, they eventually broke the show's "no touching" rule, which cost the cast a combined $17,000 in the first four episodes.
There was a satisfying chemistry between them, but the relationship had been rocky due to several obstacles. The arrival of newcomer Christina Carmela presented a challenge for the "wife up" couple. The Welshman put his relationship with Emily on hold while he tried to sneak a kiss from the newcomer. 
Unfortunately, the truth about the deception soon came out, and Emily was left devastated. Again, he was on the fence about agreeing to another woman's request to share a shower. The Welsh trainer was one of the season's most developed characters when he confessed his feelings for Emily just as she was giving up on their relationship for good.
View this post on Instagram
Did Cam And Emily No Longer Together?
In the spring of 2022, Emily and Cam had a brief separation. A TikTok(opens in new tab) by Emily with the caption "Me realizing I'm single af" seemed to confirm the breakup rumors circulating for some time. Fans were shocked by the news, especially since Cam had just posted a sweet Instagram photo for Emily's birthday with the caption "My happy birthday x."
The reason for the breakup, as reported by the Mail Online (opens in new tab), was that Cam had been unfaithful while Emily was on vacation in Thailand. According to the article, Emily discovered him in the company of another woman. But in a September YouTube video, Cam and Emily addressed the rumors surrounding their split and confirmed that they are back together. 
I think it's about time we addressed it," Emily said in the video, adding, "We are in such a good place now; we can." After that, Cam elaborated: "We avoided talking about it because finding the appropriate response was challenging. We avoided talking about it because our relationship is genuine and not for public relations."
Emily summed up their situation by saying, "We weren't in a great place when things happened, but now, we've worked on ourselves, we've worked through it, and we're better than ever," putting an end to the rumors.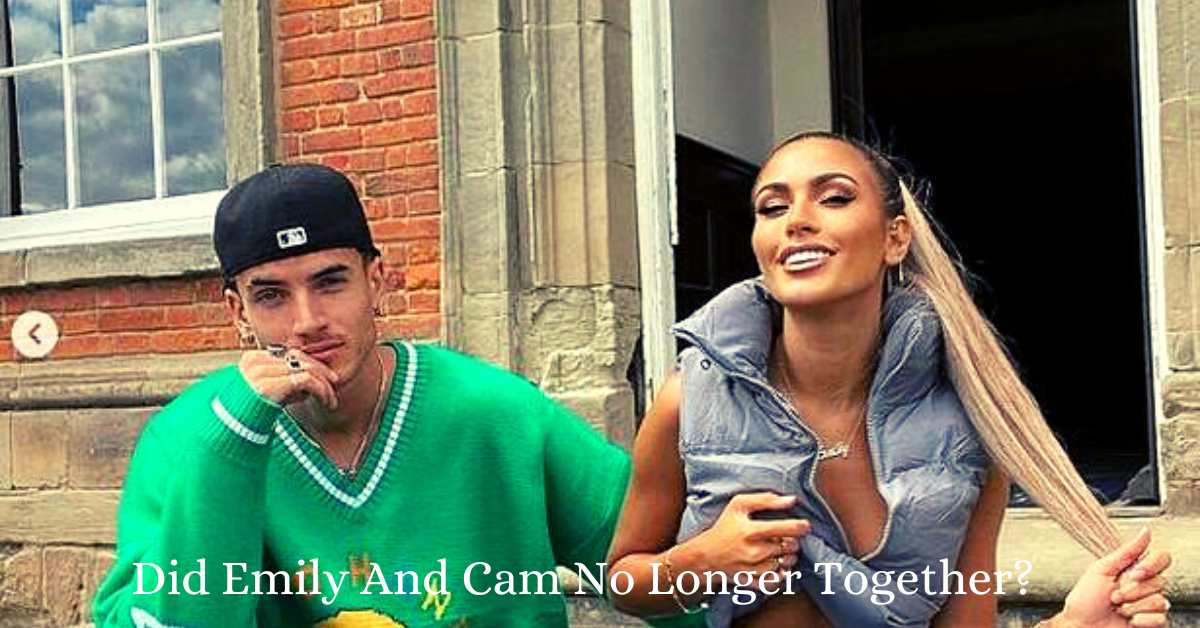 Are Cam and Emily Still Together?
In real life, Cam and Emily have continued their relationship after resolving their issues on the show. Only Cam and Emily's relationship has survived off-screen after both of them got together. Even after the shooting wrapped, the two could not keep their hands off each other. The stunning pair began dating shortly after the show ended and moved in together in London just over a month later.
Cam stated, "Moving in together was the logical next step for us," in an interview with Refinery29. Cam continued, "It was strange because usually, after meeting somebody, you text them, have some space, and go through that stage. We just had a regular in-person meeting and then started texting each other afterward. I couldn't do without her, and it wasn't the same. 
After dating for a year, in December 2021, Cam posted a sweet caption to Instagram for his girlfriend. The couple was inseparable and often joked that they consummated their relationship "seven times a day" like bunnies. The couple's lives were so perfect that they even went on a honeymoon to Madeira, Portugal, during the COVID-19 pandemic. 
Emily's drunken confession about her true feelings for Cam and their future together shed light on her state of mind. We're a little married couple," Cam said in the reunion special. We've got an in-depth familiarity with one another. So we're living together, and I think wedding bells are in our future," Emily continued. Also, we've decided that if we have a daughter, we'll call her Lana.
Fans of the beautiful couple were shocked and heartbroken when news spread that Cam had allegedly cheated on Emily while she was on vacation in Thailand. Even though the couple never confirmed or denied the breakup rumors, Emily clarified the split in a TikTok video on April 8, 2022. Fans, however, will be relieved to learn that the two are still very much in love and together despite their troubled history.
Despite their apparent breakup, Emily and Cam have stated they are back together. They are constantly sharing photos of each other online. Cam said of the split, "(We) did have a break from each other for a while (because we) weren't in a perfect place." When things started going down, we weren't in a great place," Emily continued, "but now we've worked on ourselves, worked through it, and we're better than ever."
In June 2022, the couple's lives were rocked when Emily lost her pregnancy to an ectopic. However, they worked through this challenging time together, with Cam by her side the whole way. The couple is currently living together and working, concentrating on their respective modeling careers.
It's clear that Emily and Cam love each other very much and want to make their relationship work. We hope the best for the two of them in the future, especially since they share such touching social media posts and seem to have an unbreakable bond.