Angelina Divorce Jersey Shore: Jersey Shore Family Vacation Season 5 Episode 1 aired on MTV in March and focused on the struggles of Chris Larangeira and Angelina Pivarnick's marriage. During the first half of the reality show, the couple sought help from an s*x therapist in an effort to improve their relationship.
The second half of Jersey Shore Family Vacation delves deeper into their dynamic. On June 23 at 8 o'clock in the evening Eastern Time (2022), MTV will air the new episode of the show. Despite this, Chris Larangeira reportedly filed for divorce from his wife Angelina Pivarnick in January, citing irreconcilable differences.
Chris Larangeira and Angelina Pivarnick got married in November 2019 after getting engaged the previous year. Jersey Shore: Family Vacation's third-season finale featured their wedding. The dynamic between them and the difficulties they faced became the show's driving force across all of the seasons.
During a confessional in a previous season's episode, Angelina told her roommates that she and Brad had a "nonexistent" s*x life and that she did not believe they could "get the spark back in our relationship."
The couple appeared to be doing better in the first half of Season 5 of Jersey Shore: Family Vacation. The couple communicates more freely with one another after consulting an s*x expert in the episode titled "The Sexpert."
Angelina shared her experience of being abandoned as a child, and Chris said he often feels like a second fiddle to Angelina's loved ones. However, Chris stated that he anticipates them remaining together forever in the episode of The Lie Detector Test. Chris filed for divorce in January of 2022, despite his best efforts to save the marriage. Must check- Morgan Evans Divorce
Chris Larangeira Appears In The Premiere Of 'Jersey Shore: Family Vacation' 
Chris and Angelina move into the house she bought at the end of 2021 in the season 5B premiere. Even though Angelina claims their relationship improved after their trip to Florida, she claims Chris stopped paying her much attention after they returned.
'Jersey Shore' star Angelina Pivarnick's husband, Chris, files for divorce https://t.co/dkpsXY1umX pic.twitter.com/51fXj4siHL

— Page Six (@PageSix) February 7, 2022
Chris is there to show off Angelina's new house, which includes a koi pond and an unfinished basement, to her roommates when they drop by. Although he makes an early appearance in the first episode of Jersey Shore: Family Vacation, he doesn't stick around for very long. Chris moved out of Angelina's house right before Christmas, when filming for the show began.
Chris Larangeira And Angelina Pivarnick's Divorce Details
Despite Angelina's reported divorce filing in January 2021, after only two years of marriage, their case was eventually dismissed. In January of 2022, Chris officially started the divorce process with Angelina in New Jersey. Angelina is currently engaged in a contentious divorce battle with Brad Pitt.
Also, Look At
During an interview with People, Angelina revealed that "a big reason" for the couple's split was that she didn't feel Chris was fully on her side. Besides "not being on the same page in a lot of things," Angelina thinks they split up because "there were a lot of lies that were going on, and he could say whatever he wants about me."
In the second half of Jersey Shore Family Vacation, which airs on MTV this Thursday, we'll get to see the couple's struggles in rebuilding their relationship, which is "going to be very hard" for Angelina, according to the star.
First Divorce Filing
A representative from the Middlesex County Family Court in New Jersey confirmed in July 2021 to In Touch that Angelina had filed for divorce from Chris in January 2021.
During a conversation with Mike "The Situation" Sorrentino for a 2021 episode of Jersey Shore: Family Vacation, which was filmed in late 2020, she admitted that she had taken a significant step toward ending their relationship.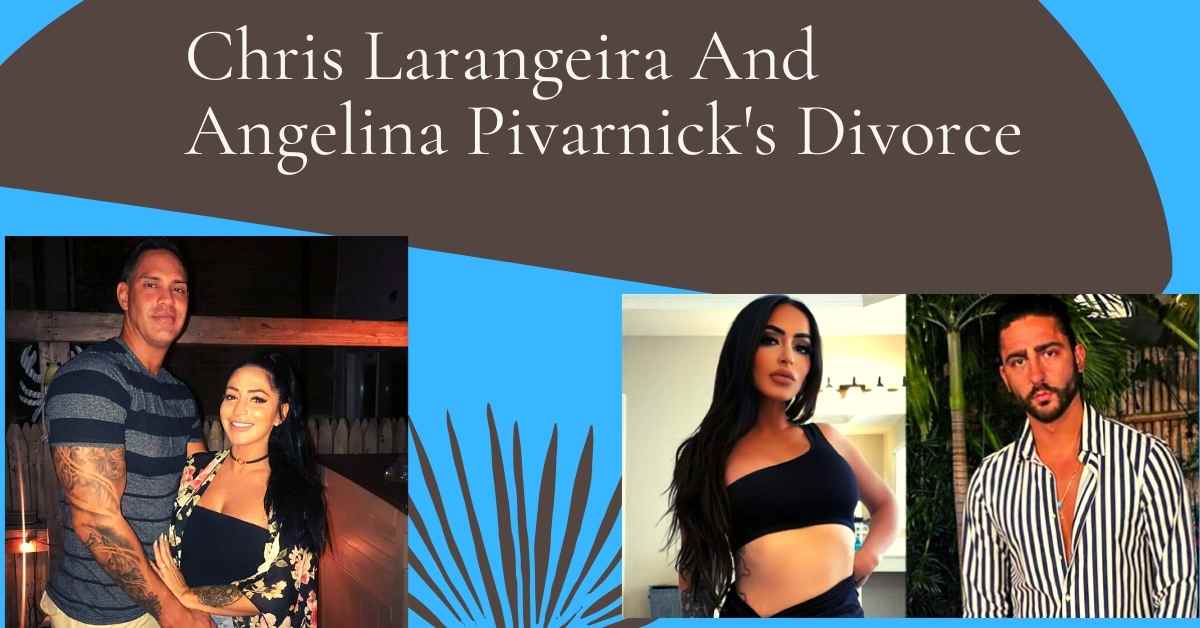 Although Chris had already moved out of their home weeks before, Angelina said she hadn't yet served him with the papers. She explained to the show's producers in June of 2021 that she and her husband had gotten into an argument, and that he had since moved in with his mother.
It was important to Chris that his "Merry Christmas to my wife" card be ripped up before he left and took down his stocking. He hoped the stocking would be removed. Chris insisted I see him stripped down to nothing. He should not have treated me like that because of our argument.
Angelina continued by saying that "s-t started hitting the fan" between the two of them, at which point she "had to hire a lawyer." Even though I didn't want to, I ended up having to retain legal counsel. He decided to retain legal counsel. In other words, he obstructed my path. She went into detail about how he refused to speak with her.