Alienware today unveiled the Alienware X15 gaming laptops. As per the claims, it is the most efficient and highest-performing version of the X17.
The Alienware X15 will come in two configurations. The first variant will have a thickness of 15.9 mm. Thus, it is almost closer to the Razer Blade 15, which was launched with a thickness of 15.8 mm. Alienware also introduced the X17 with a 17-inch screen.
Alienware X15 Specifications and Price
The Alienware X15 launches today at $ 1999. As far as the configurations are concerned, it includes the 11th generation of Intel Core i7-11800H processors that come at a speed of up to 4.6GHz. And 16 GB of RAM at 3200MHz, with a storage capacity of 256 GB in NVMe. Later, users can upgrade it Via two SSD memory slots with a choice of M.2 2230 or 2280. The device also supports the RTX 3060 graphics card from Nvidia with a capacity of up to 90W and a base speed of 1050MHz or 1402MHz with a boost.
It features a 15.6-inch Alienware X15 screen, FHD display quality, and supports a 165Hz refresh rate, 3ms response speed, 300 nit brightness, and 100% sRGB color coverage.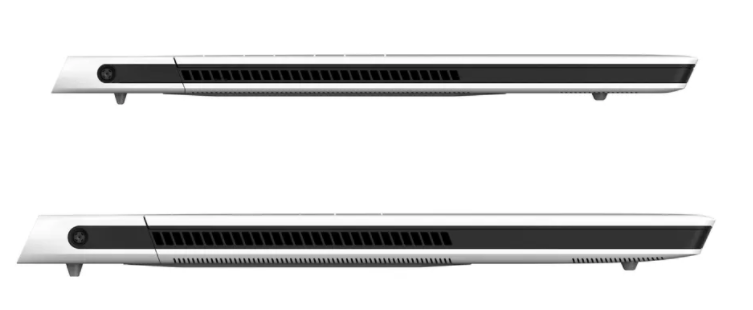 The device also supports configurations with an Intel Core i9-11900H processor. A storage capacity of 2 TB in an NVMe M.2 SSD supports upgrading to 4 TB in RAID 0. And this version also features a random memory of 32 GB RAM and an RTX 3080 graphics card. The card has a power capacity of up to To 110W with a 930MHz base speed up to 1365MHz with boost.
This version features 400-nit brightness, QHD display quality, G-Sync support, 240Hz refresh rate, 2ms response time, and 99% color coverage of DCI-P3 colors.
The Alienware X15 supports an 87Wh battery, a headphone jack, a power input, a USB-A 3.2 Gen1 port, a USB-C 3.2 Gen2 port, a Thunderbolt 4 port, a microSD slot, and an HDMI 2.1 port. The best thing about the port is that it allows the X15 to output high-definition content: 4 K and 120Hz refresh rate.
Alienware X17 Specifications and Price
On the other hand, the Alienware X17 comes at a starting price of $ 2099. In addition, the main model comes with the same specifications as the Alienware X15. Meanwhile, the X17 comes with a thicker structure of 20.9 mm. And the graphics card in this version, RTX 3060, also comes with a higher power capacity of up to 130W.
The RTX 3080 screen is also available with a higher capacity of 165W. Which reaches a boost to 1710MHz. The device is also available with an Intel Core i9-11900HK processor. The processor supports a random memory of 64 GB RAM.
The device's screen is also available with 300-nit brightness, FHD display quality, G-Sync technology, a 360Hz refresh rate. And a response speed of 1ms.
Meanwhile, it is also available in a 500-nit model on a distinctive screen with a resolution of 4K. A refresh rate of 120Hz, and a response of 4 milliseconds. And this version also includes a battery capacity of 87Wh.