NBC's coverage of Super Bowl 56 will be called by Al Michaels. Due to the impending end of his contract, this could be his final game shown on a normal television. Michaels, who is 77, is eager to keep working.
Yet, if NBC is unwilling to pay him what he is worth, they risk coming out on the losing end of the bidding war for his talents. Learn more about Michaels' potential record-breaking contract, salary, and net worth as he prepares to enter free agency.
Early Life
Michaels was born on November 12, 1944, in Brooklyn, New York, to parents Jay Leonard Michaels and Lila Roginsky. Growing up, Michaels was an avid fan of the Brooklyn Dodgers. The move to Los Angeles occurred in 1958, the same year that the Dodgers left Brooklyn. As an undergraduate at Arizona State University, Michaels majored in radio and television and minored in journalism.
He was the radio announcer for Arizona State University's baseball, basketball, and football games and contributed to The State Press, an independent student newspaper. David is Al's younger brother, and he is a television producer. Not only has David Michaels created NBC's Olympic programming, but he has also produced shows including Triple Crown and Beyond the Glory on Fox Sports Net.
Al Michaels Amazon Rumors, Potential Contract
After this season, Michaels will be a free agent, and it doesn't appear that NBC will sign him back. Mike Tirico is in the wings as a possible replacement for Michaels. Why would NBC do such a thing, anyway? Since Michaels is reportedly fielding offers from rival networks, NBC may be priced out if he accepts any of them.
Amazon and ESPN have both shown interest in signing Michaels, although the former seems to have the upper hand. Approximately how much might Amazon be willing to pay for Michaels?
New York Post reporter Andrew Marchand suggests that Michaels' contract could be worth as much each year on average as Tony Romo's 10-year, $180 million deal with CBS that was finalized in March of 2020. To paraphrase what Marchand has written: "Michaels will not receive that length, of course, but he might ask to surpass Romo's near $1 million per game."
If so, Michaels' potential compensation would be around $15 million to $16 million. That would significantly boost his financial situation, as it would more than double his current pay. So, it's understandable why Michaels could have trouble saying no to such an offer.
Professional Career: ABC Sports, The 1980 Winter Olympics, Baseball Broadcasts, Monday Night Football, NBA Broadcasts,
Al Michaels is 77 years old and has a net worth of $40 million. How's retirement sound?

— Dave Byrnes (@davebyrnes24) September 16, 2022
ABC Sports
Michaels became a co-announcer for ABC Sports' Monday Night Baseball in 1976. After spending the first decade of his 30-year career at ABC as a baseball commentator, he went on to cover a wide variety of sports.
The 1980 Winter Olympics
Michael was responsible for calling the U.S. ice hockey match against the Soviet Union at the 1980 Winter Olympics in Lake Placid, New York. Because of his participation in a similar game at the 1972 Winter Olympics, he was selected to participate in this one. Michael's iconic "Do you believe in miracles?" call came during this game. YES!"
When an unknown group of college guys from the U.S. squad had to win the Gold Medal against the odds-on favorites, the Soviet Union, the sentence fit the mood perfectly. Further, Michaels added, The game gained its immortal moniker, "The Miracle on Ice," after Michaels's inspirational speech.
You Can Also Check 
Baseball Broadcasts
In 1985, Michaels covered the MLB for a publication. Game 5 of the American League Championship Series between the Los Angeles Angels and the Boston Red Sox was called by him and Jim Palmer. Additionally, he was a guest commentator for one game on ESPN's Wednesday Night Baseball in 2003.
Both Al Michaels and Jim Palmer were present at the ABC studios in 1995 to call Major League Baseball. An earthquake occurred during Game 5 of the 1989 World Series between the San Francisco Giants and the Oakland Athletics.
Michaels and his colleague Palmer came away from their reporting with bruises. Because of his commitment, he was considered for several Emmy Awards in the field of news broadcasting.
Monday Night Football
From 1986 until 2016, Michaels was the play-by-play announcer for ABC Sport's Monday Night Football broadcast. In 1988 and 1991, he was a Super Bowl commentator. Up until the 1996–1997 year, he had help from Dan Dierdorf and Frank Gifford.
After that, on September 7, 1998, Boomer Esiason took over as Frank Gifford's assistant and served in that capacity until 1999. In addition, after Madden joined the show in 2002, the dynamic duo of Madden and Michaels became a huge success.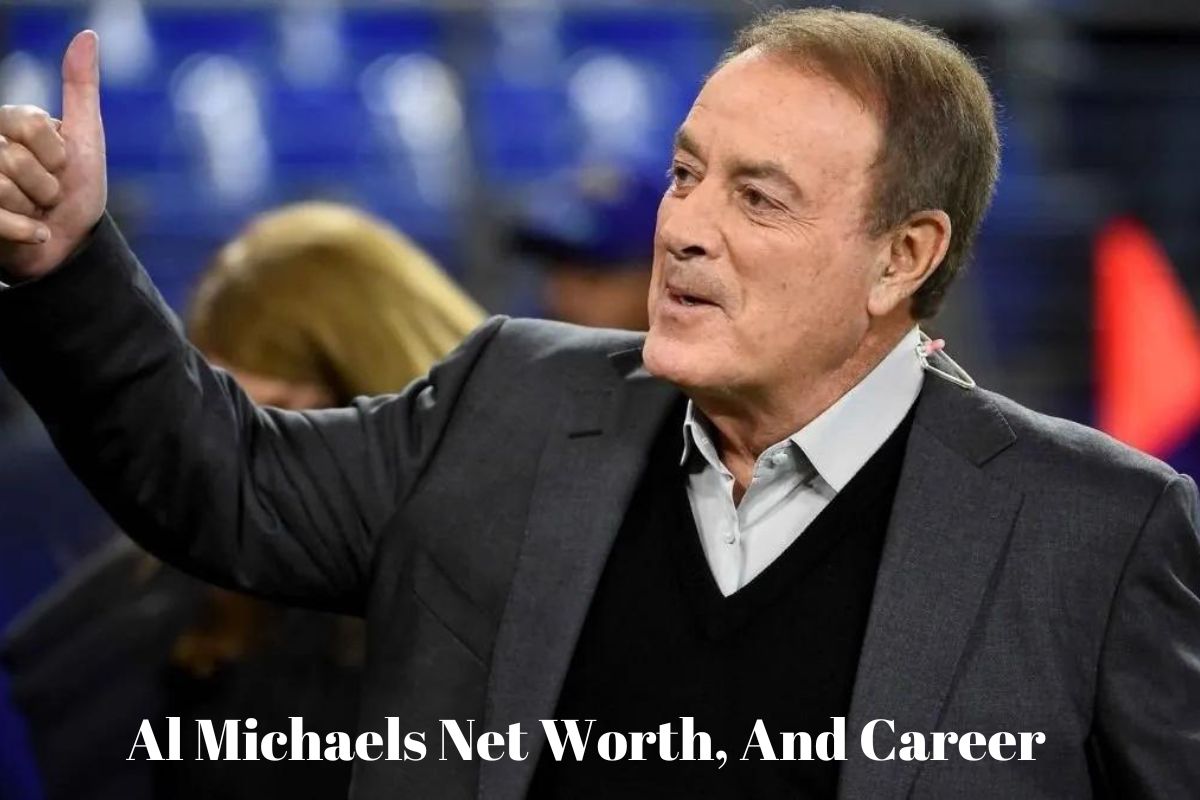 NBA Broadcasts
Beginning in the 2003–04 season, Michaels has served as ABC's primary NBA commentator. After the Christmas Day 2004 game between Shaquille O'Neal and Kobe Bryant, Doc Rivers was replaced by Hubie Brown. A short time later, they topped all other ABC broadcast teams.
Michaels, however, was widely criticized for his perceived lack of basketball fervor and self-assurance. There were also claims that his lengthy explanations made him best suited for sports like baseball and football broadcasts.
Al Michaels Net Worth
TV host and reporter Al Michaels has a $40 million fortune in the United States. One of the most well-known voices in the history of sports broadcasting is Al Michaels. It's likely that his time spent in the broadcast booth for NFL games, including nearly two decades on Monday Night Football, is what made him famous, but he's actually done play-by-play for a wide variety of sports.
Al's "do you believe in miracles?!?" remark following the U.S. hockey team's 1980 Olympic gold medal victory over the Soviet Union has since become a cultural touchstone. In another well-known incident, Al was broadcasting the World Series live in October 1989 when an earthquake in San Francisco cut it short.